There aren't many actors in my mind who can compare to a young Marlon Brando. Maybe I was scarred (in a good way) by seeing him in
Guys and Dolls
(1955) on television when I was a kid. He was smooth, sophisticated and a bit of a bad boy. It's that Marlon Brando, the improbably singing Brando of Sky Masterson, more than his brilliant Don Corleone, who I hold in my heart.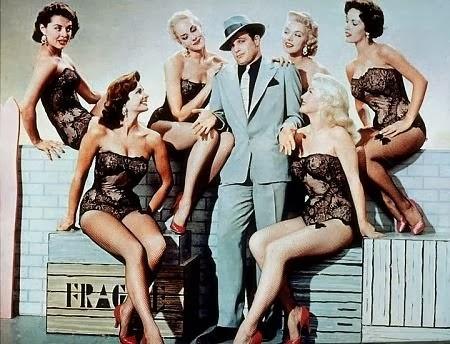 Luck be a lady tonight: Marlon Brando as Sky Masterson
Brando is primarily responsible for an entire school of acting. So many actors since his critically acclaimed work of the 1950s — James Dean, Paul Newman, Warren Beatty, Steve McQueen, Robert DeNiro — have followed in his footsteps. And what footsteps. 
A Streetcar Named Desire
(1951),
Viva Zapata!
(1952),
The Wild One
(1953),
Julius Caesar
(1953),
On the Waterfront
(1954),
The Young Lions
(1958).
His film work in the 1960s, by comparison, has been criticized as lightweight. But it is more than understandable, after such an intense run of films, that Brando might want to shake up his image and reputation — of a hyper-intense Method mumbler. Brando didn't consider himself a proponent of The Method. He was taught the
Stanislavski technique
by Stella Adler, which stressed naturalism above all else. He did attend classes at The Actor's Studio, but was resentful of Lee Strasberg's trying to attach himself to his acting style.
"After I had some success, Lee Strasberg tried to take credit for teaching me how to act. He never taught me anything. He would have claimed credit for the sun and the moon if he believed he could get away with it. He was an ambitious, selfish man who exploited the people who attended the Actors Studio and tried to project himself as an acting oracle and guru. Some people worshipped him, but I never knew why. I sometimes went to the Actors Studio on Saturday mornings because Elia Kazan was teaching, and there were usually a lot of good-looking girls, but Strasberg never taught me acting. Stella did – and later Kazan."
Certainly one of the best American actors of any generation, Brando must have wanted to pull back, from time to time, from the many intense stage-to-screen dramas he starred in and try something different, even funny. In 1964's
Bedtime Story,
in which he starred with David Niven, he is definitely having a blast.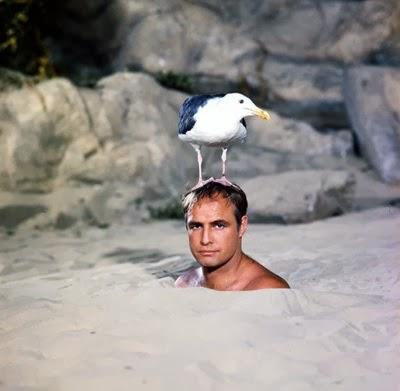 Marlon and friend in Bedtime Story
"Working with David was the only time I ever looked forward to filming. I just couldn't wait to wake up each morning and go to work so he could make me laugh."
I have always been a big fan of Frank Oz's
Dirty Rotten Scoundrels
, which stars Michael Caine and Steve Martin as two rival con men, one polished, one boorish, who try to fleece an American heiress, played by Glenne Headley. Filmed on the French Riviera, it is a bright, smart comedy that isn't afraid to look silly. Oz has always had a great hand with farces and comedies of manners (
What About Bob? Housesitter, In & Out, Bowfinger
) and
Dirty Rotten Scoundrels
is an ever-escalating exercise in comedic one-upmanship. I was surprised to find out recently that this favorite comedy was actually a remake, of the 1964 film starring Niven and Brando.
Bedtime Story
was not just the basis for
Dirty Rotten Scoundrels
, but an exact blueprint. From the plot to the characters' names, to the location — the second film is almost a scene-for-scene copy.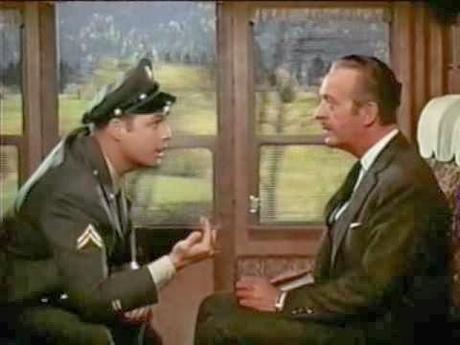 Brando & Niven: Private Freddie Benson teaches Lawrence Jamieson about women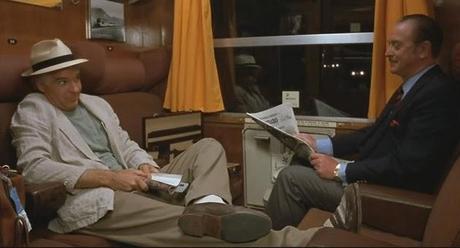 Martin & Caine: And again
I think of Brando's '60s work as a respite. He pulled back from Hollywood and tried to sort out how he felt about the world. He became involved politically, especially focusing on civil rights issues. By the '70s Brando was "back" in Hollywood, as the critics and public were concerned, with his amazing turns in
The Godfather
(1972), 
Last Tango in Paris
(1972), and
Apocalypse Now
(1979).
[When asked how he spent his time away from the camera] People ask that a lot. They say, "What did you do while you took time out?", as if the rest of my life is taking time out. But the fact is, making movies is time out for me because the rest, the nearly complete whole, is what's real for me. I'm not an actor and haven't been for years. I'm a human being — hopefully a concerned and somewhat intelligent one — who occasionally acts.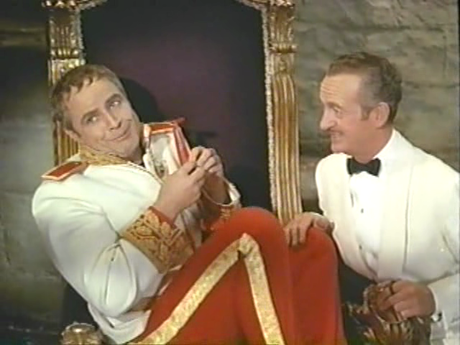 Con men Freddie and Lawrence — Marlon as Ruprecht the Monkey Boy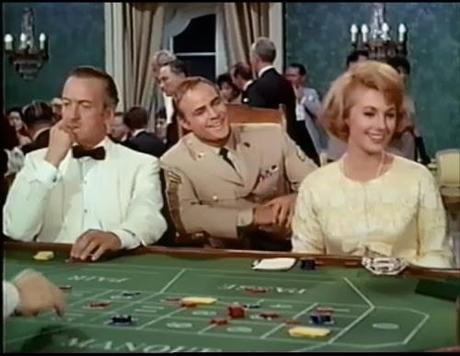 At the casino: David Niven, Marlon Brando and Shirley Jones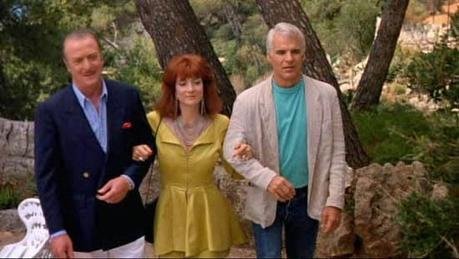 Dirty Rotten Scoundrels all: Michael Caine, Glenne Headley, & Steve Martin
I still love
Dirty Rotten Scoundrels
, but after seeing
Bedtime Story
(
the whole movie is available on Youtube
, and I was able to mirror it full-screen to my Apple TV) I am amazed at how funny Brando and Niven were together. And even more, I was really amazed to see whole bits of business  —especially Brando's take on "Ruprecht The Monkey Boy" that Steve Martin lifted wholesale. The only bum note for me in the older film was Shirley Jones as Janet. She plays a typical bland '50s good girl, and her voice and performance are very one-note throughout. Glenne Headley, on the other hand, may start off in a similar manner, but her character takes an interesting twist. She's also frankly, a much better actress, and can hold her own with her two scheming boys.
Don't get me wrong — a dramatic Brando is also a superb Brando. His performances in all of the '50s films listed above were brilliant. He positively oozed sex appeal, not unlike his friend Marilyn Monroe. But this most naturalistic of actors also had a flair for comedy. Check out
Bedtime Story
and you'll see what I mean.
Brando quotes from imdb
and
Wikipedia