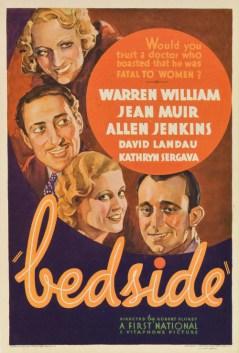 Bob Brown (Warren William) is an x-ray technician who could finish medical school and become a real doctor, but his various vices keep standing in his way. Since he only has one year to go, Caroline (Jean Muir), a nurse and Bob's girlfriend, offers to loan him the money for his last year of school and he agrees. But once again, he loses his tuition money in a game of cards during his trip to school. To cover up the truth, Bob makes an agreement with a doctor named Smith (David Landau), whose drug addiction prevents him from practicing medicine, to use his medical credentials in exchange for shots of morphine.
With phony credentials in hand, Bob sets up shop in New York City under the name J. Herbert Martell, but at first, he only serves as the public face of the practice and deals with the patients in a superficial way while he has a real doctor to actually treat the patients. Soon, Bob gets mixed up with a press agent who helps him build a clientele of celebrities and socialites. He also hires Caroline to work for him as a nurse, but that proves to be a mistake because it doesn't take long for her to figure out Bob isn't really a doctor.
I wanted to like Bedside a lot more than I did, but the subjects of medical malpractice and phony doctors are simply too unsettling for me to take lightly enough to enjoy the movie. I really, really hated the ending. I know this is a pre-code and a lot of unsavory characters still had happy endings during this era, but this one was just terrible. Spoiler alert: in the end, Bob's incompetence nearly kills a woman, which causes Caroline to leave him, but then she takes him back after he's promised to never practice medicine again and thanks him for giving up his career for her. Um, yes, how noble of him to give up his "career" of being a fraud who could potentially kill someone. All that being said, Warren William totally nailed being that total sleaze of a character, but that was pretty much the only value I saw in Bedside.
About these ads