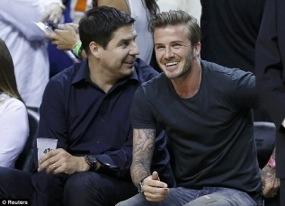 As David Beckham continues to look for an investor in his MLS franchise in Miami, reports are coming out that he went to his former boss for a hand. According to French daily Le 10 Sport, Beckham reportedly has gotten in contact with Paris-St. Germain owner Nasser Al-Khelaifi in an effort to bring him in as a investor for the privately funded stadium that he has in mind building in downtown Miami.
Supposedly, the inquiry was made in order to also have PSG (via Qatar Sports Investment) to be indirectly involved in the club. This move would be different to what NYCFC, who are directly involved with Manchester City (owned by PSG owner's cousin Khaldoon Al Mubarak and The City Football Group).
On Monday, Le Parisien also confirmed that the former England international did in fact contact QSI in order to obtain funds from the group. "Yes, David Beckham has asked us for help," said the report in Le Parisien after speaking with an authority within QSI. "No decision has been taken yet."
Beckham announced last week that he intended to exercise his option as franchise owner in Major League Soccer, but final approval is still pending based on a finalization of a stadium deal with the City of Miami as well as having some investors in place for funding of the stadium.