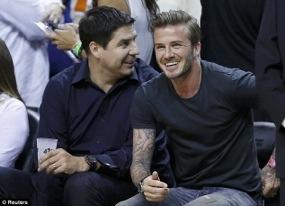 There are plenty of reasons why Miami should have a football team in Major League Soccer. The issue is that, much like real estate, the location has to be realistic compared to the current situation of the economy in the area. If there are a group of people that are completely out of touch with the reality that is Miami you can find them pretty easy; just go to the 100 section of a Miami Heat game. Those are the fans that come in casually late and leave early, the ones that go to the Heat game to look at their smartphones and chat with friends three or four rows down.
They don't go to a Heat game to root for their team, they usually go to be seen in that sector. Obviously television cameras will not focus on the fans that paid hard earned money to go to a gala event that is a Miami Heat game nowadays, but yeah, the ones that are closer to the action are the ones that just started showing up to those games.
. There needs to be a true plan, one that is well thought out. When this is in place, then one can look at a stadium as a good bet for anyone to make, but down here the conditions have to be right, especially the way things have played out in the South Florida political scene.
Obviously, the individuals that are discussing these potential sites are a necessary evil. They are the ones that bring the money, either out of their own pocket or from their sponsors. I would like to see David Beckham drive to a Miami Heat game and NOT park in the comfort of their underground parking lot at American Airlines Arena. This sector of town is very congested in days where there is little going on. Now add to the fact that there are various events going on. Concerts, musicals, recitals, art festivals, theatrical performances as well as Ultra Music Festival. This last event will not affect an MLS team, that is unless the league decide for some crazy reason to begin the season in February.
I digress, what has been reported in the past few days about David Beckham wanting to build a 75-thousand seat stadium for soccer and the news now of stadium being built on Dodge Island are stories from people that have no clue about the geography of Miami, theories being thrown out by lunatic politicians that force-fed a stadium to Miami taxpayers despite massive disapproval and rich people and non-residents having a say as to where the stadium should be built. There are several individuals in this project saying that the stadium would be privately financed, but that is a line that's been heard before down here. Now Dodge Island is a great place to a very small stadium- if you have a boat or a yacht. So that would be a low percentage of the population. Of that "demographic" how many of them would be going to a "fútbol" match?
Dodge Island would need two lanes in and out over a bridge into an island. Placing a stadium, regardless of size, would be a major issue from a geographical standpoint. If you don't believe me look at the map below. The A is the where the stadium would approximately be built.