My first significant experience with death occurred when I was only eight years old.  My grandmother (Ajee) on my father's side passed away from heart disease.  A month later, my favorite Aunt passed away (not from heart disease but from Lupus).  Then about 8 or 9 months after that, my favorite Uncle, whose tummy I used to use as a pillow, passed away, again from heart disease.
As the years went by I had two more Aunts and more Uncle pass away from heart disease.
My last living Uncle on that side, is still living (knocks wood), but has survived three heart attacks.
This was all on my Father's side.
On my Mother's side, heart disease stole my Grandfather (after his third heart attack) before I was even a little thought in the back of my parents' minds.  I never got to meet him and to me, that's a shame, because I hear such wonderful stories about him.
Heart disease obviously plays a big part in my family's history, and I know that my family is not the only one affected by this horrible disease.  In fact, I'm pretty sure you'll be able to think of at least one family member or friend who is suffering or has suffered from this horrible disease.
Now I didn't grow up in Canada, but Canadians are affected by heart disease as well.
In fact, too many Canadians are affected by heart disease!
Did you know that in Canada someone dies from heart disease (or stroke) every 7 minutes and that these are two of the three leading causes of death in Canada (based on 2008 data from Statistics Canada.  Heart disease (and stroke) is such a serious problem in this country that it  costs Canadians $20.9 billion PER ANNUM (hospital fees, physician costs, loss of wages, lost productivity etc.  So why not do all we can to make Heart Disease a disease of the past?  Let's help eliminate it completely.
To do that, we need to do research (obviously), and, as a nation strive to live healthier lives by eating right and exercising.  This is why the Becel Heart and Stroke Ride for Heart, the largest charity cycling event in the city, has been organised for the past 25 years – to aid in research to help eliminate heart disease from our society.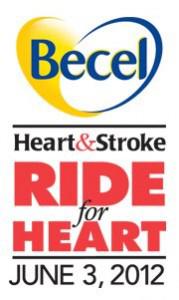 On June 3, 2012, the Becel Heart and Stroke Ride for Heart will celebrate their 25th anniversary and are expecting 13 000 riders to ride across the Gardiner, up the DVP and back to the start – TRAFFIC FREE (come on, when else are you going to see these highways traffic free?  They don't call it the Don Valley Parking Lot for nothing).  Well, that's the route anyways, it really depends on the distance you sign up for.  They've made it pretty easy for beginners like me to take part by offering various "legs" of the route to those who are fat & out of shape like me less fit.
They've also got many options in how to sign up with choices to ride as an individual, part of a group or as a family – all for a reasonable buy-in price.  They're also offering early bird specials, with cheaper prices the earlier you get your tickets.  All in all, they've made it very hard to find an excuse not to Ride for Heart!  The best part, is the extra incentives for signing up early, for example, a $25 sporting life gift card or an awesome Louis Garneau Ride for Heart T-shirt!
If you can still find an excuse though (like I did although I'm not telling you what that excuse was – find your own), you can simply offer a donation or fundraising effort instead of actually taking part in the Ride itself..  Donating also has its perks and incentives ranging from T-shirts, to water bottles to hydration packs to gift cards or ereaders.
It's really a win-win situation.  Check out the Ride for Heart Website to learn more, get further details & to sign up as a rider, donor or fund raiser.
Ride a bike. Extend a life.
Also, the lovely people at Ride for Heart have decided to offer even more incentive for you to join, just cause you read this blog and I know you are going to head straight on over to their website to participate in some way.  They're offering you a giveaway of some of their incentive swag.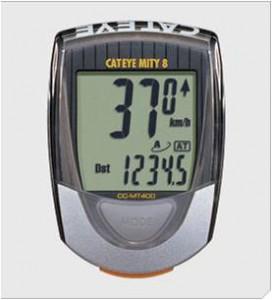 Cateye Bike Computer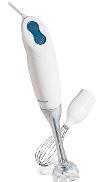 Hamilton Beach Hand Blender
If you don't mind waiting for the rafflecopter widget to load below (if it hasn't already), and you don't mind doing the mandatory tasks, then you can win a CatEye bike computer, a Hamilton Beach  hand-held blender &  a Ride for Heart t-shirt (you'll have to go visit the website to see the T-shirts).
This giveaway is open to Canadians only and ends 25th February, 2011 at 12:01 am.  Good luck!