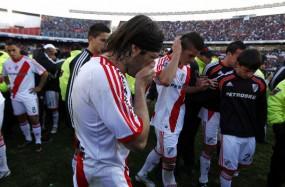 For many the relegation of River Plate is still a surreal event.  It was Juventus plus Real Madrid going down to many.  They thought it was more probable for both of those sides to go down before Los Millonarios ever would… a least that was the sensation.
Their going down was not just a shock to the system, it was something that was able to shake the game in that country to its foundation.   All of a sudden the system is in shambles because the unthinkable happened and the vox populi confirmed it.
Yes, you heard me right.  Not the game… the country.
This situation exposed the weakness of AFA as well as the inconsistency of Argentine justice.  According to the people in charge (Cristina Fernández and her cabinet) all is well.  So well in fact that Argentine state television did not transmit the riots that were going on outside El Monumental.  It was the cable companies, the ones on the outside… the ones that had their rights revoked in order to take over the biggest propaganda forum in that country.
Had River beaten Belgrano Córdoba, this would have been something that was quickly swept under the rug and things would have gone about the same way come Monday morning.  River fans would have been relieved seeing their team eschew the ghosts of the second division.  In the future, they would maybe laugh.  It was just a fantasy, though.
Instead, a huge can of worms was opened and now they are quickly reproducing.  River now are the exponent of a problem that plagues Argentine society and there is no denying it despite the federal government trying its best to do so.
River Plate were a club that was not just one of the most popular clubs in the country.  They were a club that identified a sector of the population with the country.  The club were part of the Argentine identity for better or for worse depending on what side of the line you were toed.
The best line came from Argentine politician Elisa Carrió when she compared River Plate's first division demise to a fate very similar that the country could take.  She stressed several precendents that led to the eventual spiraling of the entity into the inferno of the  Nacional B.
Corruption.  Appeasement.  Insecurity.  Despot Leadership. Those were some of the routes that Carrió wanted to take in an effort to bring her point across.  She's not that far off.
Cristina Kirchner was able to concentrate most of the power in the Argentine political system around her ever-growing cult of personality.  The same has happened with River president Daniel Passarella.  After being elected president in one of the tightest races in club history, Passarella's tenure has been far from disappointing- that is if "disappointing" was the highest standard you would want to reach.
Referee Sergio Pezzotta in his report stated that he had eight barrabravas enter the dressing room at El Monumental.
"Either call a penalty or you (all) don't come out of here alive."
The problem was not just the report, but also the security videos that were sequestered by the local authorities.   Pezzotta, according to various reports, spoke with AFA president Julio Grondona about "obtaining guarantees" for his safety at halftime.
Some of the people that have been identified are linked with the River Plate barrabrava, which had access to the alternate gates that they did take in order to evade security in order to get to Sergio Pezzotta's dressing room at halftime.   Among those barrabravas was a member of one of the most powerful unions in Argentina.
The CGT (Truckdrivers union) was one of the more influential unions in Argentina as its secretary general, Hugo Moyano became very close to the Kirchner government until money laundering charges were brought upon him in March.  His son would take over and now there are accusations in reports by the local media as to being in cahoots with River supporters group Los Borrachos del Tablón (The Balcony Drunks).   This accusation began to be speculated especially after the incidents in Córdoba last week.
Much like it happened in the early 80′s when River last flirted with relegation, the rules are being written by AFA as they go along.  As of early Tuesday, it looked like River Plate would come away with a moderate penalty where others were castigated to the nth degree.
Nueva Chicago was the worst punishment handed out by AFA as they would suffer a match ban in their stadium as well as a 21-point deduction the following season.  After the appeal it was reduced to 18.  Almirante Brown would suffer a similar fate as they would also endure a double-digit deduction.
The Committee of Sports Security would then begin to sequester security video footage only to find the video of the barrabravas entering and threatening Pezzotta's crew at halftime.  There is also video footage of conversations going on with lower-level River Plate officials prior to the verbal assault. After all their findings, River face a year away from home.  The Committee will sanction River with a 20-match ban.  Should they win the second division title, their first match back in the top flight would not be at El Monumental.  There is also talk of a three to 18-point deduction as well.  That still has to be determined by AFA Disciplnary Board.
AFA guidelines as well as federal consider this a severe penalty as there could be charges of Conspiracy to Assassinate a Referee that could fall upon this specific club official if this is proven.  There is the magic word- proven.
There are also changes that could be made to the Nacional B tournament.  For starters, there are no visiting fans allowed to any matches.  This measure has been in place for the past four years as there is no plan in place that can guarantee the safety of fans at events at these venues.
AFA, alongside the Kirchner government, might consider lifting that ban this year.  Coincidence?
Daniel Passarella also came out and gave an exclusive interview to ESPN on Tuesday and made waves.  As expected, he was adamant to not resign.   His will was able to win over the detractors both in the opposition as well as on the officialist end that wanted to see him one after Sunday's relegation.
He also came out with another bombshell.  He said he "expected" the same revenue from television that he received while the club was in first division.  That set off a wave of anger in the second division.  River's earnings from the current television deal at $28 million (US$ 7 million).  The average number for a second division side is at around  $3 million.  For River that would mean an economic disaster of Titanic proportions.
So why is this such a problem?  Well the problem was that NO ONE imagined that River or Boca would EVER go down. No, seriously, that was the answer that was given.
Even Julio Grondona himself said that he never expected River to go down the way they did.  It caught an entire nation completely off guard.  It would have been Real Madrid being relegated after losing to Alcorcón- times 20.  No one expected River to lose a home and away series to Belgrano.   The Córboda side was the iceberg that sunk the boat that could never sink.  That was the way it was seen.  There is no other explanation.   That is all the more reason why all these issues are beginning to arise.
Although they've flirted with relegation in the past, they knew that they would save themselves in the end or "be saved".   Moreover, this could not have happened at the worst possible moment for River from an economic standpoint.
There are reports of the club's debt being at around $200 million (US$ 50 million) and there are still no answers as to the US$ 350 million that disappeared from the club's coiffeurs after sellin players the likes of Pablo Aimar, Javier Saviola, Juan Pablo Sorín, Juan Pablo Ángel, Hernán Crespo, among many others.   Funny how barrabravas come into this as well as they are now being found as taking part in the sale of these players.  Of course, when there are sales, there was always a cut of the profits going where they shouldn't as was the common exercise during the José María Aguilar era.   This end we'll have to leave loose as AFA appear to be rewriting the rules as they go along.
This plus, the rumblings of an audit could emerge in the coming months are just what could happen at River as well as many clubs.
"Misappropriation of federal funds" could be the four words that many club officials could be the words that could spell the end of several of these individuals.  Remember the Argentine government subsides the game via taxpayer money in order to obtain the television rights.  AFA receives the money and decides to distribute these moneys as they so choose to.
There are still many stories to tell and stones to turn as we delve into unchartered waters.   Despots like Passarella as well as Carlos Babington at Huracán were the forces of prepotence that didn't drive their respective teams to the ground.   They were already heading in that direction.  What they did was nose dive them into the depths of the abyss.
This was something that was about 15 years in the making for River Plate, but the beauty for them was that winning covered everything.   This is why it's so easy to solely blame Passarella- although he does deserve a great deal of blame.  There were many culprits.
Former Mexican president Ernesto Zedillo said just a few months into his tenure as president that it was his predecessor, Carlos Salinas de Gortari that left that country's economy "held together by pins and needles", but a reporter said that it was he that "removed them" thus leading to one of the most brutal economic crises of that country's history.
River Plate seem to be in a similar boat now.  Passarella constantly blames Aguilar although he attributes "15 percent of the blame" to himself.   He might have found a club in economic shambles, but the club found in Passarella a candidate based on name alone.  As a player he, like his counterpart Babington, became a legend at his club.  He won titles as a player and as a coach.  Those types of successes do not necessarily transfer over to the board room.  In Passarella's case, much like Babington's, it did not.  That is why they will be able to compare notes in second division next season.
It is true that worst blind man is the one that refuses to see.  Neither Passarella or Babington want to see yet they continue…  someway, somehow.
River Plate hit rock bottom.
But like the old Argentine adage says, "When (we) hit rock bottom, (we) begin to dig."