FirstLadyB: Christian Millennial Blog Covering Entertainment, Lifestyle & Pop Culture
BeBe Winans musical 'Born For This' took home 5 trophies during Monday night's NAACP Theater Awards in Los Angeles.
The musical based on the life of BeBe Winans took home awards for:
Best Lead Actor Juan Winans, Best Supporting Actress Nita Whitaker, Best Director Charles Randolph Wright, Best Playwright Bebe Winans and Charles Randolph Wright, and Best Musical Director Jaret Landon!
View this post on Instagram

Well Well Well Thank You NAACP Theater Awards for celebrating Our Musical Born For This with 5 awards!! @juanwinans #bestactor @soprantygirl Nita Witaker #bestsupportingactress Jaret Landon #bestmusicaldirector #bestplaywright Charles Randolf Write & Bebe Winans & Charles Randolf Wright #Bestdirectormusical

A post shared by BeBe Winans (@bebewinans) on Jun 17, 2019 at 10:18pm PDT
Detroit teenagers BeBe and Cece Winans experience the ultimate in culture shock when they leave the comfort and safety of their already-famous family to join Jim and Tammy Faye Bakker's Praise The Lord Network in Pineville, North Carolina. The televangelist couple becomes an unlikely surrogate family as the siblings rapidly rise to television stardom. After the duo achieve unexpected fame with a PTL performance of a remake of the hit song, "Love Lift Us Up (Where We Belong)," they encounter the seductive lure of celebrity and they establish life-long friendship with rising pop star Whitney Houston. Ultimately, BeBe must learn to reconcile the temptations of stardom and fortune with the things he ultimately values more.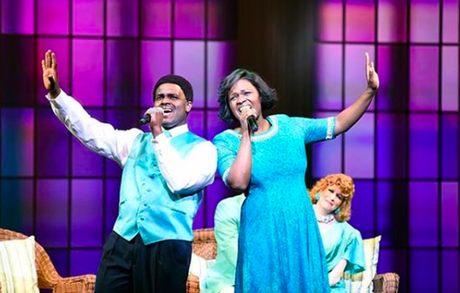 Photo Credit: Born For This Musical
Born For This: A New Musical brings the legendary artist's story to life with acclaimed new music and lyrics by BeBe that has audiences rising from their seats in thunderous ovations. A wildly funny yet deeply emotional journey toward self-discovery, Born For This is the family-friendly and universal story for anyone who has ever yearned for something – for anyone who is looking to find their purpose in life.