…is good for nothing.
Indeed.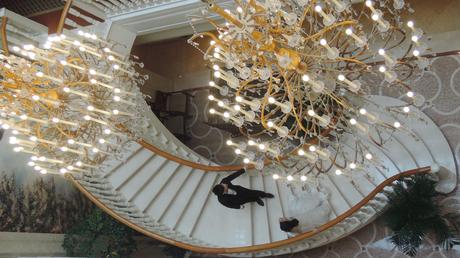 Rocks Hotel staircase
So, this was the palce: Rocks Hotel; not the most luxurious one in Macao, but the most expensive I had been so far. A restored building from colonial times, when Portugal was in full bloom. An unbeatable location right by the shore, with a splendid view to the sea under the 3 km long Amizade bridge. Wallpapered room, wooden floor, marbled bathroom, king size bed, hi-fi stereo, massive wood furniture, XIXth century style bathtub, copper pipework, classical shutters, wooden balustrade in the balcony, embroidered bathrobes and towels, towel slippers, full perfumery and toilet equipement, cable network and TV, flat 42″ screen, all kinds of gadgets… you name it! Downstairs, a vast marble hall and staircase, armor platings adorning the corners, chrystal chandeliers hanging down the high ceilings, greenhouse skylight, tapestries on the walls, mirror-polished brass doors, gym, huge floorboard terrace, private garden, all elegance and whatnot… Besides, supper and breakfast included, excellent quality food, and great variety. Well, I hope you get the picture, don't you?
But then, upon checking in, the first check: 1000 HKD key deposit. What?? That's 100 €! Are those card-keys really worth that money? That's more than half the price of the room itself. More yet: is it any classy for a top notch hotel to ask for a key deposit, in the first place? Sounds more like a second rated youth hostel in London's Soho…
I tell the bloke at the reception: "look, that's about as much as we're going to spend in the whole afternoon; you don't expect us to exchange currency just for paying that absurd deposit, do you?" He replies: "I'm very sorry, sir, but…" My girlfriend puts a 500 HKD banknote on the desk and the other receptionist, a young lady fortunately not so much square headed, takes it and says: "It's ok, mister, we can make it 500″. So, they issue a receipt and Willow, my girl, signs it and keeps it.
Ours was just a one day trip. The next morning Willow has to wake up early for going to work, back in China, while I stay loafing about in bed, stretching my limbs, taking a shower, then having a slow, delicious and reinvigorating late breakfast. My own ferry leaves at noon, so I check out at 11 a.m. The same pair as the day before tend the reception. Upon handling them the receipt, the guy comes: "excuse me, mister: we can't refund the deposit to you; it's your wife who signed the receipt".
I pride myself of being an experienced traveler, but such a piece of nonsense I had never heard before, nor could I have even fantasized. Needless to say, it took me aback, and for a moment I didn't know how to react. Finally I found my voice back:
– Well, but my wife has left early this morning, and as I was staying a few hours longer, she couldn't return the keys, least I wouldn't be able to leave the room at ease.
– Then, sir, I'm very much afraid we can't proceed. Maybe you can tell her to come back?
I couldn't believe what I was hearing.
– What the heck are you saying? Hello! My wife is now in China; she can't just come back like if she had gone to buy the paper.
– But that's no problem, mister! She has two months for retrieving the money and…
– Look, are you kidding me? It takes two hours to come here by ferry and another two hours back, plusthe ferry costs 400 HKD. Do you mean we have to spend 400 for recovering our 500?
– In such case, sir, there's nothing we can do…
– All right, then. I want to talk to the manager.
– Oh, we're sorry! The manager is not here now.
It was desperating. I tried once more: "Listen: don't be so square headed; we were together in the room, she's already gone and now it's only me to sign that paper; so, please call the manager or whomever you need to talk to, because otherwise it's me who's going to call the police, the consulate, or I don't know whom. But I need to take a ferry at noon and I'm not going to leave without my money; is this clear?" Of course those words were but a bluff: there's no Spanish consulate in Macao, and, had there been, calling them, or the police, would be utterly useless; plus, I'd definitely lose my ferry ticket. But the bluff must have worked somewhat, because, as the guy was shrugging, the girl asked me: "can you please give us her phone, so we can talk to her?"
I gave them Willow's number, and the receptionist talked to her over the phone. After a one minute conversation, she finally gave in: "ok, no problem; you can sign the receipt and we'll refund you the money; but we need to take down your passport's data".
With all my blessings I handled them my passport. And this is how I managed to recover the money; but that episode and those receptionists will be indelibly recorded in my memory as the most nonsensical, rigid and absurd I'd ever have to deal with.
Now, if I could talk to the hotel's manager, I'd ask him: is it really worth to lose two customers and all the prestige for the sake of idiotic rules, or for saving some money in full-brain employees? As the famous advertising goes: "Beauty without brains is good for nothing."
.