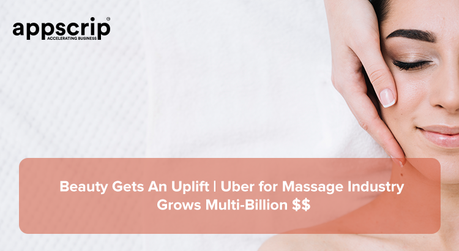 43 total views, 43 views today
The beauty community too has jumped on board, offering everything from at-home makeup services to blowouts and of course massage.
Massages in the comfort of your home is certainly a ticklish feeling. To some, this service may sound a little suspect. How smart can summoning an unfamiliar masseuse to your house really be?
Well, It can be. Read on to find out.

Empower People With Uber for Massage & Earn Big
Imagine a person feels the need for a massage. As much as he wants it, he might not really be excited with the idea of driving down to a spa or a parlor. So he ends up cancelling the idea of a session.
Another individual has an on-demand massage app like Uber. This person can quickly book a massage online and call the professional for a session at home.
Uber for massage app offers an opportunity for therapists to get hired easily. They can set up their profile and mark their availability. On the other hand, a client gets detailed information about a therapist before hiring them.
Make It Safe | Security Aspect
Prohibit cash bookings, so everything is put through a bank card.

Perform fraud checks to ensure the bookings are made by people who are who they claim to be.

Put a panic button system on the app. Link it to emergency services so an operative can take action. Both for the therapist and the customer.

Use GPS to track the therapist.

Perform background checks on the therapist. Take interviews in person.
Revenue
For an hour a massage session costs about $100. It's a $12 billion industry, according to IBISWorld, a business-research organization.
The tech companies are enabling consumers book in-home sessions through Uber for massage like apps. This alone comprises more than $1 billion of that industry annually.

Who Can Benefit From Uber for Massage?
Gym Owners

You might be the owner of a gym, and your business is not doing well. You are looking for the right solution, to attract more clients. You can offer massage services for your customers and get it arranged quickly. Its better than hiring a permanent masseuse at the gym.

Beauty Parlors

If a client needs a massage apart from the beauty therapy at the parlor, this app can be used to get a masseuse immediately.

Old Age Homes

Massage can be taken a step further and physiotherapy as a service can also be included in it.

Corporates

Can hire for company events and as incentives for employees.

Home stays | Co-living places

This will be a great hit at such places..
Thriving Uber for Massage Businesses
Soothe
Soothe offers on-demand massages at home, the office or a hotel in as little as an hour from therapists who are background-checked, licensed and handpicked. Massages range from $109 for an hour to $205 for two.
The service recently is available in more than 60 cities across the United States, Canada, United Kingdom and Australia.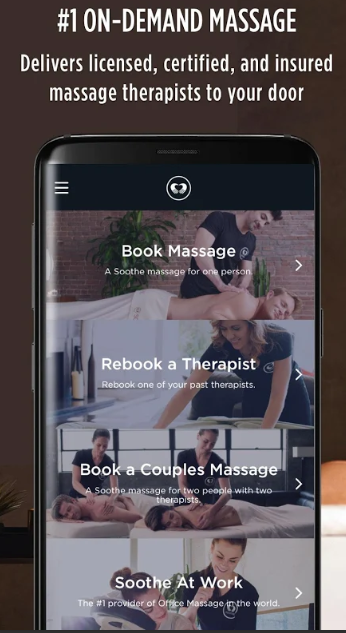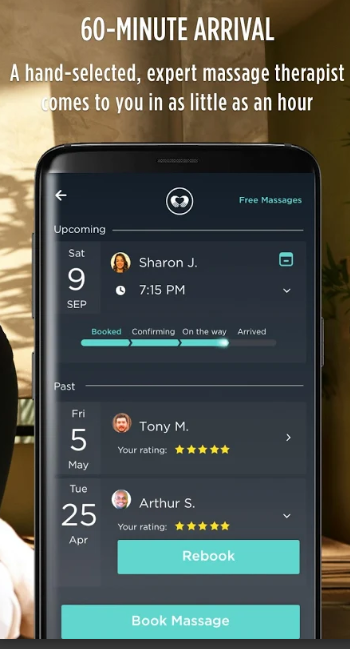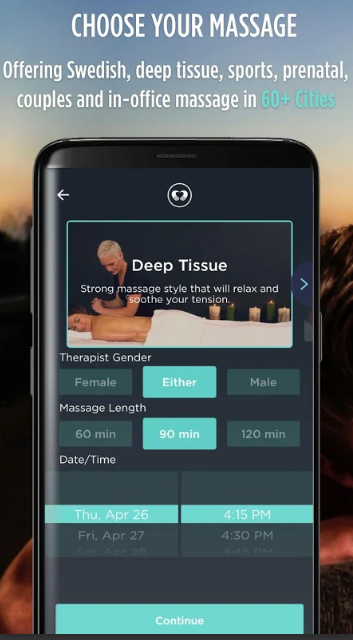 Soothe increased its net revenue by 80% last year and is on track to continue that growth trajectory. The company is nearing 11,000 massage therapists on the platform and employs about 100.
Soothe has raised $31 million in additional funding led by existing investor The Riverside Co. The Series C brings the startup's total funding to more than $78 million.
Zeel
Tried Zeel Sleep Massage and, sweet lord, did I snooze soundly." - PopSugar
Total Funding Amount: $13.2M
Zeel provides on-demand massages from vetted therapists. It has over 10,000 licensed massage therapists in its network.
More than 60% of bookings through Zeel are for massages in the next four hours, in one's home or hotel room. 21% occur after 9 p.m. At home and yes alone, with your on-demand massage therapist.
Security is the key aspect of the company which have GPS tracking and performs extensive background checks on both the client and the therapist.