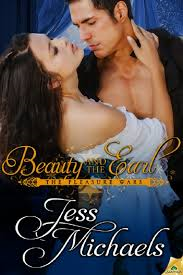 Beauty and the Earl by
Jess Michaels
My rating:
4 of 5 stars
Beauty and the Earl by Jess Michaels is a 2014 Samhain publication. I was provided a copy of this book by the author in exchange for an honest review.
After a horrifying accident that took the life of the woman he loved and left him disfigured, Liam removed himself from everyone and everything. He discovered that his sister has married his mortal enemy . Now his sister is very worried Liam will do something rash. She devises a plan to send a spy in that will let her know how her brother is doing physically and emotionally. Enter the beautiful courtesan, Violet. Violet has been promised quite a large sum of money if she can infiltrate Liam's life and report back to his sister everything she discovers.
Violet has a really sad background, but her main purpose is to try and make a quiet life for herself and her son. While her conscience pricks just a little at having to report back all the things that happen with Liam, the thought of having a better life is too good to pass up.
Violet and her best friend Olivia have no problems insinuating themselves in Liam's life . Olivia keeps Liam's friend Malcolm out the way so Violet can work her magic. Maybe she does her job just a little too well.
With Violet, Liam begins to open up not just in a sexual way, but be begins to live again and work through his grief and guilt. What Violet never counted on though was Liam having a few magical tricks of his own. Violet may be skilled at her profession, but Liam opens up doors for her she never experienced before and not only that Liam is able to get her to open up about her painful past. Naturally, as Violet begins to fall in love with Liam the arrangement she made with his sister begins to weigh on her heavily. Will she be able to continue the farce or will she confess everything to Liam and risk losing him forever?
This is such a great story. Through the love of family, two flawed and wounded souls find happiness with each other. How can you miss with a story like that? Old grudges and bitter hatred that had been handed down from generation to generation finally has the chain broken. The secondary characters were also well drawn and really added a lot of flavor to the story. Olivia inadvertently finds love of her own, which made for a great side story. This book is a part of a series, but can be read as a stand alone.
A very emotional story with more than one HEA! If you like historical romances with high heat with just a hint of erotica added to the story, then this one is for you!
This is 4 stars!     

Jess Michaels
website
http://www.authorjessmichaels.com
twitter username
jessmichaelsbks
genreRomance ABOUT THE AUTHOR: