Artist Catherine Weitzman has always loved the graceful, pulsing motion of the jellyfish as they move through the waters of the ocean. She has captured this uncommon and enigmatic beauty in this stunning jellyfish necklace. Each necklace is carefully handcrafted in Hawaii by the artist herself from recycled sterling silver and enhanced with the sparkling natural shimmer of 23 blue topaz stones.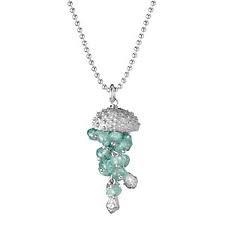 If you like uncommon and unusual pieces in your jewelry collection then you can't find many things as beautiful and out of the ordinary as the delightful sea creature. Since each piece is crafted individually your necklace will be a one-of-a-kind treasure that will catch the eye of everyone around you.

To find out more about adding this darling necklace to your wardrobe, please go to UncommonGoods.com. Enchanting jellyfish earrings are also available.