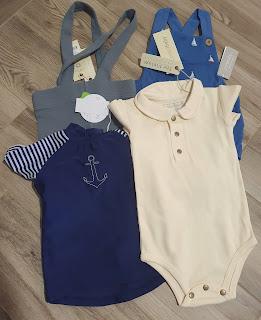 By now, you would have seen our little one wearing some really gorgeous pieces from
The Baby Closet
. Now that x'mas is coming (very soon it will be CNY), I thought it would be good to share early so that you guys can stock up early if needed. If you haven't heard of 
The Baby Closet
 before, that is because they are quite new. The Baby Closet is a Singapore grown family run business with curated baby essentials. Not only are these products very beautiful, they are also organic and produced through sustainable methods. Each piece is individually tested and hand picked, hence this might explain the price range. Also after multiple abusive washes, the apparels still look brand new. What sorcery is this o.O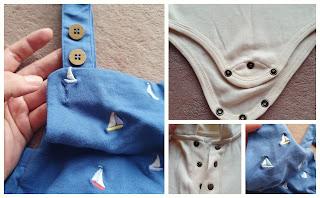 What I love about their pieces are how intricate they are. The material is also of good quality and soft to touch. I always grumble about the lack of designs for boy's apparels but The Baby Closet proved me wrong with their variety. 
Sail Away Bodysuit ($42.90): This is one of my favorite pieces cos I love everything nautical. I like that it can also be unisex and is a very fancy piece for a boy. There are 2 buttons on the strap so you can adjust the length as baby grows older. The details are very intricate too! Check out baby wearing this here!


Polo Bodysuit in beige ($39.90): Personally, I am not into simple designs. But this piece look really good on my boy. I think it is because most babies look good in white/ beige. I like the metal buttons though on the piece cos it is a bit different from the other plastic-buttons rompers. And how do you know, this piece is of superb quality? The buttons doesn't rust after multiple washes! Watch him wear this here!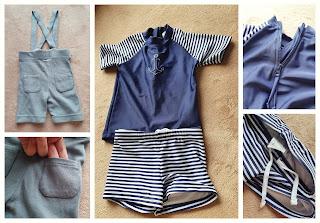 Suspender Shorts ($40.90): I like this piece the least because my baby has very thick thighs and it is difficult to dress a big baby in this. In terms of design, it is really intricate with functions pockets, suspenders (nice, finally the boys get a bit of fashion) along with my favorite metallic buttons. Looks best with a plain inner piece but being an excessive mom, I don't have that many plain inner pieces to match. Baby wore this here!
Short Sleeve Rashie Set ($51.90): This is a really beautiful swimming suit (non-thermal). The only grouse would be it is pretty small fitting. Thank god the pants could be stretched further (even after he wore his swim diapers) and to fit his thick neck and big head, we zipped the top partially. He still really looked really cute, you can see him flapping around in it here. 
***
Note: Laptop is down, so posts won't be as frequent!