A gorgeous truly in love couple, created a unique wedding in one of the most beautiful wedding destinations. Tuscany in Italy, especially in the Autumn is so gorgeous and breathtaking! Castello di Oliveto, an ancient manor building was the ideal choice for a wedding with an aristocratic sense. The two lovebirds exchanged vows in the bloomed garden of this incredible venue and after they had a dinner party with their family and friends. The dinner took place in the courtyard which was surrounded by the ruining walls. The wooden table setting with the greenery garland and bouquets combined with the candlelight created a magical atmosphere. Get lost in this Italian beauty through the following photos!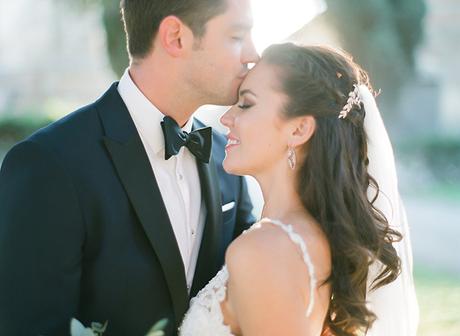 Photography : Peter & Veronika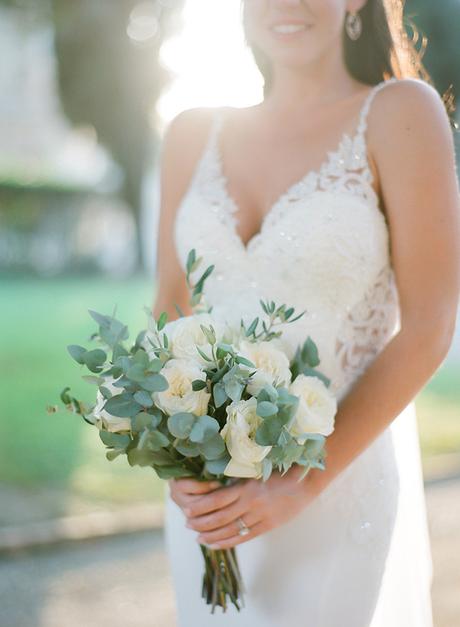 Photography : Peter & Veronika
"Quite soon after Andrew proposed we decided to get married in Italy. For us the warmth of the people and the sun, the food, the wine and the lifestyle of Italy evoked in us a feeling of relaxed happiness, which we wanted to be the spirit of our wedding. We soon realized with the language barrier that we needed a wedding planner; that was one decision I didn't once question. Planning was fun and allowed me to be creative, with Gillian doing all the hard work! We then flew over to meet her and see venues in Tuscany. It was such an exciting day, helped along with some of Tuscany's finest wine, and before it ended we'd booked our villa and castle! We went home and began searching for photographers, which was incredibly important to us as it is quite literally how you remember the day. We paid a deposit for one photographer when we found Peter and Veronica and fell in love with the flawless fine art photography. Unfortunately, we couldn't get our deposit back but switching is the best decision we made. You have to take your time and feel comfortable with your decisions or they'll keep you awake at night, every night!", the bride shared with us.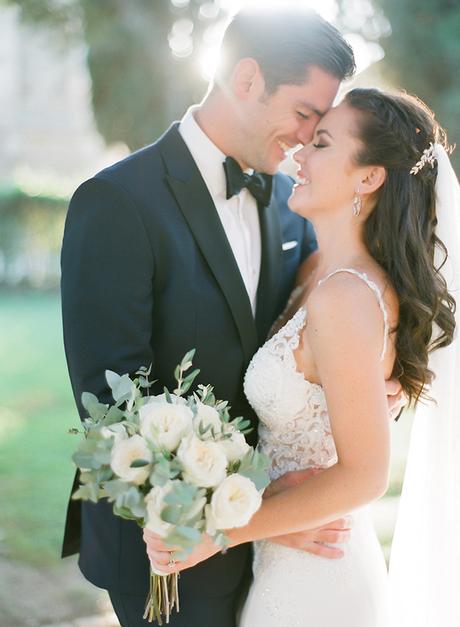 Photography : Peter & Veronika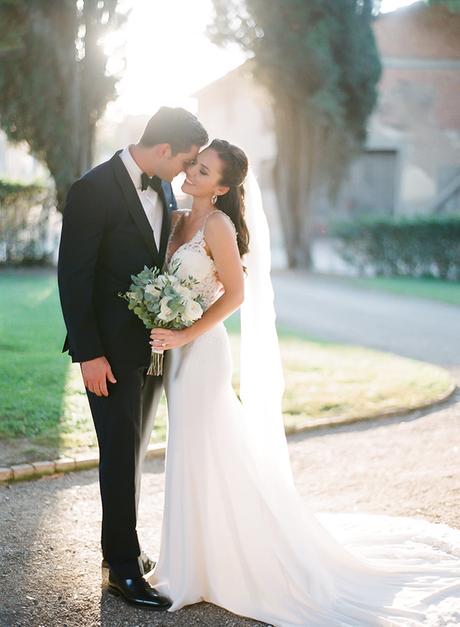 Photography : Peter & Veronika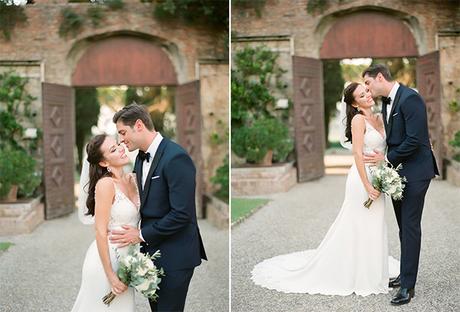 Photography : Peter & Veronika
"Dress shopping for me was the least fun part of the planning. I had no idea what I wanted so instead of dragging my friends around mindlessly I decided to just try on as many as possible by myself. I must have gone to 10-15 different shops and on the last shop I was thankfully with my chief bridesmaid when I found this dress by Martina Liana in Angelica Bridal. It really was just a feeling of 'ahhh finally!'. I loved the ridiculously long train with the detailed trim, I loved the classic cut, the pretty straps and the low yet modest back."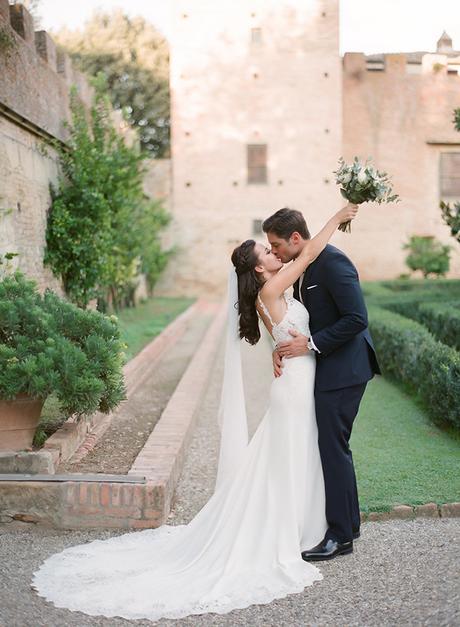 Photography : Peter & Veronika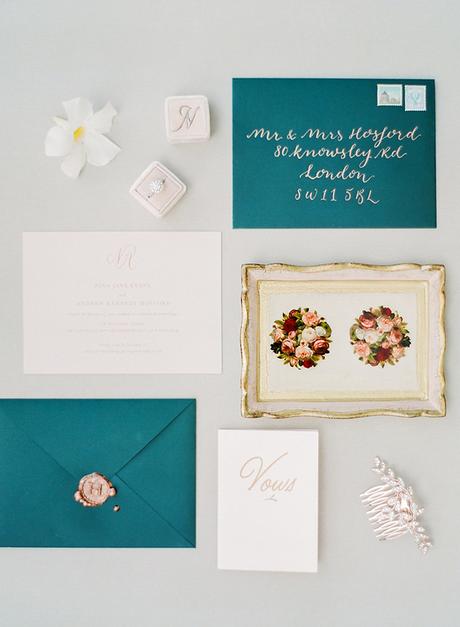 Photography : Peter & Veronika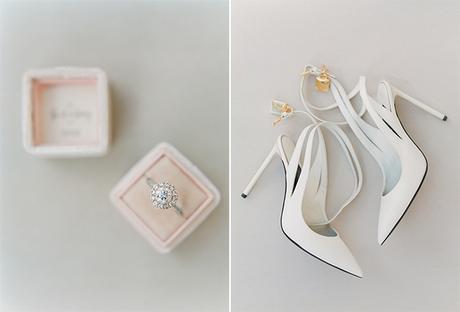 Photography : Peter & Veronika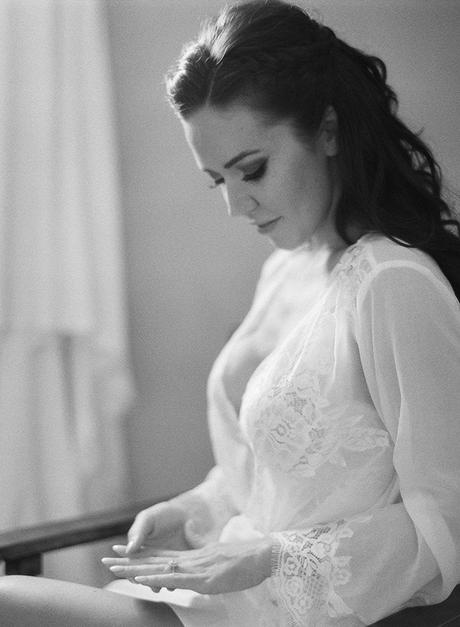 Photography : Peter & Veronika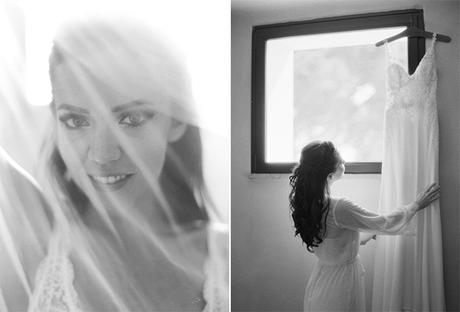 Photography : Peter & Veronika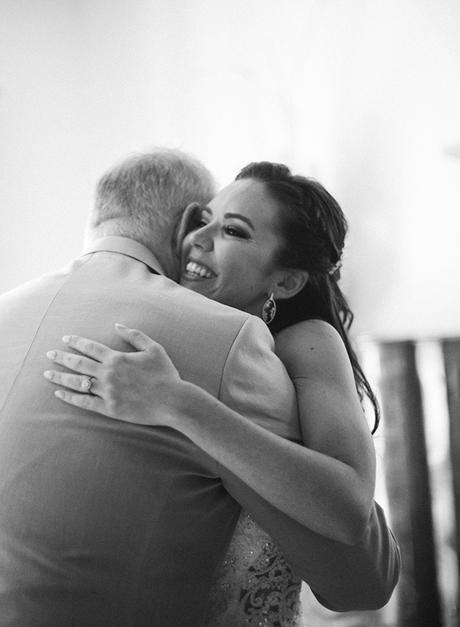 Photography : Peter & Veronika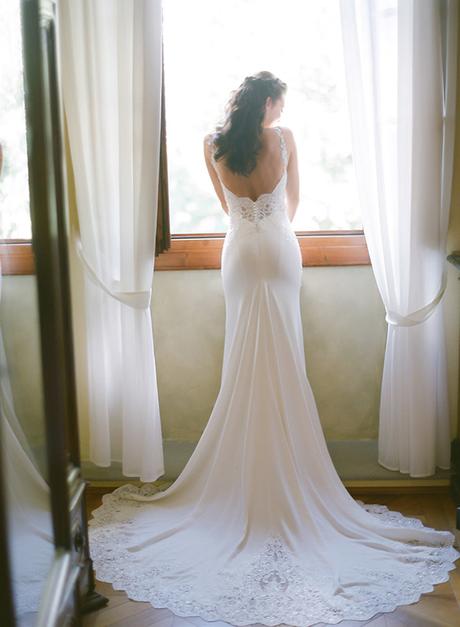 Photography : Peter & Veronika
"The villa we booked for all our guests blew us away with its breathtaking views of the Tuscan vineyards. It's typically Italian/country style and is actually a working wine estate, which came in very handy! Our family arrived first and helped us string fairy lights and blow up pizza inflatables, we went for a truffle-filled dinner and it was the perfect beginning seeing everyone laughing together. Our friends arrived the next day and we had prosecco by the pool, followed by a pizza party under the stars until the early hours. The day before our wedding we had separate stag and hen days, filled with sunbathing, wine tasting, sight seeing and of course, plenty of Alfresco dining. The day after our wedding we had a BBQ complete with an old-fashioned gelato cart, a donkey carrying beers, decorated in flowers and her two week old baby who skipped around the lawn! Every day was special and memorable in it's own way and it was incredible to be able to spend so much time with our family and friends."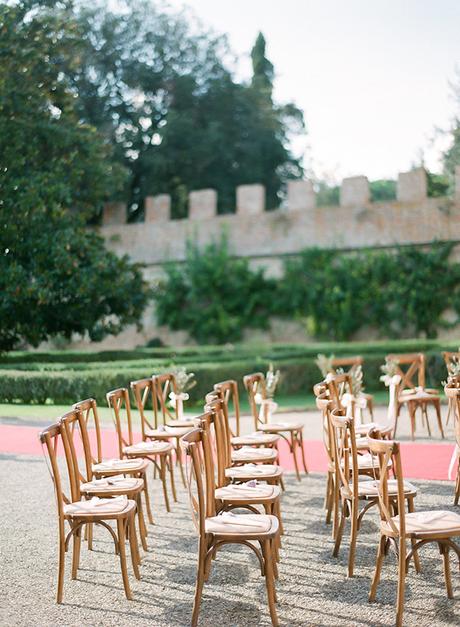 Photography : Peter & Veronika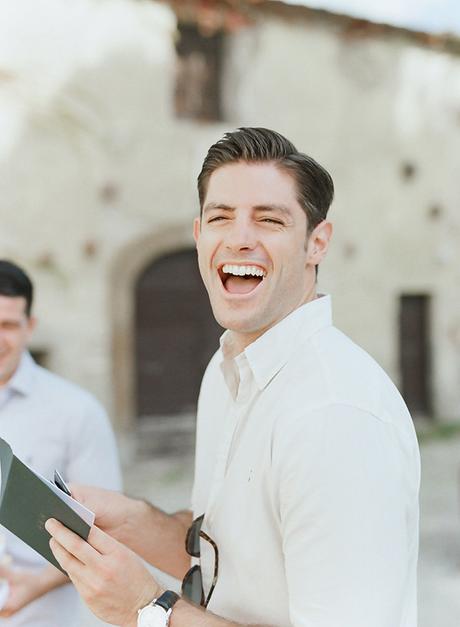 Photography : Peter & Veronika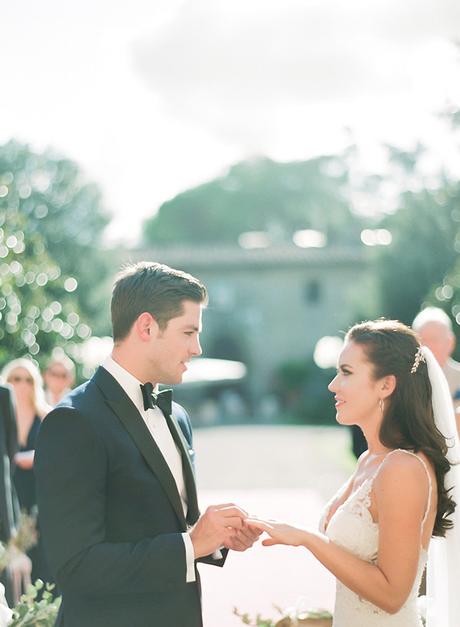 Photography : Peter & Veronika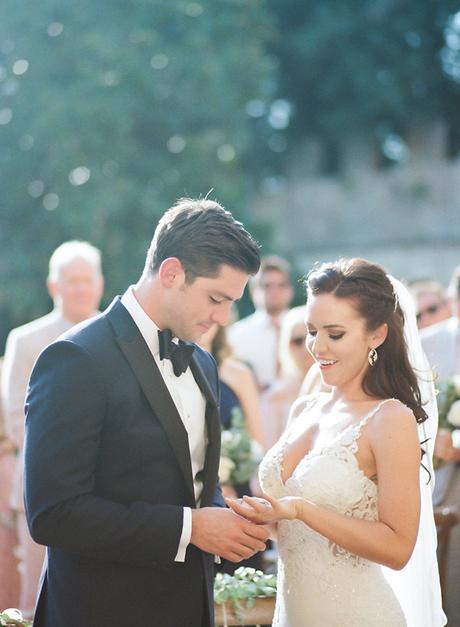 Photography : Peter & Veronika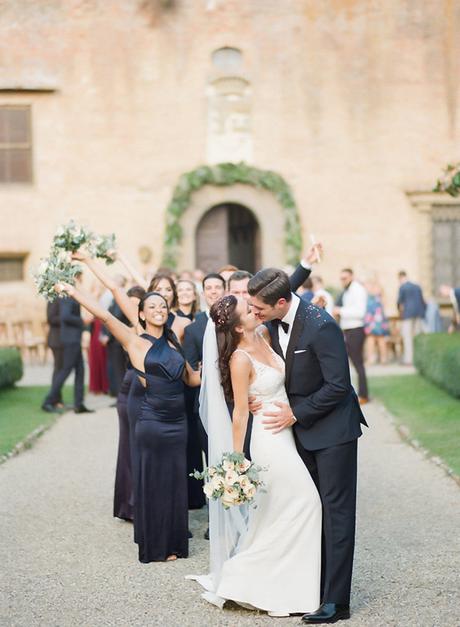 Photography : Peter & Veronika
"We love the soft, warm, natural tones of Tuscany's landscape in September, so for our attire we wanted something striking to cut through and contrast those hues. Andrew being the stylish gent he is chose the groomsmen's classic midnight blue dinner suits, and I copied him and chose complimentary bridesmaid dresses. We wanted to look timeless and sophisticated, but we wanted the vibe of the day to be laidback and fun."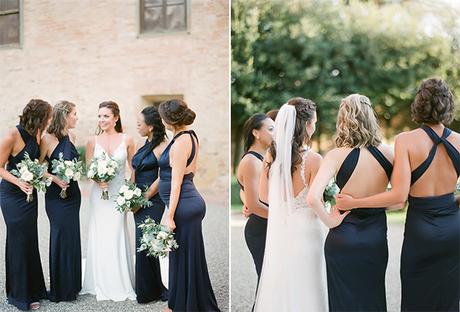 Photography : Peter & Veronika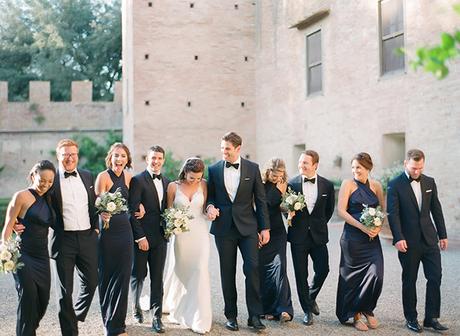 Photography : Peter & Veronika
"The band were perfect for this and played great Italian swing and jazz during the prosecco/aperol hour in the gardens of the castle. Castello di Oliveto was built in 1424, it has beautiful detailing and even a bedroom for the pope! We dined in the courtyard and being surrounded by the ruining walls in candlelight was magical. For the 'wedding breakfast' we actually called it a feast and wanted it to feel like a big family style dinner and it didn't disappoint!"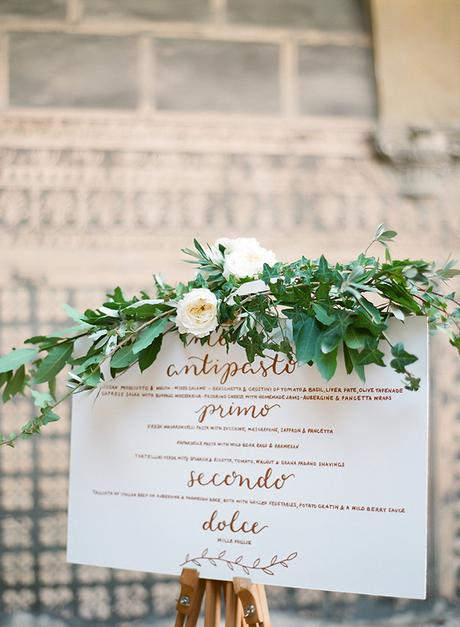 Photography : Peter & Veronika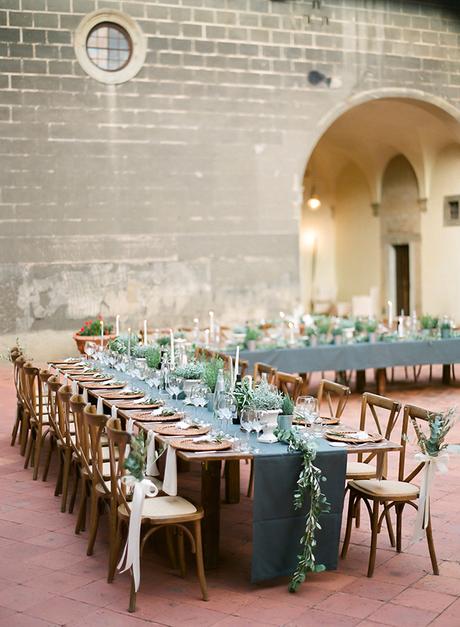 Photography : Peter & Veronika
"The tables I decided should be U shaped to give a communal feeling to the dinner, and were bare, natural wood with a dark gray runner, and filled with candles, an olive leaf and eucalyptus garland and pots of herbs to really create that castle feast ambience. For place cards I had everyone's names painted on to marble coasters which doubled up as favors. The pasta and wine were plentiful and instead of champagne toasts we asked for bottles of limencello to be plonked down in front of people, which our guests really enjoyed! We then had a traditional Italian wedding cake – mille foglie, which got a bit messy! After that we danced to a DJ and saxophonist before a sparkler send off."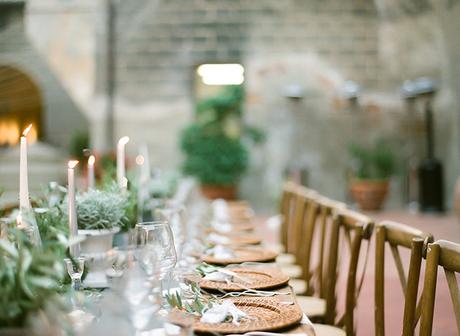 Photography : Peter & Veronika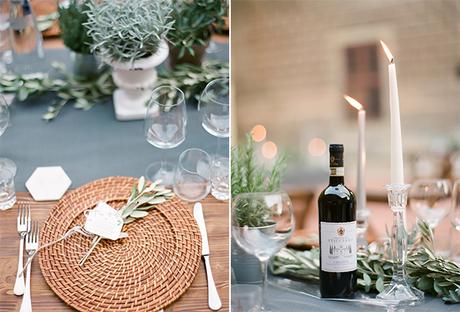 Photography : Peter & Veronika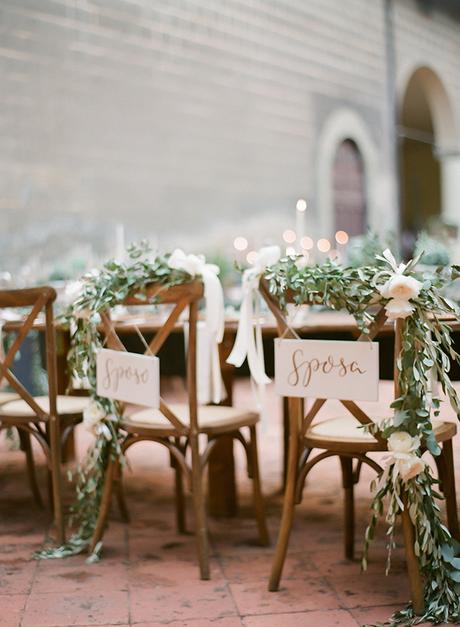 Photography : Peter & Veronika
Advice to a bride-to-be: "Try to do everything in your power to enjoy the process. Make that your number one priority because a wedding does just last one day but the engagement and planning is many, many days that can all be incredible if you let them be. Don't rush decisions! Once you've found something then wait as long as you can before putting money in it, I probably would have changed many things just a few weeks after paying for them. Plan a few little surprises for each other too, make them secret missions, when they come to fruition it's so much fun seeing your partners face."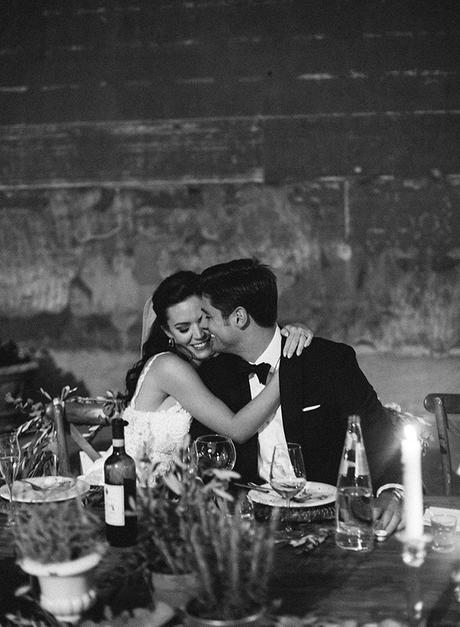 Photography : Peter & Veronika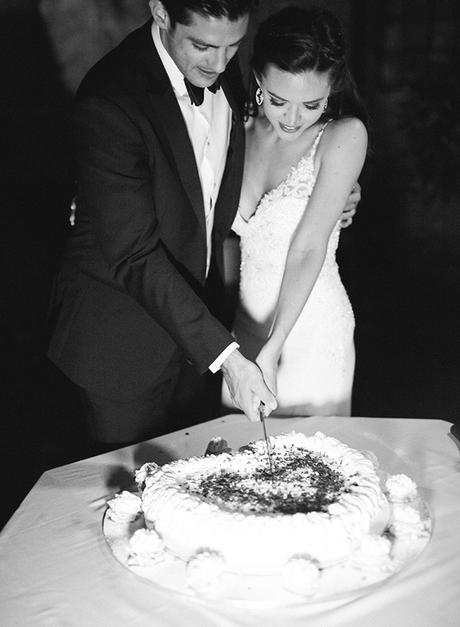 Photography : Peter & Veronika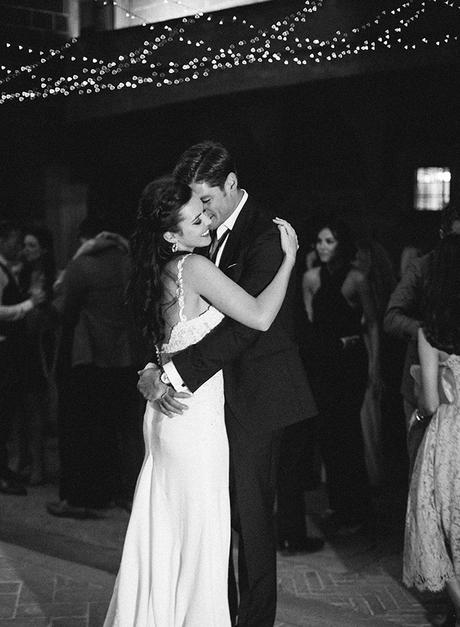 Photography : Peter & Veronika