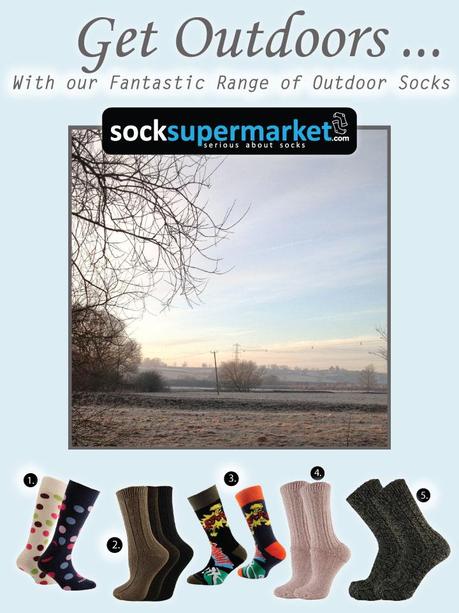 It's the month after Christmas, and it's the first and most depressing time of the year for many. Credit card bills are coming in, we start to realize just how much food we ate and how much money we spent over the festive period, and it's a long way until payday.
But don't despair we're here to kick those January blues out the door! Here at socksupermarket we are all about getting you out and active! It's proven that exercise helps to get you feeling your best and with money being tight in most households this time of year with the over indulging left from December, getting outside and exercising is the perfect way to bring the whole family together again and cheer everybody up.
There's no need to visit fancy and pricey adventure outdoor parks, check out 'The National Trust'  for a list of brilliant outdoor activities and gorgeous walks for everyone in the family to enjoy! They've put together a fab list of top 10 family walks, so you can choose your walking adventure to suit you and your family! It doesn't have to be far, maybe just your local park or walking the dog?
Always here to help, we have a brilliant selection of outdoor socks available from as little as £3.00 a pair, Garden Gallery – bright and cheery patterns and Horizon – a little bit more technical, have a brilliant selection of outdoor and walking socks at amazing value and excellent quality.
Here are Ssm's TOP 10 TIPS for beating the winter blues this month;
1: Stay positive – nothing is ever as bad as it seems!
2: Wear bright socks; they'll cheer you up, they're fun & colourful and they'll be sure to get you compliments. (Always a good mood booster)
3: Exercise; even the smallest bit causes the brain to release mood-boosting endorphins.
4: Sleep, don't miss out on it, your body needs it to function at its best.
5: Smile: smile at someone and you'll receive a smile back! Its free, everyone can do it and you'll put yourself in a better mood instantly!
6: Laugh: Try typing 'Dog wearing socks' into YouTube. These funny videos, never fail to get us giggling!
7: Treat yourself! – We find new socks the best way to do this. Who doesn't love that fresh new sock feeling?
8: Relax. Bubble Baths and aromatherapy oils work a treat! Also try our slipper socks to relax your feet!
9: Set 5 goals you want to accomplish in the year, (realistic one's) it's very satisfying crossing them off once complete!
10: Eat well! Fuel your body with lots of fresh fruit and veg, after all a healthy body = a healthy mind!
So wrap up warm, put on your wellies/boots and a pair of cosy socks and get outside, fight the January blues with a little help from ssm.
Socks in image above;
1.Girls 2 Pairs of Horizon Kids Spotty Socks
2.Ladies socksupermarket Luxury Boot
3.Horizon Boys 2 Pairs Kids Socks in Ka-Pow
4.socksupermarket Walking Light
5.socksupermarket Wool Blend Ribbed Walking