London Walks guide and Daily Constitutionalist Richard III  forwards this email, received from a London Walker this week…
"Thanks for your walk on Friday which we both enjoyed. We are now safely back in Edinburgh.
I'm writing in relation to the Knightsbridge coal hole cover that you lifted to demonstrate coal holes. I said it reminded me of an AA Milne poem and an illustration by E. H. Shepard. You might be interested in the following:
The poem is 'Lines and Squares' by A.A. Milne, one of the poems in 'When We Were Very Young' (1924).
I was reminded of the illustrations by E.H. Shepard. Both the author and the illustrator had local connections, The artist, E. H. Shepard, was born in St John's Wood and trained at Heatherley's School of Fine Art in Chelsea. The author, A.A. Milne, was educated at Westminster school.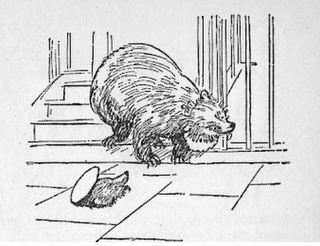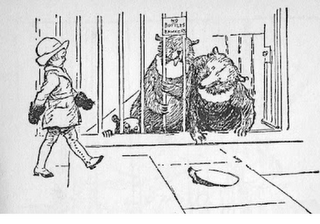 I attach screen shots of the illustrations which I found using Google images (though I also have the book which I was given at the tender age of four).
As you can see, bears live down the coal holes and the only way to avoid being eaten is to avoid walking on the lines.
Best wishes,
Brian Cosford"
Thanks Richard, and thanks Brian. We'll try to make sure that none of our London Walkers step on the lines in future!
The Old Knightsbridge Village Pub Walk goes every Friday night meeting at SOUTH KENSINGTON TUBE at 7.00p.m.