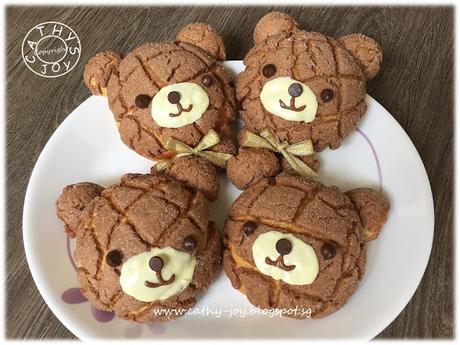 Melon Pan
(recipe adapted & modify slightly from justonecookbook)
Ingredients:


Dough




225g Blue Jacket Baguette Flour


25g Blue Jacket Cake Flour
20g fine sugar
1 tsp salt
1 tsp instant yeast
60g eggs
50g cream
40g water
35g Cowhead unsalted butter
Biscuit dough
60g Cowhead unsalted butter
80g fine sugar
50g eggs
200g Blue Jacket Cake Flour
1 tsp baking powder
1 Tbsp cocoa powder


*

Whisk butter & sugar till combined. Add in egg mixture slowly till well blended. Sift in flour,cocoa powder & baking powder & knead till a dough is formed. Leave in fridge for later use.
Method:
1. Bread dough: Mix all ingredients in a mixer (except butter) till a rough dough is formed. Add in butter & knead till the dough is smooth & elastic. Check for window pane stage & proof for 1hr.
2. De-gas & divide into 60g each (makes 7 bears) & remaining dough for the bears' ears. Let the dough rest for another 15mins.
3. Divide the cookie dough into 7 equal portions & remaining dough for bears' ears. Roll out the cookie dough with a rolling pin & wrap one bread dough inside, seam side facing up. Coat the biscuit dough with sugar & use a scraper to score crisscross pattern. Repeat the same for the rest of the doughs.
4. Placed the doughs onto a baking tray lined with silpat mat & proof for 1hr. Baked in a preheated oven at 180C for 14mins.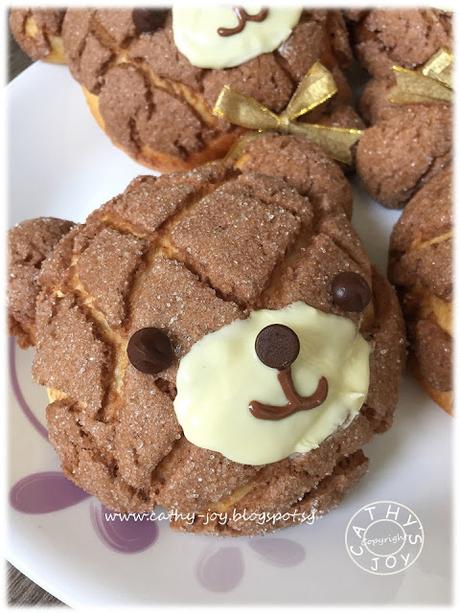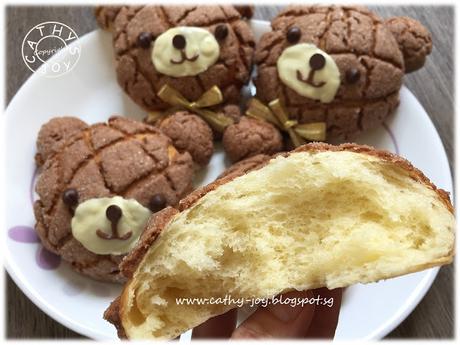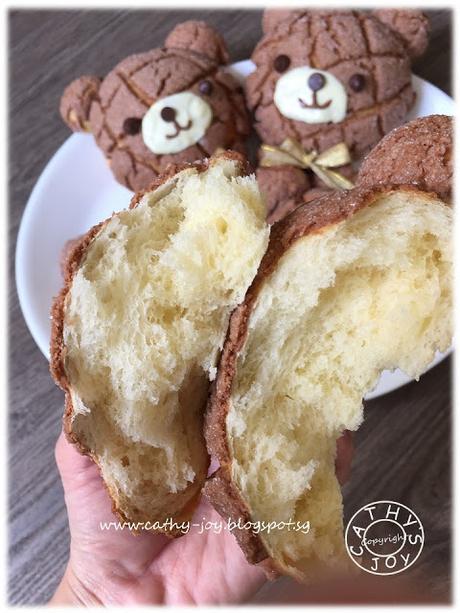 soft & fluffy bun *^_^*