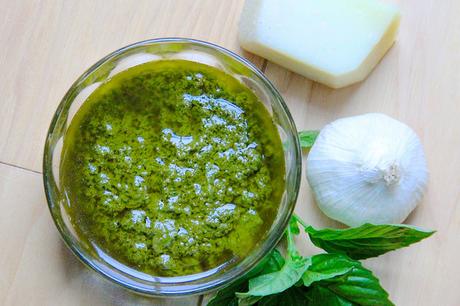 The Best Bail Pesto
Contributor: Caroline Coker
I call this recipe "The Best Basil Pesto", not only because it is my mom's recipe, but because it is also made from the fresh basil growing in pots on our back porch.
I am a huge fan of pesto, it is so simple to make, and is healthy when consumed in moderation. It is versatile, you can always adjust the quantities to suit your taste, and improvise with other nuts, cheeses and herbs.
Basil pesto offers flavonoid phytochemicals, nutrients that act like antioxidants that support cell structure and help fight disease-causing free radicals. The olive oil is full of heart-healthy fats, and the garlic also protects your heart by stabilizing blood pressure levels, and slows the development of atherosclerosis, or hardening of the arteries.
This tried-and-true recipe can be dolloped on chilled boiled eggs that are cut in half for a quick summer appetizer, tossed with whole-wheat pasta, used as a sauce on meat (see chicken below), made into a vinaigrette dressing, or spread on a sandwich or Panini.
The Best Basil Pesto
Ingredients
Makes 1 cup
¼ cup pine nuts
¼ cup freshly grated Parmesan or Pecorino cheese
3 cloves garlic, peeled
½ tsp. grated lemon zest
½ tsp. sea salt
⅛ tsp. ground black pepper
3 packed cups fresh basil leaves
⅔ cup Extra virgin olive oil + more as needed
Directions
Combine the basil, garlic, and pine nuts in a food processor and pulse until coarsely chopped. Add 1/2 of the oil and process until fully incorporated and smooth. Season with salt and pepper.
Add all of the remaining oil and cheese, and pulse until smooth.
Tip: Keep in a glass jar, tightly sealed for ease of use and freshness, as well as easy clean up.
Tip: If wanting a lighter pesto, try a ratio of about two parts low-sodium organic chicken or vegetable broth to two parts of olive oil. Broth is naturally low in fat and calories.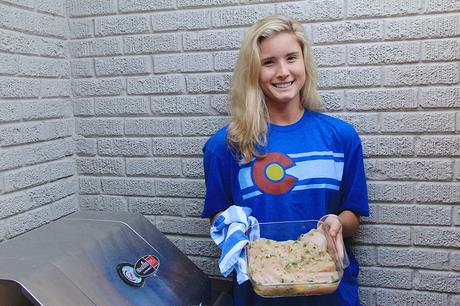 Get your grill on! (Aunt lives in Colorado…if wondering about the shirt)
Garlic Chicken
3 plump organic boneless skinless chicken breasts, sliced in half vertically to make 6, then lightly pounded for even cooking
1 tablespoon finely chopped fresh basil
3 cloves garlic, minced
2 tbsp extra virgin olive oil
ground sea salt and ground pepper
Season chicken on each side with salt and pepper, fresh basil, minced garlic, and drizzle both sides with olive oil, massaging the meat with your fingers. Put chicken in a gallon size ziplock bag, and refrigerate for an hour. Clean the grate on grill using vegetable oil on a  paper towel, rubbing back and forth. This will keep the chicken from sticking. Turn to medium high heat.
Remove the chicken from the fridge, lay the chicken onto the grill and close the top.  It only takes chicken breasts a few minutes per side over direct medium-high heat to both brown and be cooked through at the same time. After two minutes, flip the chicken and close the top again. Remove from heat immediately, place on a clean cutting board and let stand for 3-5 minutes before cutting into one-inch pieces. Check the meat by inserting an instant-read thermometer into the middle of the breast. The chicken is done when it hits 160°F, so pull it off early at 150-155°F, as upon the mandatory rest off the grill, the meat temperature will continue to rise by at least 5°F.
Top with basil pesto and serve with your favorite salad.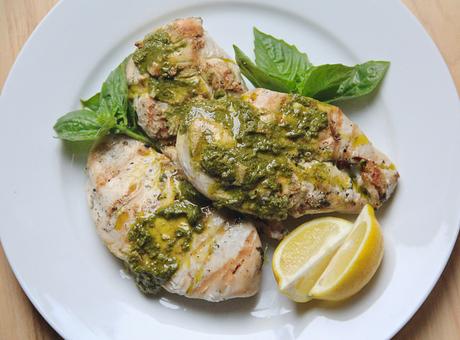 Delicious, easy, and healthy!
Contributor: Caroline Coker was born and raised on the Gulf Coast, and has been living in South Walton, Florida since the age of five. She is passionate about health and fitness, and is graduating in Nutrition from The University of Alabama in August 2015.