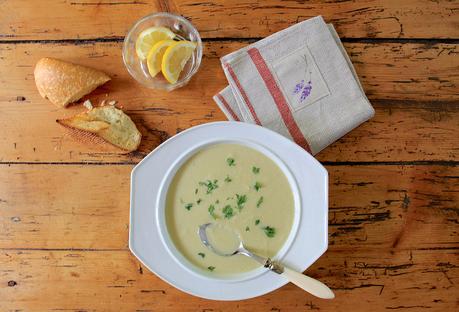 Contributor: Caroline Coker
I'm not a fan of milk or creamed based soups, however I do adore she-crab soup, a Charleston delicacy my mom learned how to make from my grandmother, who got her recipe from the Junior League cookbook, Charleston Receipts. They lived there for a short period when my grandfather was stationed in Charleston, and it is also where mom learned her crabbing techniques. When my mom moved to New Orleans and began cooking as a teenager, she learned how to make oyster artichoke soup. I grew up eating it and early on picked out the oysters, but now love those precious bivalves, especially raw, and leave them in.
When my mom was in a head on collision in the late 1990's, due to an invasive abdominal surgery, she became somewhat milk intolerant and stopped making her famous oyster artichoke soup. This artichoke soup that I have created contains no cream, so it is perfect for those that are lactose intolerant, or just don't prefer much dairy like me. It is also low in calories and fat, but high in fiber and antioxidants. Quite easy to make, and perfect to enjoy year round, though peak season is early spring, plan to use fresh artichoke hearts, freeze some for later use, or purchase artichoke hearts already frozen like I did from Fresh Market.
Super Easy Skinny Creamy Artichoke Soup
Ingredients
Serves 4-6
2 pounds frozen artichoke hearts, thawed
1/2 onion chopped
3 tbsp. good olive oil
1 quart low sodium organic chicken broth
4 cloves garlic, rough chopped
Kosher salt and freshly ground white pepper, to taste
pinch of cayenne pepper
1/2 cup dry white wine
1/2 lemon, juiced
1 tbsp. finely chopped parsley for garnish
1 lemon, cut into 6 wedges for serving
Sourdough bread, for serving
Directions
In a 6 quart pot on medium heat, add the olive oil and then the onion cooking 3-4 minutes until translucent. Add the garlic and cook 2 more minutes. Add the artichoke hearts and cook 3 more minutes. Transfer artichoke heart mixture to a bowl and set aside.
Working in batches, purée 2 cups artichoke heart mixture with 1 cup of chicken broth in a blender for 30 seconds. I use a Vitamix. Transfer puréed artichoke mixture back to the 6-qt. pot on low heat. Once all of the artichoke mixture has been puréed and added to the pot, raise heat to medium, add the rest of the chicken broth, wine, salt and pepper to taste, 1/2 lemon juiced, and a pinch of cayenne pepper. Stir and reduce the heat to simmer for 30 minutes. Ladle soup into bowls, garnish with parsley, and squeeze a lemon wedge over each (optional). Serve with warm sourdough bread.
Tip: In the last transfer of cooking, you can substitute 1 cup of  heavy cream for 1 cup of chicken broth for decadence.
Note: If wanting to make this recipe into a lighter version of Oyster Artichoke Soup, omit the wine above, and add a pint oysters, the oyster liquor, 1/2 tablespoon Worcestershire sauce, and 1/3 cup sherry in the last 10 minutes of cooking, or until the oyster edges curl. Simmer, and do not allow the soup to boil.
Contributor: Caroline Coker was born and raised on the Gulf Coast, and has been living in South Walton, Florida since the age of five. She is passionate about health and fitness, and is graduating in Nutrition from The University of Alabama in August 2015.