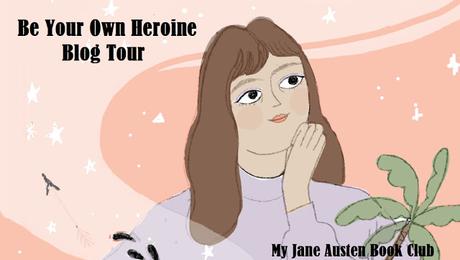 Sophie Andrews is back with a second lovely book after the success of her Be More Jane. This time she has joined forces with her elder sister, Charlotte, and their Be Your Own Heroine has just been released.Their project has collected life lessons from literature, especially focusing on strong female characters from different eras. Could Elizabeth Bennet be left out? Of course not! She is the first heroine you'll meet in the beautifully illustrated pages of
Be Your Own Heroine
. 
"I am only resolved to act in that manner, which will, in my own opinion, constitute my happiness, without reference to you, or to any person so wholly connected with me."
(Pride and Prejudice)
Be ready for a pleasant, thought-provoking, inspirational reading to add to your favorite shelves or keep always at hand on your bedside table. 
About the Book
When you are faced with hard times reading can be both a comfort and a source of inspiration. Having brought you the wisdom of Austen in Be More Jane, eager reader Sophie Andrews, along with her sister Charlotte, has turned her attention to what can be learned from the heroines of other stories from past and present.
Whatever your taste in authors, there will be strong female characters you can relate to, from Jo March, the tiger-sister in Little Women, to Eleanor Oliphant, the socially-bemused heroine of Gail Honeyman's prize-winning first novel.  There are spirited young women such as Elizabeth Bennet in Pride and Prejudice and Hermione Granger in the Harry Potter series; and then there are the survivors, July in The Long Song and Katniss Everdeen in The Hunger Games trilogy.
In Be Your Own Heroine, Sophie and Charlotte show how these six inspirational young women can inspire you and guide you through life's challenges. Whether you are faced with hard times at home, in love, or at work, these characters have something to teach you.
As well as these six model characters, there are other examples of literary heroines who can guide you through life's pitfalls and help you become the heroine of your own story.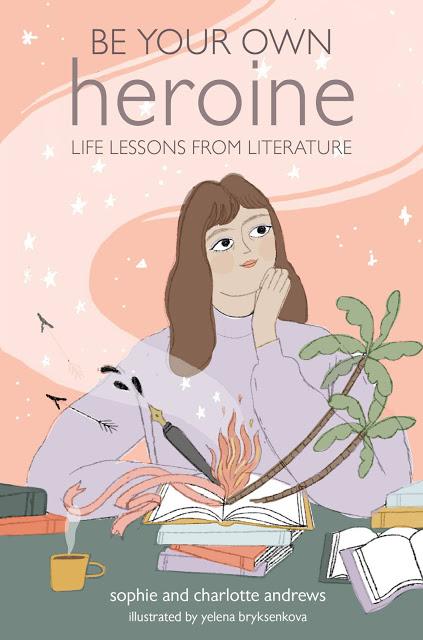 TO BE YOUR OWN HEROINE:
Show loyalty to your family and be poud of where you come from
Be there fro your friends in good times and bad
Learn when to stand up for yourself and even bend the rules when necessary
Remember that however difficult your background, you can change and shape your future
You can survive heartbreak and find happiness in love - heroines don't have to be alone to be strong
Try to be brave, not perfect
About the authors
Sophie and Charlotte Andrews are sisters who both love to lose themselves in books. Charlotte's passion for reading and writing began in her earliest years. She studied Latin American literature as part of her degree at Warwick University, but especially enjoys historical fiction. Younger sister Sophie appreciates many different genres – however her true love is for all things Jane Austen, an enthusiasm that was initially sparked by studying Pride and Prejudice at school. She started her blog, Laughing with Lizzie, in 2012, aged 16, and soon began to participate in Austen events and festivals around the country. As a founder member of the Jane Austen Pineapple Appreciation Society, she organises house parties, balls and picnics and starred in the 2017 BBC documentary "My Friend Jane". Her first book, Be More Jane, was published in 2019 by CICO Books. Sophie lives in Berkshire.
Giveaway 
Sophie is running a giveaway contest on her Instagram page, Laughing With Lizzie  If you'd like enter the competition to win a copy of Be Your Own Heroine, join her on her Instagram. CLICK HERE
Visualizza questo post su Instagram

'Be Your Own Heroine' is officially published worldwide! 💙GIVEAWAY details below! . It has been a brilliant but crazy journey in having my second book (written with my sister @charleylou0303 ) published. I hope that you enjoy this look into how you can be your own heroine, by learning from some of the worlds favorite literary heroines. ... GIVEAWAY open worldwide, to celebrate publication day! The winner will receive a signed copy of 'Be Your Own Heroine' and be announced on Sunday 25th October 2020. . To enter the giveaway... .like this post .follow me @laughingwithlizzie .tag two friends who would like the book . *giveaway not affiliated with Instagram or Facebook. ... #bookpublicationday #beyourownheroine #femalewriter #sisterauthors #jumpingforjoy #janeausten #prideandprejudice #hungergames #thelongsong #harrypotter #hermionegranger #littlewomen #jomarch #katnisseverdeen #eleanoroliphantiscompletelyfine #eleanoroliphant #elizabethbennet #supportanauthorbuyabook

Un post condiviso da Sophie Lizzie Andrews (@laughingwithlizzie) in data: 20 Ott 2020 alle ore 11:08 PDT
Be Your Own Heroine Tour Schedule
Don't miss the next stops!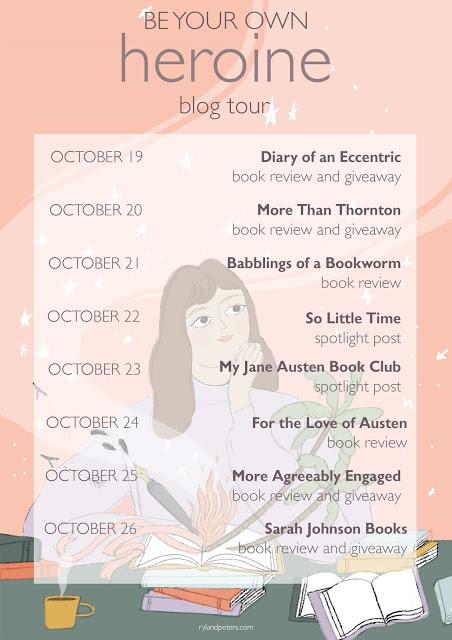 Contact Links:
Laughing with Lizzle blog
Laughing with Lizzie Facebook page
Laughing with Lizzie Instagram page
Laughing with Lizzie Twitter page
 Buy Links
Amazon.com / Amazon.co.uk