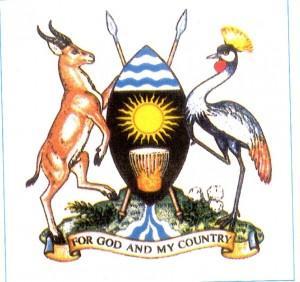 The Uganda Kob and the Grey Crested Crane adorn the country's crest  - (which bird will replace it in 20 years time when the bird is extinct?)
"[email protected]″ focuses on the plight of Uganda's national symbol, the Grey Crowned Crane.
While the country has been (for the most part) celebrating 50 years of independence, Uganda's national symbol is in crisis. The Grey Crowned Crane is under serious threat as her wetlands habitats are polluted, eroded, degraded and built upon. Human development is swallowing up the wetlands.
Left unchallenged, the Crane will not survive, and it is estimated that the Grey Crowned (or 'Crested') Crane will be extinct in Uganda within just 20 years.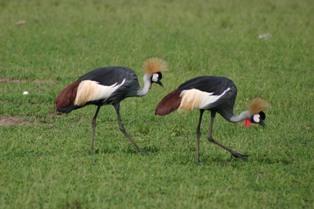 Ironically, the fact that Cranes are monogamous birds that pair for life is one of the factors pushing them towards extinction. Some people hold the traditional belief that eating or using a Crane product will therefore strengthen their own relationship.
NatureUganda is leading the campaign to save the Crane.
We urge individuals and the authorities to protect the wetlands. We need people to ask themselves "when did you last see a young or adult Crane? Do you see them as often now as you did when you were a child?"
It is no coincidence that as humans encroach upon the wetlands, the number of Cranes has plummeted across the country.
NatureUganda's Achilles Byaruhanga tells us more about this sensational bird in The Crested Crane: Uganda's symbol of beauty and serenity
So why am I talking about this?
It's because this Saturday 20th October will be BIG BIRDING DAY 2012!
BBD is a country-wide "big birding race" between birding groups, led by experienced bird guides, who will aim to record as many bird species as possible in a single 24 hour period.
NatureUganda has 47 teams registered so far, across the country. More teams are registering, making this the biggest BBD ever!
There's free entry for all participants birding in National Parks, Wildlife Reserves and Forest Reserves - but you need to register with NatureUganda first.
The results of the BBD race will be announced during the Big Birding festival on Saturday 27th October 2012 at Entebbe Botanic Gardens. See poster for more details!
The importance of Birds
Despite the large number of birds in Uganda – almost half the continent's species – very few Ugandans are aware of the country's rich diversity. The "Uganda Big Birding Day" helps promote avi-conservation and avi-tourism – bird conservation and tourism or 'birding.' Although avi-tourism is developing in Uganda, very few locals take part – yet! More trained bird guides are needed!