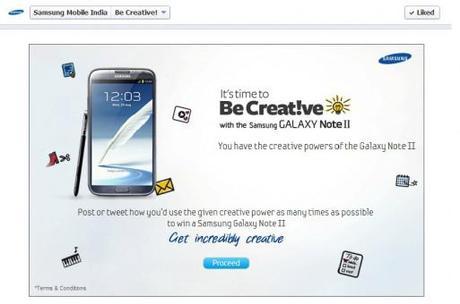 Do you like smartphones?
Do you like using the best and the latest of Smartphones?
Have you heard of Samsung Galaxy Note and its awesome special features?
Would you like to have a chance of winning it?
If your answer to the first two question was yes, and if the answer to the last two questions was a vigorous nod of head because you were too busy smiling to utter a yes, then dear reader, read on.
Samsung has brought for all a chance to unleash creativity and win as many as ten Samsung Galaxy Note II devices.
The contest is available for the followers of Samsung Mobile India on Twitter  and fans of Samsung Mobile India on Facebook.
In this contest, a particular feature of Note II is put before the contestants and all that the contestants have to do is tweet or post about what they would do if they had that particular feature in real life. The participants are encouraged to tweet or post as many times as possible.
It's a weekly contest, that is one feature is presented for a week. At the end of the week the contestant with most creative tweets or posts is declared winner. And guess what the winner gets? Yes, Samsung Galaxy Note II. In total 10 Galaxy Note II are to be given out as prize, 5 for Facebook contestants, and 5 for Tweeters on Twitter.
Two weeks of this contest are already over. So if you want to have a chance of winning the Note II, there's no time to be lost. Log on to Twitter or Facebook and unleash your creativity!
Here's the link to the contest app on Facebook:
https://www.facebook.com/SamsungMobileIndia/app_108009826020106