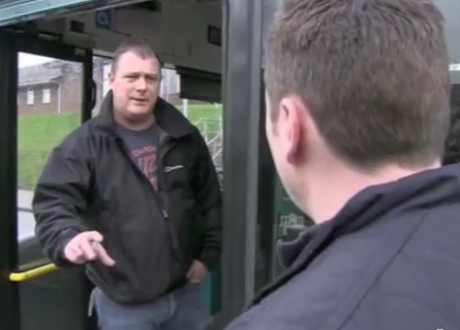 Darren Burton of Cardiff, Wales, confronted by Panorama reporter Declan Lawn.
Inside the mind of an Internet troll? Not quite.
In an episode of the investigative program that ran on Monday, BBC's Panorama reporter Declan Lawn tracked down notorious Internet troll "Nimrod Severn", known to his likely few friends and possibly the police as Darren Burton of Cardiff, Wales. Burton is what's known as an "RIP troll", a person who seeks out Facebook pages in remembrance of people who have died and posts vitriolic messages. Burton is also a racist: One of his messages on the page of deceased rapper Dolla indicated that he hoped the "filthy n*gger" would "rot in piss." Nice.
Unsurprisingly, Burton was not terribly communicative when confronted about his actions; his response, when asked if he thought about the people he hurt, was simply "F*ck 'em." Burton at one point asked Lawn if what he was doing was illegal, to which Lawn responded that yes, given that some of Burton's comments were racist, it was. Burton was dismissive of the potential jail time, scoffing, "Nine weeks? What's that?" (For the record, one convicted internet troll was sentenced to 18 months.)
At least he's miserable. Now that the face of Internet evil is revealed, we can take some comfort, said Emmett Purcell at Joe.ie: "If you've ever got in an online argument with someone who was being deliberately antagonistic just to raise your anger levels, you'll be pleased to see that those characters appear to lead a fairly miserable existence."
Ugh – humanity can be awful. Lucy Mangan, TV reviewer for The Guardian, was less inclined to look on the admittedly dim bright side. The programme was a "bleak half hour" and revealed some depressing truths about humanity: "It is not the internet's fault of course – one of life's most vexing truths being that insensate entities are so rarely responsible for anything – it is simply the world's greatest mirror to nature. You find yourself just trying to keep the faith that it also allows for an equal magnification of all mankind's good and noble instincts and aspects. The problem, as Panorama was at pains to highlight, was that when anonymity is possible people tend not to use it to try to out-civilise each other; they tend to join in a giant race to the bottom of the pixellated abyss. We're all going to hell in a hashtagged handcart."
"We're all going to hell in a hashtagged handcart."
BBC, wasting time? But others, specifically those leaving comments on the BBC's YouTube posting of the above clip, found the confrontation less than illuminating and branded it a "waste of time". Railed TeaPartyatPerrysburg, "So the Beeb won't call a terrorist a terrorist but rather a 'radical' and they won't call that terrorist FAT because that's INSULTING but they WILL track down some stupid Joe and confront him. Wow. What_ journalism." Said FallenRacoon, "Trolling is a joke. There are people dieing [sic] daily for the UK and the United States oil war's and fuking [sic] the BBC is wasting there time feeding a troll. Learn how to be a real journalist you fuking wanka [sic]."