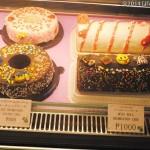 Pastry shop Sweet Baum Cafe has been churning out the traditional European dessert and popular Japanese snack Baumkuchen to the Filipino crowd for some time now, and this time, the shop is offering more than just baumkuchen and cheesecakes.
For those unfamiliar, Baumkuchen is German for "tree cake", and the name is due to the cake's characteristic appearance. When sliced, the cake resembles a sliced tree log, with the cross section reminiscent of  tree rings. The multi-layered appearance makes baumkuchen quite difficult to make, hence the price.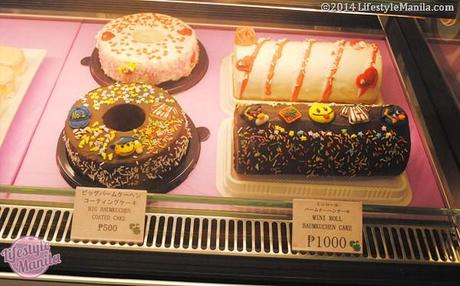 Left: Big Chocolate Covered Baumkuchen Cake, Php500 Right: Mini Baumkuchen Roll Php1000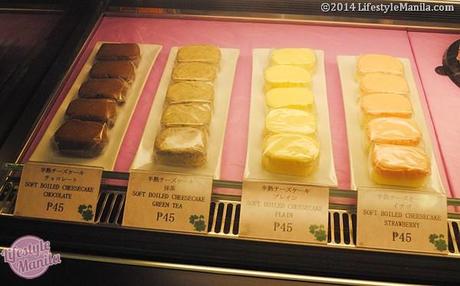 Soft boiled cheesecakes (Php45 apiece) come in various flavors!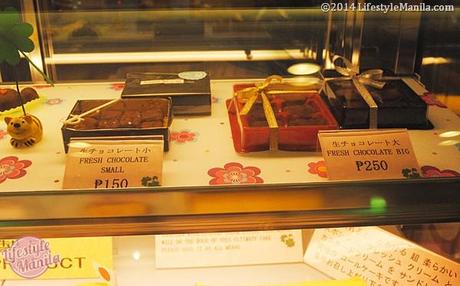 Fresh chocolates come in two sizes. Small Php150 | Big Php250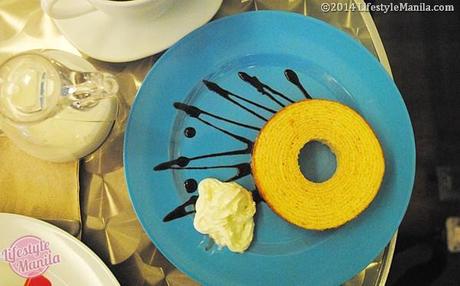 My mom's cheese baumkuchen.
While a regular baumkuchen costs Php60, a big baumkuchen is priced at Php300. The regular one is really a bit small, about 4 inches in diameter and just 7/8 inch thick. The only drink being offered is brewed coffee, and a cup costs Php50.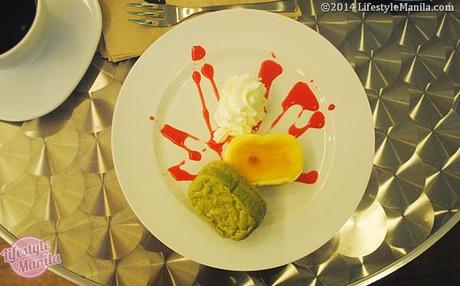 Green tea and plain Japanese cheesecake, Php45 each.
Goodness. I've been meaning to try some Japanese cheesecake for ages. First read about it a few years back online (out of interest, since Tokyo Bubble Tea's JCC teas are awesome!), researched for a great recipe (even going so far as to understand what makes Japanese cheesecake so special), made a single attempt to create one at home, then quickly lost interest after tasting the failure.
From that experience alone, I'd say baking creamy and fluffy Japanese cheesecake (in this weather too?) is a hassle!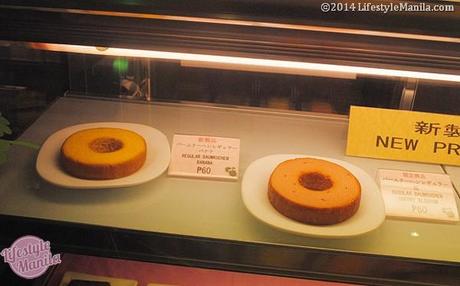 New baumkuchen in Manila! Banana baumkuchen and seasonal cherry blossom baumkuchen are currently available.
  Of all the currently available desserts at Sweet Baum Cafe, I would love to try one of these the most: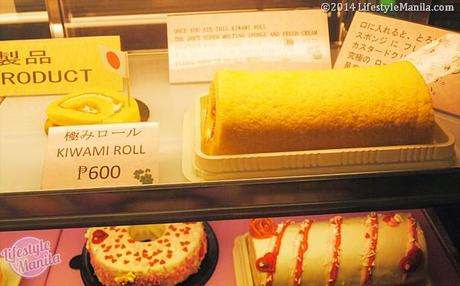 One of the latest products from Baumkuchen: Kiwami roll, Php600. Made of baumkuchen batter and nutty/fruity cream.
VERDICT
The baumkuchen reminds me of Regent chiffon cake you can buy at supermarkets. Both mild and light, the only real difference is that the baumkuchen's outer layer is covered with sugar. The best baked good Sweet Baum is offering, IMO, is the Php200+ pack of baumkuchen strips. They're a bit drier and thicker, but they remind me of broas, and they taste so good dipped in coffee or chocolate! The Japanese cheesecake, meanwhile, is too small (around 2"x3" pieces), with the plain one having a creamier top and better chiffon texture compared with the green tea variant. Both taste good, but the plain one trumps the green tea version overall. If you would like to try baumkuchen in Manila, just visit
Sweet Baum Cafe
!
Branches: 
Paseo Center, Paseo de Roxas, Makati | Eastwood City, Libis
Price: 
Php90 to 110 per person
Taste:
3 out of 5
Rating: 
3 out of 5