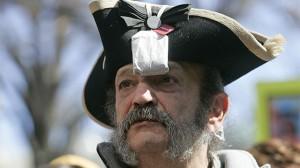 Tea Party member Greg Hernandez, of Quicksburg, Va., wearing a tri-corner hat replete with tea bag. (AP Photo/Steve Helber)


Bill Moyers Journal


Conservative activists in five rural Maryland counties are fed up with what they see as the tyranny of a democratically elected state government they don't control. They're so frustrated that they want to secede and form their own deep red state.

Bizarre as it seems, the effort is part of a trend. In Colorado, up to 10 rural counties want to break off and form a new state called Northern Colorado. A handful of counties in Kansas and Nebraska are reportedly thinking about joining them. Several counties in Northern California are hoping to combine with a chunk of Southern Oregon to form the state of Jefferson – an old idea that apparently hasn't gone out of fashion. And folks in Michigan's Upper Peninsula fed up with Lansing have also been kicking around the idea of cutting loose.

The media have framed these stories as a symptom of a growing rural-urban divide, and that's true. Gun safety laws enacted after the Sandy Hook shootings sparked the move in both Colorado and Maryland. Marriage equality for gays and lesbians, and differences over energy policy, immigration (over which state governments have little control) and taxes are often cited as "irreconcilable differences" by these secession advocates.