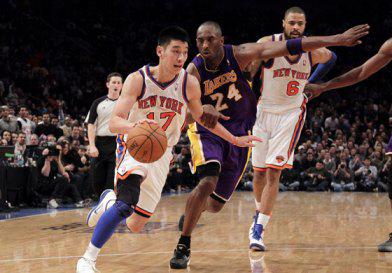 Image from urbanfaith.com
All Jeremy Lin needed to do was step foot in Taipei, Taiwan, to cause a major frenzy of Linsanity, but he decided to take it to the next level along with his former teammate, David Lee.
On one of their nights in the city, they surprised locals by showing up at a pick-up court with zero advance notice. Lin's camera crew highlighted and captured the night on film as it can be seen on his YouTube channel.
The video was uploaded two weeks ago, yet it's really a great testament to what kind of player Lin is, and what kind of person he wants to be known as.
When masses of people formed around the outdoor court, Lin kept playing. Lin and Lee dunked to the cheers of their captivated audience, and got the local players involved too.
In the video, right before they step out of the car, Lee asks Lin, "When's the last time you've played real basketball like this? On an outdoor court?" to which Lin responds: "Probably not since high school."
Playing outdoor basketball is risky, especially for Lin who is about to enter the NBA season as the franchise player for the Houston Rockets. There's always the horrible chance of unexpected injuries, or sometimes the fans can get a little too crazy.
Nevertheless, the two NBA players started up the pick-up game in full gear, and when they finished playing, they were sweating. By the end, news crews were on scene, and I'm sure it's safe to say that every person there watching had some sort of Jeremy Lin footage on their cameras or phones.
Then, as icing on the cake, Lin threw some autographed memorabilia into the crowds before they drove off.
My favorite part is the end of the video that sweetly captures the conversation between Lin and Lee, sweaty and out-of-breath in the back seat of the car.
Lin says to Lee, "That is pure basketball." And Lee replies, "I'm glad we did that. It was fun." All Lin says to that is two words: "I know."
I think too many NBA players nowadays play solely for the money and the fame. They don't make time to truly, sincerely connect with their fans. They wear caps pulled down with sunglasses on out in public to avoid being recognized.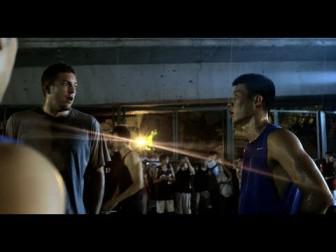 Image from smackjuice.com
But here is Jeremy Lin. He is the biggest NBA player in Taiwan—he's a superstar over there, even more so than in the US. Rather than basking in the praises, he gives back to his fans by going out and playing with them.
It brings me back to when Kevin Durant invited locals via Twitter to play in a spontaneous flag football game in Oklahoma during the NBA lockout.
Professional athletes are real people too, thought it's tough to imagine when you only see them play on TV, or live on a court or field along with thousands of other people around you.
Athletes who make the effort to connect with fans should be given recognition and are often more popular. If you haven't watched Lin's video, check it out and share it: "A Late Night Escape in Taipei – Jeremy Lin" (YouTube username: The Jlin7).