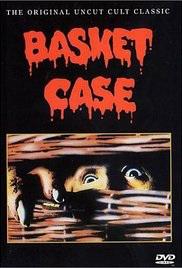 Director: Frank Henenlotter
Writer: Frank Henenlotter (Screenplay)
Starring: Kevin Van Hentenryck, Terri Susan Smith, Beverly, Robert Vogel, Diana Browne, Lloyd Pace, Bill Freeman
Plot: A young man carrying a big basket that contains his deformed Siamese-twin brother seeks vengeance on the doctors who separated them against their will.
There may be spoilers the rest of the review
Verdict: True Cult Classic
Story: Basket Case starts as we watch Dr Lifflander (Freeman) getting attacked and killed by a mystery attacker, we move on to meet Duane Bradley (Hentenryck) a young man searching the city with his bags and basket for a place to stay, his chosen location room 7 of a shady hotel. We learn that Duane has a creature inside the basket that he does have a relationship with.
We learn that Duane is traveling with his Siamese-twin brother who was cut from his side when they were young and the two are on a revenge mission, but Duane a twenty-year-old man gets easily distracted by Sharon (Smith) which only makes him angry, can the two put everything back together and get their revenge on the doctors who left them like this.
Basket Case is and will always be a cult classic one that will get watched by the diehard horror fans. It almost falls into the so bad it is funny to watch but when we bottle in down to just the story we get an interesting viewing. The story comes off original with the deformed brother as the one kept in a basket that is on the killing rampage and mixing this with a young man trying to find his way in the world while supporting his brother. This does need you in the right mood but it works.
Actor Review
Kevin Van Hentenryck: Duane Bradley is the young man who arrives in New York with a mysterious basket that has a creature inside. The creature is in fact his Siamese-twin brother and he is in town to get revenge on the doctors who left them like this. While Duane starts to experience life for the first time as he has spent nearly his whole life away from the world and working with his brother. Kevin does well in this lead role that is easily iconic with his brother.
Terri Susan Smith: Sharon is the receptionist that Duane meets and starts a romantic relationship only to realize that if he is with her his brother will become jealous of the lack of attention he is receiving. Terri makes for a good supporting performance without getting enough screen time.
Beverly Bonner: Casey is the sassy neighbor in the hotel that looks out for Duane when it comes to the fellow guests. She is the first person that learns the story of what is going on from Duane. Beverly is good without doing much in the supporting roles.
Support Cast: Basket Case has a generic supporting cast that all become victims for the killer.
Director Review: Frank Henenlotter – Frank has created a film that is still talked about as a cult favorite for year to come.
Comedy: Basket Case has some of the funniest kills through the film.
Horror: Basket Case has moments of horror when it comes to the kills without being truly scary.
Settings: Basket Case is set in New York where we get to see the iconic locations without using them for the main parts of the story.
Special Effects: Basket Case has good effects for the budget the film is made with.
Suggestion: Basket Case is one for the horror fans to enjoy. (Try It)
Best Part: First viewing of the brother.
Worst Part: Not the best styles with the kills.
Believability: No
Chances of Tears: No
Chances of Sequel: Yes
Post Credits Scene: No
Oscar Chances: No
Budget: $35,000
Runtime: 1 Hour 31 Minutes
Tagline: The tenant in room 7 is very small, very twisted and very mad.
Trivia: Most of the credits that appear at the end of the film are fake. The crew was very small and rather than repeat the same names over and over again they decided to just make up names.
Overall: Cult Classic to be watched by all.
Rating