Situated along Katipunan Avenue is a Thai-inspired sanctuary called Basil (from Thai Basil or Bai Horapa). The place is a nice showcase of the owners' love for nature, art, and food.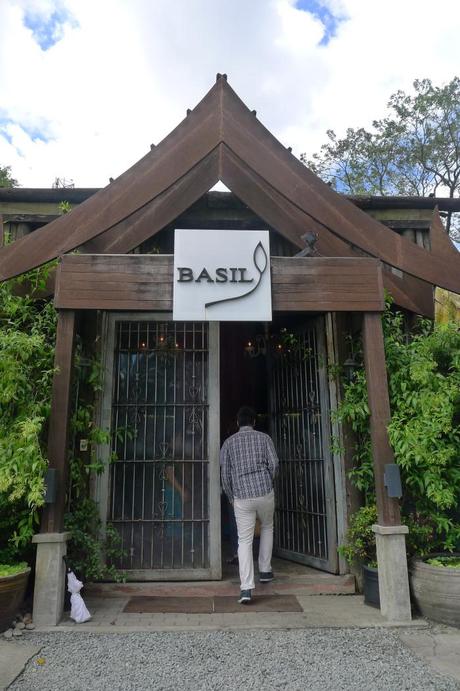 A distinctly Asian-inspired aroma (from all the spices, I'm betting) greeted me as I stepped in, along with a spectacular view of lush greenery. Basil is every bit like a home kitchen: inviting and laid-back, from the ambience, to the decor, to the food and service.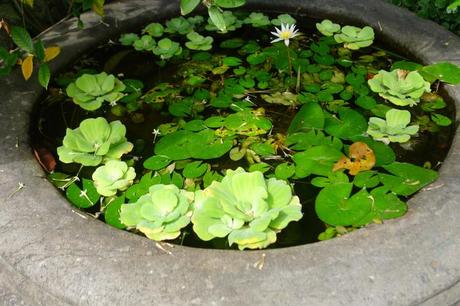 Basil's diverse selection of greens and blooms is worth noting. I like that they also have certain pockets in the restaurant dedicated to small water fixtures, adding to the soothing ambience.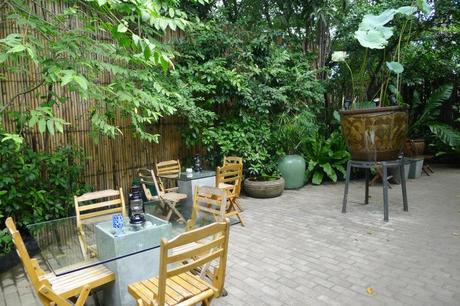 I can only imagine that their outdoor dining area is even better at night. This area is adorned with beautiful oriental and rustic decorative pieces (such as the lamp fixtures that double up as centerpieces), a nice touch as you dine amongst flora and fauna.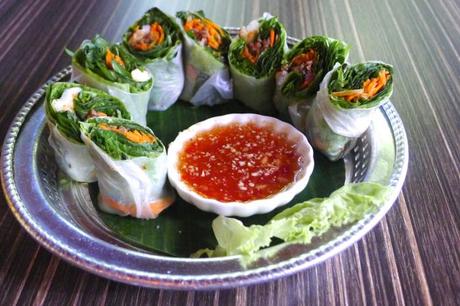 We started off lunch in true Thai fashion - with spring rolls, of course! Fresh Spring Roll or Por Pie Koong Sod (Php235) is tagged a " healthy mix of prawns and grounded pork with fresh vegetables rolled in rice paper, served with a tamarind sauce". Basil's received mixed reviews from us. The brothers did not like the strong kick of greens in this dish, claiming it's as if they were feasting on freshly picked leaves.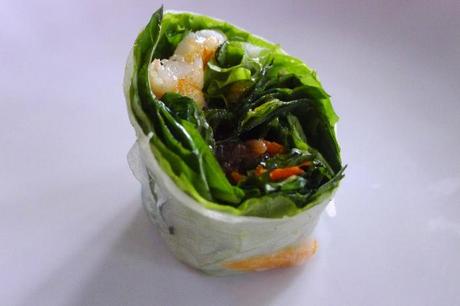 But I thought otherwise. I enjoyed the refreshing, citrusy aftertaste of each bite. I liked the combination of greens (some sweet, some sour), and how the tamarind sauce (which was a welcome surprise) was able to put everything together quite nicely. If you are a big fan of salads and such, this dish is most recommended.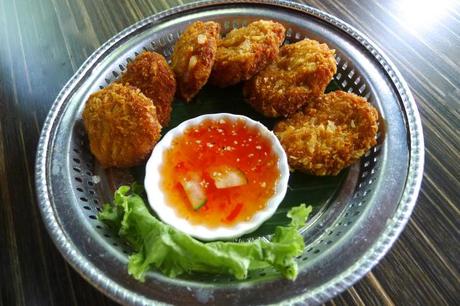 Another appetizer we split amongst ourselves was the Thai Shrimp Cake or Tord Man Goong (Php340). Crisp golden cakes, filled with prawns and flavoured with Thai herbs, served with sweet chilli sauce. I liked that each shrimp cake was filled to the brim and seasoned just right. What I didn't like, however, was how the oil oozed out when I tore this apart. But then I guess some people like the extra "juice"?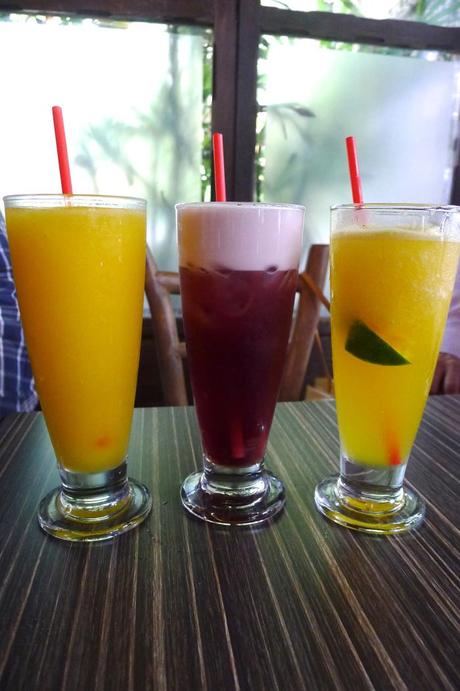 My mom and brothers prepared for all the spice coming our way by ordering fresh fruit juices: mango, raspberry, and dalandan.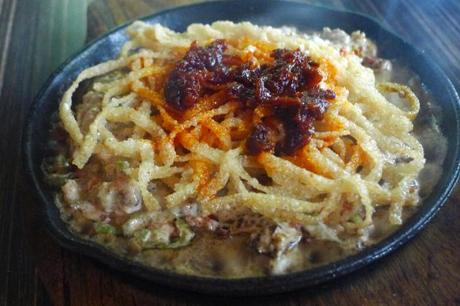 Their Thai Sizzling Sisig or RxnKhxhmu (Php350) was intriguing. Our version of the ever popular "sisig", our Thai version is a sizzling creamy dish with hints of our special Thai spices, kaffir, lemongrass, galangal and chilli. A crunchy bed of noodles/potatoes conceals the really spicy main event: sisig served with so much pepper and spices I can muster. Basil's is heavy on the spices, not so much the meat, so I'm still very much convinced that the Pinoy counterpart is unparalleled.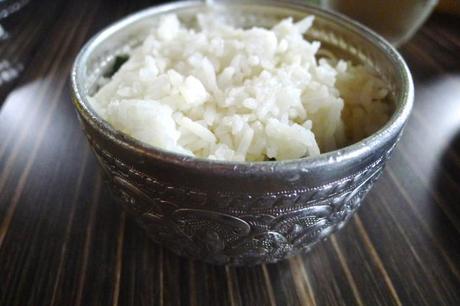 Since the sisig is very spicy, it's best consumed with a helping of white rice. How cute is this rice bowl? All of Basil's dishes are served in Thai-inspired silverware.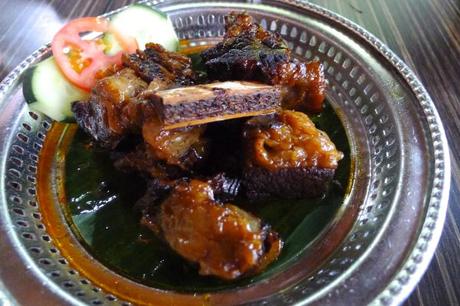 Their Spicy Wagyu Short Ribs (Php350) disappointed for the most part just because these weren't even the slightest bit spicy. In fact, I found the marinade to be sweet! The chunks were a delight to devour though, each bite light, almost feathery.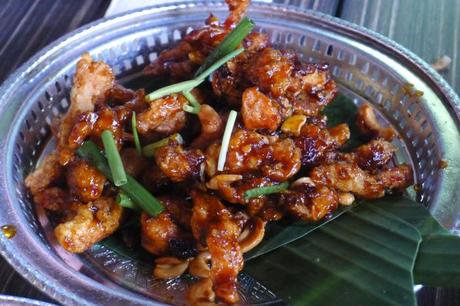 What I did like was their Chicken with Cashew Nuts (Php295). Chicken tenderloin coated with tapioca flour and sautéed with onions, scallions and a generous portion of cashew nuts in a Thai chilli sauce. This dish reminded me a lot of P.F. Chang's Almond & Cashew Chicken . The poultry + nuts combo will always be an A+ in my book hehe. :)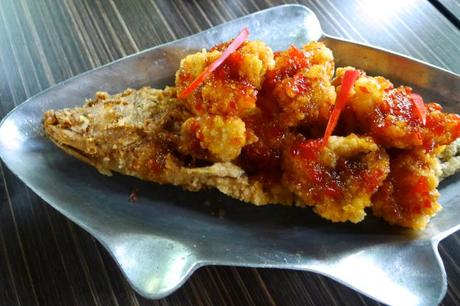 The Crispy Fish with Three Flavored Sauce or Pla Kao Rad Prik (Php750) was an instant favourite. The specialty of the house. Deep-fried crispy whole Grouper topped with our tamarind garlic, and chilli sauce. True enough, this dish is Basil's "specialty of the house". It's a lot like the Chinese restaurant staple, sweet & sour fish, only the meat of this fish is more tender and flavorful. (Basil's special sauce is excellent.) Again, chilli is abundant in this dish, but great to balance out the flavour with some Thai Bagoong Rice (Php290).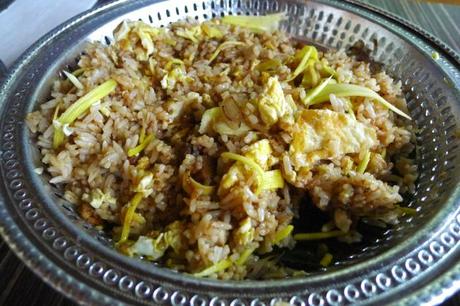 This rice platter can serve 3-4 people. Loved the bits of green mango in this one! :)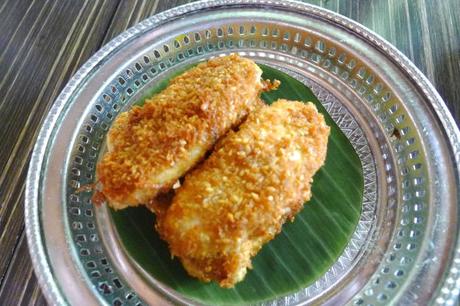 For dessert, we had Thai Fried Bananas (Php130), a take on the popular Pinoy snack, Banana-Q. Basil's, however, is coated with a layer of desiccated cocount and sesame seeds and served with a small portion of macapuno ice cream (the texture of which telling me this is homemade). Despite the promise of flavour, the bananas were really, really bland.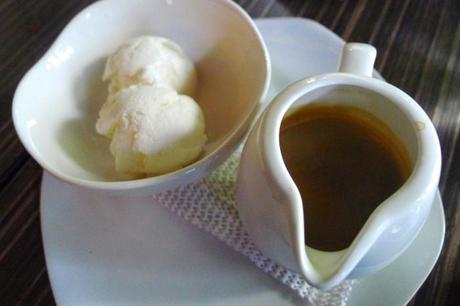 We also shared their Affogatto (Php110), described on the menu as a "delectable coffee dessert". The idea is to pour the shot of hot espresso over a scoop of vanilla ice cream. When we did that, the ice cream instantly turned to mush (but of course), so in the end, the concoction just ended up being a bowl of coffee. The espresso shot was good - that's if you like your coffee strong and powerful.
All in all a mediocre trip to Basil considering we had high hopes. (The place was heavily visited when it opened!) If you are into traditional Asian cuisine though, consider this place an option. Serving size of each dish is good to split among 2-3 pax, and average spending is around P400-600.
Taste - 3/5 | Ambience - 4.5/5 |Variety - 4.5/5 | Service - 4/5 | Pricing - 4/5 | Would Go Back? - Maybe
Basil | Katipunan Avenue corner White Plains Avenue, Quezon City (Across the White Plains subdivision sign)