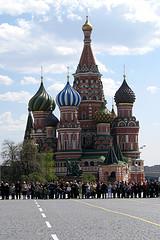 Image by Ed Yourdon via Flickr
Going to another country where the native language is honestly not that very familiar to you may seem to be a pressure to you. Though its easier for some matter to just speak English since this is a universal language, still, when you go to a country that has their own native language—well, Russia for this matter—it is a "big deal" when you are familiar with their language, even its basics.
That's why we have here Russian's basic phrases so that you will not be having language barriers during your travel times. The phrases enlisted below are categorized accordingly. Hope you learn something out of it.
Greetings
Hello! Zdravstvujte ! Hello!
Hi! Privet ! Привет!
Good morning Dobroe utro доброе утро
Good day Dobryj den' добрый день
Good evening Dobryj vecher Добрый вечер
How are you? Kak vy pozhivaete ? Как вы поживаете?
How's it going? What's up? Kak dela? Как дела? В чем дело?
Fine, thanks, and you? Horosho spasibo, a vy? Хорошо, спасибо, а вы?
Not bad Neploho . Не плохо
Taxi City Transport
Taxi! Taksi! Такси!
This is the address. Eotadres Это адрес
Take me to… vezite menja … Возьмите меня …
… the hotel. … v otel' …в отель
… the airport. … v aeroport … в аэропорт
I'm in a hurry. Ja speshu Я спешу
Go faster. Bystree быстрее
Slow down. Pomedlennee Помедленнее
Please stop. Pozhalujsta, ostanovitz' пожалуйста остановить
How much is ti? Skol'ko eto estoit? сколько это стоит?
Asking one's Way
Excuse me, where is… Izvinite, gde … Простите, где …
… a hospital? … bol'nitsa? …больни́ца?
… a pharmacy? … apteka? …аптeка?
… the subway? …metro? … метро?
… a restaurant? …restoran? … ресторан?
Where is the … Consulate situated? Gde nahoditsja … konsul'stvo? где находится консульство?
Is it far? Eto daleko? это далеко?
No. It's near. Net. Eto blizko Нет, это близко
Turn right. Povernite napravo Поверните направо
Turn left Povernite nalevo Поверните налево
Go straight ahead. Idite prjamo Идите прямо
Go as far as the crossroads and ask again. Dojdite na perekrestok i sprosite snova пойти на перекресток и спросить снова
Do you find the provided phrases helpful? We hope so.
If you are interested to increase such knowledge in a more précised and specific manner, you may choose to learn Russian at language school. The courses packed in Russian language's foreign language schools will make it possible for you to increase you knowledge.
Make an inquiry! We are glad to assist you.