At the end of the day, I just wanted to see where Nessa told her fortunes and ran her arcade business like the enterprising boss lady 'Ruth Jones' embodied. For real, an ice cream from Marco's had to be enjoyed because if it was good enough for Stacey, it was for me also! Barry saw me running from one place to another, I wanted to see everything during that coach trip day, B!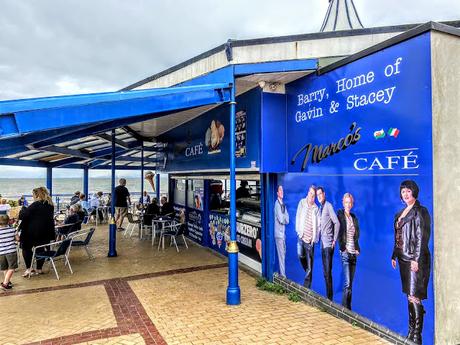 You know the scene? No, you do! Marco's Cafe was first introduced to us during Gavin & Stacey's first series. Nessa and Stacey had just stepped down from their 'Dave Coaches' bus from London, unbeknownst to Stacey. Gavin surprised his new love interest in from of that now known Barry cafe. I had to get myself a soft serve ice cream from Marco's Cafe right away, making my way from the coach park, that was the first part of my Gavin & Stacey experience! No word of a lie, Marco's Cafe was packed with people enjoying their early afternoon cafe bought treats. The canopy looked new? Since the show aired in 2007, I had to take a second look because for sure certain renovations had been made. Honestly, it was packed with every seat taken! The buzz of the show could still be felt, Marco's Cafe boasted an iconic spot, serving a prime location in-front of the beach with that famous Gavin & Stacey meeting point overlooking the famous blue seaside cafe. Did I see Dave Coaches bus? No, I did not but the coach park served that reference. Oh, oh! 
Marco's Cafe knew their market, it was impossible for me to miss that Gavin & Stacey photo opportunity. The fab four stood in printed form, I saw many excitable tourists take their selfies and group photos with Gavin, Stacey, Nessa and Smithy in the background. It was crazy to think that the whole area around Marco's Cafe had been used as a permanent on-location filming site for those scenes. Boosting a local business with such a featuring on a BBC series, from where I stood it was clear that the 'Gavin & Stacey Effect' had continued to bring 'money' in the form of tourists into the town. We all wanted a slice of Marco's Cafe, whether it was an ice cream, hot drink or a snack! The legacy of the series and continued curiosity from tourists will forever keep the tills at Marco's Cafe ringing on a daily! No, the staff didn't resemble Stacey as she worked at Marco's Cafe during the series but it was great to imagine that 'Joanna Page' had actually acted within that Barry seafront cafe. Moving onto my next location, sure that ice cream tasted great!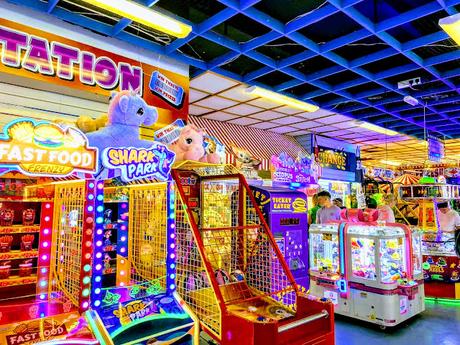 Oh, oh, oh! What's occuring? Now, sling your hook otherwise I'll break your face! Not my words but those of the legendary Vanessa Shanessa Jenkins otherwise know as 'Nessa'. Along the promenade, I walked the short distance from Marco's Cafe to 'Nessa's Slots'. Another real-life filming location from the series and specials during Gavin & Stacey's iconic TV reign, it was a must to pop into that arcade! Nessa would work in that promenade located arcade, operating below the radar as a Clairvoyant, Father Christmas impersonator and Tattoo Artist amongst other trades. She always had time for her 'Stace', many times during the series she would lend an ear to listen to her friends issues but nothing would come between Nessa and her arcade! One of the most memorable scenes from Nessa's Slots has to be when the youth are shaking the machines to get their change back, after uttering 'oh' several times through the cash booth, Nessa erupted! Reciting the sign in Welsh, she told them to 'sling your hook!' Oh, I lived for it! 
Proclaiming the lines 'I have a business to run, Stace!' Nessa didn't own the arcade but between those times she managed that place, so it was her business to run without question! I didn't play on any of the machines because my visit was all about seeing the amusement arcade in the flesh and nothing more. The last time I had saw the arcade on the show had been during the 2019 Christmas Special. That was when Nessa moonlighted as a Tattoo Artist, she created her own studio behind a curtain within the very same arcade. Even though there was a small section where Nessa merchandise was sold, I was content still just having a look around the arcade, taking in that Gavin & Stacey filming location for what it was. I do hope that another special is made, I would love to see Nessa back to work making those dodgy deals and threatening unruly teenagers who try to vandalise her business! Casting my mind back to series two, she would work in the arcade with 'Neil the baby' on her back, she was a true working mom! Let's go, BYI!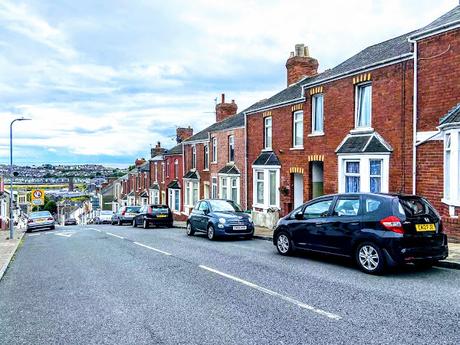 Equipped with my Apple Maps, I left Barry Island behind because I wanted to find where Stacey's house was! Heading towards Trinity Street saw me walking some serious steps, on a timed mission, I was very conscious because I was on the clock! Speed walking like nobody's business, I had no idea where I was headed towards so that electronic mobile phone navigation had me heading in the right direction. Leaving the Island behind me, I started to climb what felt like the steepest hill ever! No, that was no joke! Bowled over by the views, I was able to snatch certain panoramic views as I made my way towards Trinity Street. Benefiting from a serious workout, I wasn't mad! Arriving at Trinity Street, I wanted to ensure that I acted correctly because after all it's a residential street. I saw which house had been used for filming, out of respect for the owner, I took my photo of the street as a whole, sure the bay starred in the distance. I spent a few moments on Trinity Street before I moved on, I remained respectful still.
Considering the residents even more so, I remained mindful because it was a Saturday afternoon. It felt great to actually see the house they had used, everything in the street resembled those iconic scenes in Barry, Wales. As I looked at the said house along Trinity Street, I couldn't help thinking about the hysteria that would be caused during those days of filming! Hand in hand, another key money maker for the town stood before me, I'm not saying that Gavin & Stacey pays Barry's bills but it was apparent that the same level of love for the show continually brings people to the town. Visiting Trinity Street, seeing Stacey's House allowed me tick my third filming location out of four. The walk from the Island to Trinity Street saw me take some twists and turns, serving as a challenge for me in the best way. I sensed that I was the only person from my Majestic Travel coach who would be taking those steps from the promenade to Trinity Street. Frankly. I was fine with that prospect! The Dolphin? Under a different name, I forged ahead!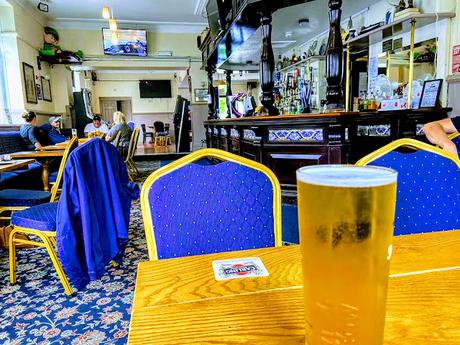 Let's go the 'Dolphin?' That Barry based watering hole had been used for a few of the pub scenes for the Gavin & Stacey series. Known as the 'Tadross Hotel', I walked about thirty minutes further from Trinity Street in-order to locate that former location. I had some reservations about visiting that pub because the reviews for their hotel had been mixed but I was only in Barry for the day, I wanted to throw those negative comments in the bin and see that pub for myself! Resembling those exterior shots from the series, I walked into the fictional 'Dolphin' pub to find it looked very similar to what had been featured on the last Christmas Special in 2019. I took that Barry pub as I found it, ordering a pint of cider had to be done. I then sat with a Birdseye view of the pub, it was quiet for that period but the table towards the bar area gave me something to seriously listen to. That conversation had me laughing inside, I listened to their absolute banter, they were hilarious! The air of the place kept it real, very much they did! Tidy!
I did see a framed photo behind the bar, it displayed some G&S quotes. As far as the series had featured pubs and clubs, I won't ever forget when Nessa said 'I'll have a pint... of wine' at Stacey's hen do! You already know that it's my dream to ask at a bar for a 'pint of wine' with the same spirit that Nessa served without absolutely no shame felt! 100%, Barry's 'Tadross Hotel' had served the final serving of Gavin & Stacey for me, it was time to descend from that high placed part of the town to reach the Island before my coach would depart later on that afternoon. From Marco's Cafe to Nessa's Slots, I loved those real-time and real-life connections served to me from the series, Gavin & Stacey. Barry held the key, being a walkable town I was able to see Stacey's House and the Tadross Hotel without any stresses, although my health app thought I had lost my mind with all of those steps walked! The whole 'Gavin & Stacey Experience' has left me wanting to watch the three series and specials again! I tell no lies! Oh! 
Barry, Wales Done Right!
Desperately Seeking Adventure