Published as:  Queen of the Hill Thanks to a contemporary interior that she's been updating for a decade, modern architect Abigail Turin has learned to love her traditional 1925 San Francisco home. Slideshow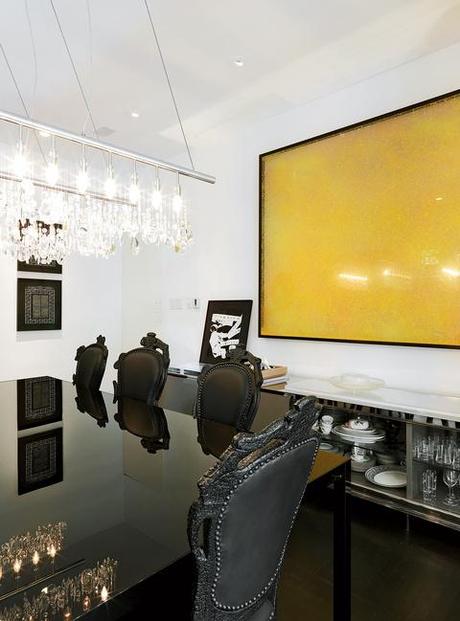 The dining room's high drama is thanks to a Cellula chandelier by Nunzia Carbone and Tiziano Vudafieri, a sleek Colors table by B. Fattorini for MDF Italia, and a massive yellow painting on
the wall by Polish artist Pitor Uklański.
Architect Abigail Turin does not live in the house that she had imagined. After coming back to San Francisco from London—where she had worked in David Chipperfield's office—and marrying financial services executive Jonathan Gans, she set out to buy a contemporary house with pretty bay views atop Pacific Heights, the city's loftiest address. What the pair found instead was a three-story, 1925 Italianate home with Douglas fir crown molding, arched leaded windows, and partial city views. But it had a great floor plan, a lovely silver-dollar eucalyptus enveloping the back facade, and a tranquil backyard designed by landscape architect Topher Delaney. "What tends to happen in San Francisco with renovations is that people divide up an old home's spaces, no longer needing formal living rooms," Turin says. "There's a rabbit warren-ing of places—and that didn't happen here. This house has good bones."
Rather than indulge her impulse and strip away the home's traditional flourishes—the French doors, baseboard trim, iron fixtures—she embraced them, creating what she calls "a dialog between minimal detailing and a traditional backdrop." Turin's first modernizing moves were to undo most of the renovations done around 1970—overscaled crown molding, paneled doors—restoring the house, more or less, to its original ornamentation.
Slideshow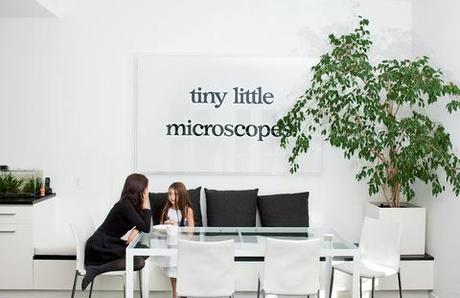 A departure from the mod-meets-baroque dining room, Turin's breakfast area is far more sedate. She and her daughter, Helena, have a chat at a Progetto 1 table by Monica Armani for B&B Italia surrounded by four Lia chairs by Roberto Barbieri for Zanotta. The painting behind Helena is by Ricci Albenda.
"You don't have to stay in the language of your exterior," Turin explains, "but you don't have to eliminate it, either."
Something the 40-year-old architect noticed immediately was how the house becomes brighter toward the back. So she played off that quality by embracing the dimness of the front living room, which faces the street, by painting the walls—and all the wood flooring in the house—a dark slate, the effect of which is surprisingly cozy. "A fallacy about modernism is that every space should be light," Turin says. "I don't need every space in my house to be bright and cheerful." She offset the room's somber hues with a pair of bone-colored Charles sofas by Antonio Citterio for B&B Italia. And although Turin dismantled the room's crown molding, she kept the original marble mantel and complemented it with an abstract piece by French painter Martin Barré.
"This was the moment where we latched onto the way to handle working in a traditional shell," Turin recalls. "If [the mantel] were surrounded with a chintzy fabric chair and flowers and all of that, then I think what you would be creating is a 'traditional backdrop.' But painting the wall black, with a minimalist painting above, makes [the mantel] an object like any other. It calls it out as almost a historical artifact of the original house as opposed to a decorative element."
Slideshow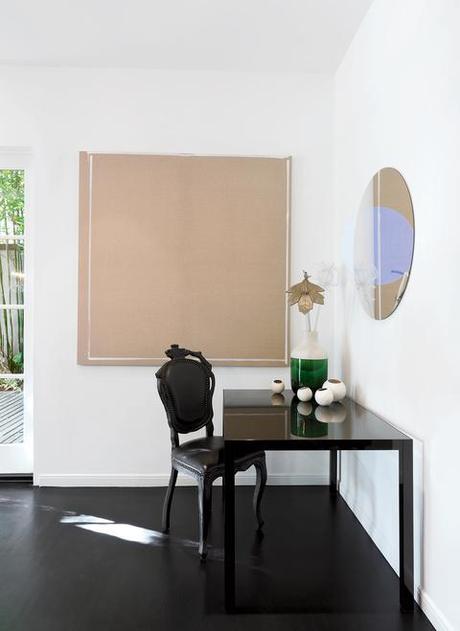 In the dining room, a Smoke chair by Marten Baas for Moooi keeps company with a glass-and-ceramic vase by Hella Jongerius and a mirrored steel painting by artist Michelangelo Pistoletto.
Turin played with this mod-trad line around the house. In the dining room, a set of Smoke chairs, by Dutch designer Maarten Baas for Moooi, surrounds B. Fattorini's black glass, gloss-lacquered aluminum Colors table for MDF Italia. At first blush, the Smoke chairs look entirely conservative, but closer inspection reveals their charred and cracked wood frames. Hovering above the table, Nunzia Carbone and Tiziano Vudafieri's sleek Cellula chandelier by Anthologie Quartett dangles Swarovski crystal pendants that refract sunlight coming in through the home's southern windows. In the master bedroom, arched windows with old handles are visible behind full-height, white ripple-fold drapes.
An art-consultant friend of Turin's jokes that she's a closet classicist: After all, Turin wrote her undergraduate thesis on Palladio and her graduate thesis was on High Renaissance architecture. Perhaps Turin's now coming around; she acknowledges that working on the house was a departure from the strict minimalist principles guiding her firm, Kallos Turin (her partner Stephania Kallos heads the London office). Designing inside a traditional wrapper has changed her opinion about using older details, such as the French doors that open from the breakfast room to a backyard patio. Designing her own home, she says, "has given [Kallos Turin] a window into doing modern in a traditional setting."
For the most part, the house remains true to Turin's stripped-down sensibilities. She removed all of the upper kitchen cabinets and replaced them with a strip of light-green paint that serves as a display backdrop for seven-year-old daughter Helena's artwork. Clutter has few surfaces on which to accumulate, except for in Turin's upstairs office and in the family den, the most casual ends of the home. On her desk sits a whimsical Oceanic lamp, by Michele de Lucchi for Memphis, a form of art criticism that offers her a reminder: "You can get tied too much to this idea of tastefulness," she says, "and you end up with really dead spaces."
Slideshow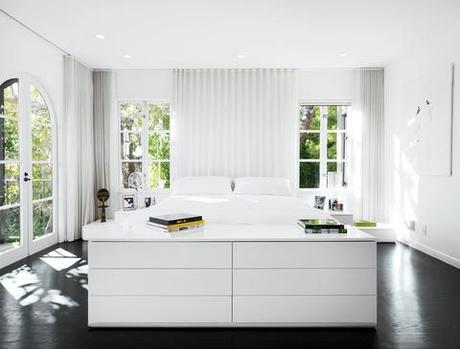 Turin designed the bed, console, and side tables in the master bedroom. The room gets plenty of illumination through the windows, which she had remade to match the 1925 detailing and covered in translucent Trevira fabric curtains by Rogers and Goffigon. "They provide privacy but lots of light comes through."
Perhaps this credo has been best applied to Helena's bedroom, the most playful spot in the house. "One strategy was to confine everything behind closed doors," Turin says. "But that's not so much fun when you're seven." Instead, three Random bookcases by MDF Italia show off Helena's colorful books, which are neatly arranged in descending order of height (her own doing, Mom points out).
Turin and Gans's bedroom has its own kind of Oceanic lamp: a Rainbow chair by Patrick Norguet for Cappellini provides a bright moment of color in an otherwise monochromatic palette. "I wanted this all-white bedroom, but that doesn't mean you're a slave to it," says Turin. Opening the windows that lead out to a narrow balcony, she and Gans look out over a canopy of avocado and banana trees and, below, into a private backyard that contains a small pool, shielded by bamboo. Beyond the treetops lie the city's picturesque hills: not the view she'd imagined, but one she adores just the same.