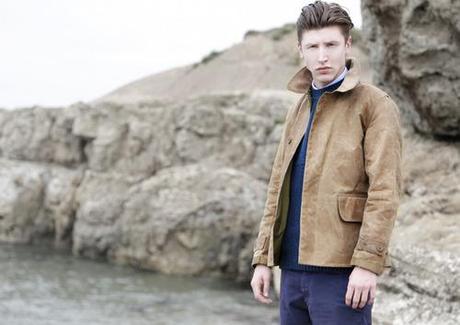 Barney's just made their final markdowns for the season, with up to 75% off select items. I picked up the Barbour Beacon Barra jacket seen above, which I think will look good with a pair of jeans or the Engineered Garment fatigues I just bought last month. 
Other notables include more Barbour Beacon outerwear (designed in collaboration with Norton & Sons), a single Levis Made & Crafted black leather jacket, a GSR by Belstaff field jacket that I'll probably regret not buying, a well-priced Fair Isle sweater by Nigel Cabourn, some Nanamica outerwear, and a few accessories by Drake's. Readers looking for more affordable deals might want to check out what's available from Gant Rugger, Gant by Michael Bastian, Saturdays NYC, and Save Khaki. 
After this discount, things will be eventually moved to Barney's Warehouse, where there will be another slashing of prices sometime next season. But those will be final sale and sizing will be much more dicey.