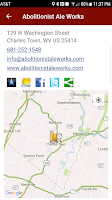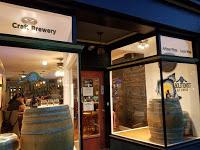 When traveling through Loudoun County wine country via Route 9 (Charles Town Pike) travelers eventually enter West Virginia crossing over the Appalachian Trail and Shendandoah River. This route leads to Charles Town, the seat of Jefferson County and colonial home of founder Charles Washington -- the youngest full brother of our first president. At the time still part of Virginia, this area was home to Charles' Happy Retreat as well as other estates owned by Washington's relations. Charles Town was also the scene of abolitionist John Brown's demise where he was tried for treason and ultimately hanged. On a more pleasant note, today the town is home to a few craft beverage producers including the appropriately named Abolitionist Ale Works.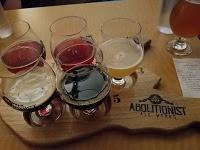 The brewery's motto is that they "rebel against the status-quo of the beer industry" and this is portrayed through their diverse tap list.  Expect several versions of IPA's from a session to brett to heavily dry hopped ales. Abolitionist is also saison and sour heavy with three clear favorites:  the Harpers Berry Sour Ale conditioned with blueberries and raspberries, the Beverley Farmhouse Ale American Wild Ale fermented using wild yeast, and the Pale the Funky Saison which is a barrel aged Brett Saison with blueberries and blackberries. On the darker side they offered the Chocolate Reasonable Stout, their Reasonable dry Irish stout conditioned with chocolate and the Dirty Beard, an Imperial Stout aged six months in Rum barrels. This last beer was fantastic, moderately heavy at 9%; otherwise I would have finished the tap myself.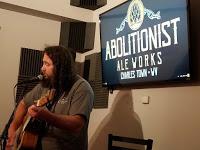 The purpose of our visit was not only to visit a new brewery but also to listen to the one-man band antics of Barefoot Wade - "feel good music from a no shoes wearin' hippy beach bum kinda guy" .We've become somewhat groupees every summer in Ocracoke, North Carolina - Wade's home base. With island gigs on short supply during this long and cold winter he headed north to tour the mid-Atlantic inoculating himself one evening at Abolitionist. Alternating between classics and originals he sets the tone with an island beat steel drum, then adds bass and more percussion on a loop, before leading into the main tune. There's plenty of prep and focus before each song and Wade nails it - pretty much like Abolitionist Ale Works and their rebellious beers. Cheers and safe travels on theCompass Craft Beverage Finder.