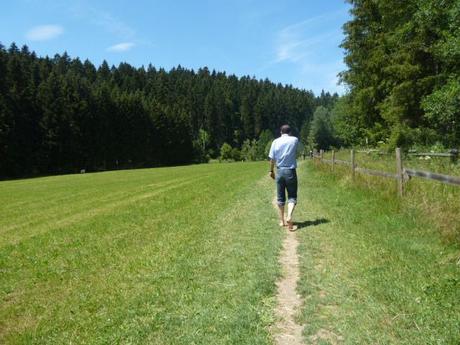 Have you ever heard of a Barefoot Park (Barfußpark in German)?  I hadn't until I spotted it on my attractions in the Black Forest map.  Although it is primarily geared towards families with kids, my curiosity was peaked and I knew I had to go and see for myself just exactly a Barefoot Park was.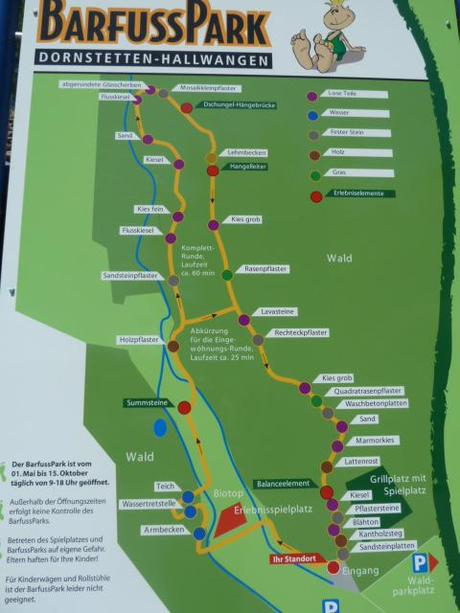 Map of the Barefoot Park path in Dornstetten-Hallwangen, in the Black Forest.
We choose to go to the Barefoot Park in Dornstetten-Hallwangen, located near Freudenstadt in the Black Forest.  It consists of a 2.5km walking path through forest and meadows, to be walked in bare feet, a water adventure park area and walking paths consisting of a variety of materials including sand, mulch, rocks and even glass.  There would also be balancing challenges along the way.  Surprisingly admission to the Barefoot Park was free!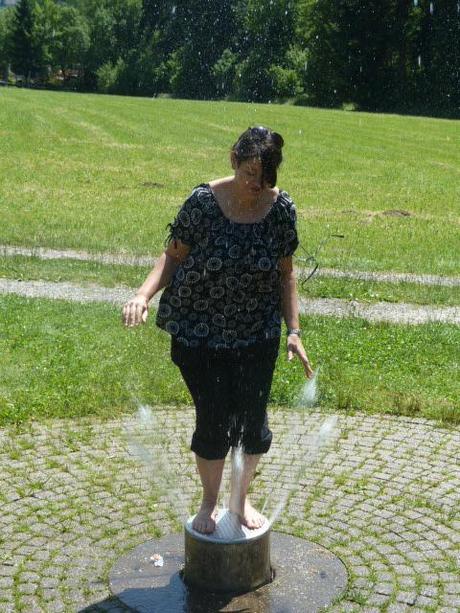 One of the activities in the water activities part of Barefoot Park.
The water adventure park was first on the list.  This did not consist of rides, but different activities, including jumping on this thing to make water come out.  The water adventure park concluded with this: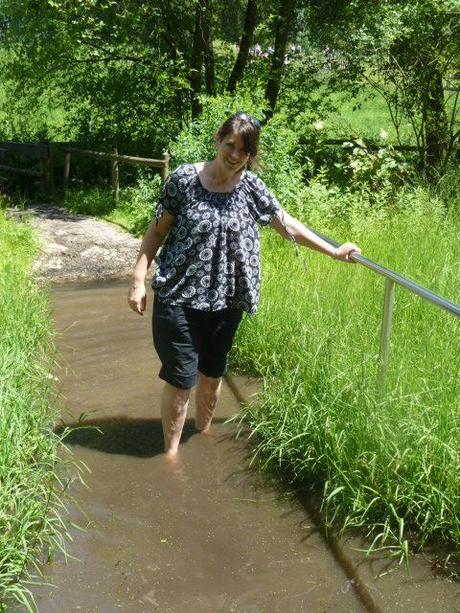 Wading through muddy water at Barefoot Park. I was determined to do all the obstacles presented to me, but this was my least favorite.
Barefoot parks have been popping up all over Europe in the last 20 years or so.  There is already more than 100 of them and they are especially popular in Germany and Austria.  The idea of a barefoot park is to be a kid again, since kids love to run around barefoot, and feel the different textures under your feet.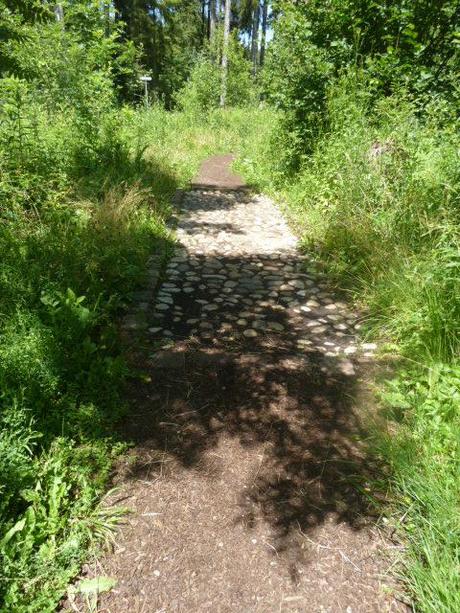 One of the many rock paths we walked over at Barefoot Park.
Thankfully there was only one of these paths: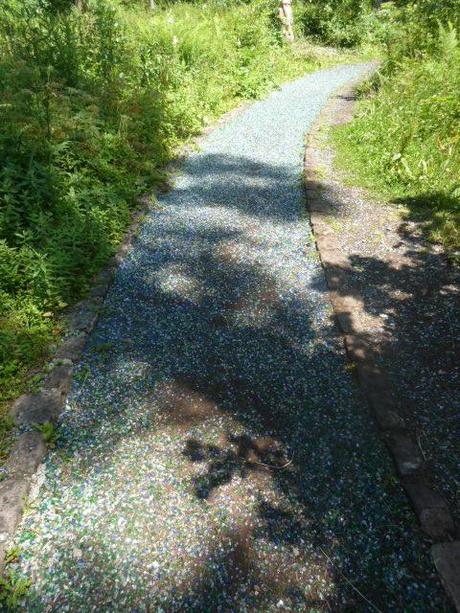 I was a bit concerned about walking on the glass path, but fortunately all the edges were rounded so that you couldn't cut yourself on it. It actually felt like a foot massage.
Walking barefoot is considered to be very healthy as it trains the muscles in your feet to work properly so that you don't end up with flat feet or other deformities.  Walking barefoot also protects your back, knees and hips since it restores your natural gait, which may be interrupted with footwear.  It can even help prevent varicose veins and stimulates the body to stay warm.  I may just start walking barefoot everywhere I go!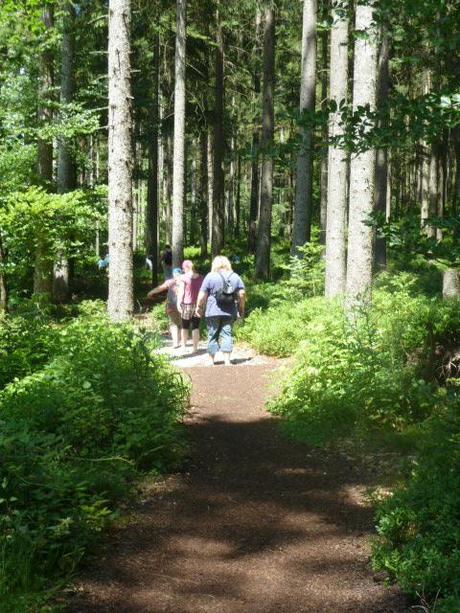 Walking barefoot through the forest was very relaxing.
There are health risks to walking barefoot though including the most obvious one of cutting yourself on something, or stepping on a poisonous plant or insect.  There are also the more grotesque risks of being infected by a parasite or a hookworm.  (Glad I didn't know that as I walked through the muddy water pictured above.)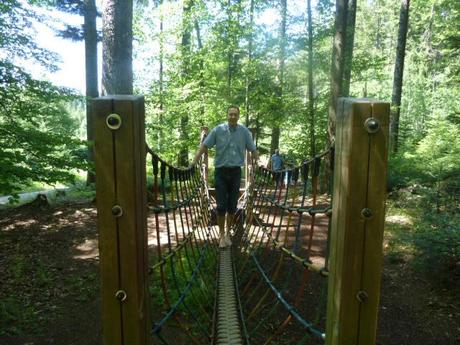 J.P. on one of the many balancing challenges found in Barefoot Park.
There were also many balancing challenges along the way.  The one pictured above was an easy one, but the one below – not so much: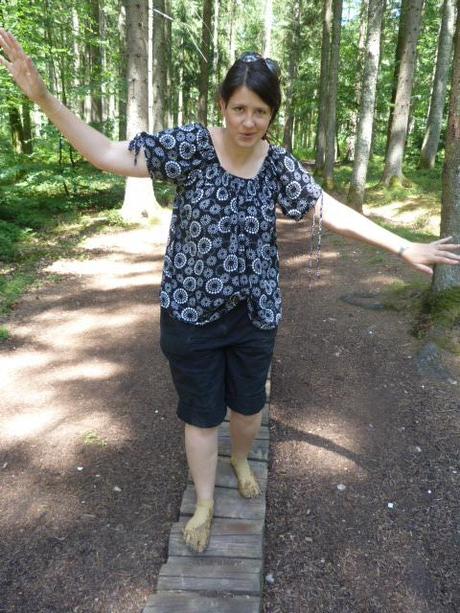 A little wobbly on one of the balance challenges.
And a few tips for going to a Barefoot Park:
wear shorts or pants that you can roll up to the knee
bring a towel to dry your feet when you are finished (there will be a cleaning station)
wear clothing that you don't mind getting dirty, in case you fall
don't wear really nice shoes, as your feet will still not be 100% clean, even after washing them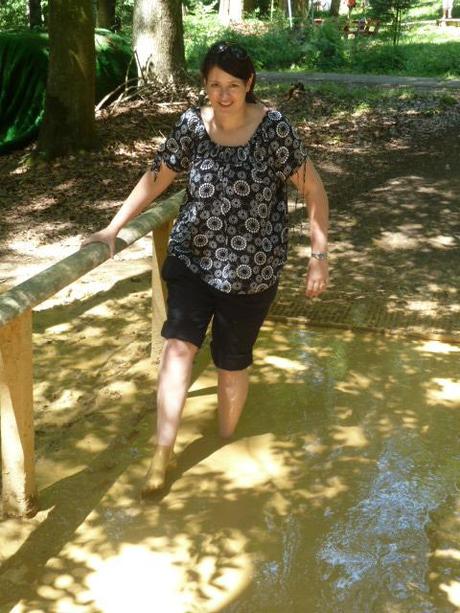 One of the last challenges - wading through past ankle deep mud.
Perhaps now some of my above suggestions make more sense.  Wading through the mud was kind of icky at first, but it did feel oddly soothing after a couple of minutes.  I was also entertained by two girls having a "who can stand in the mud the longest" competition.  I wasn't sticking around to see who the winner would be.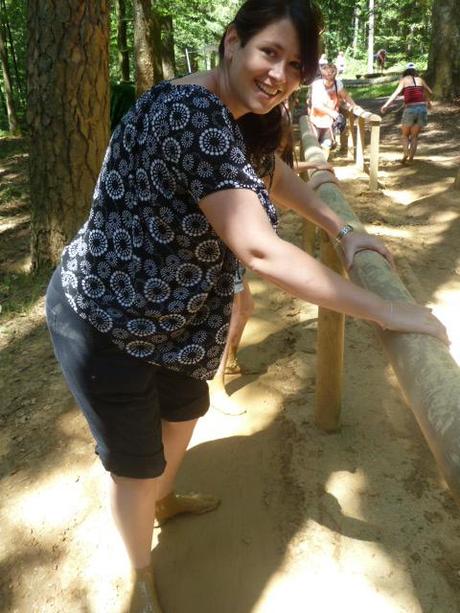 And the funnest part? The mud slide. Although the potential for slipping was rather high - fortunately we didn't.
I really enjoyed my first time in Barefoot Park and I did feel like a kid again.  J.P. (my German fiance)  wasn't so sure about going, but he also really enjoyed it.  It was silly, quirky and we had a lot of laughs. All of the kids we saw were having a great time and seemed to really excited to there so I would also highly recommend this for children – really the intended audience, but aren't we all kids at heart?
Have you been to a Barefoot Park?  What were your impressions?  If you haven't been, would you go to one?
More info:
Listing of Barefoot Parks in Europe
Barfußpark inDornstetten-Hallwangen (German language only)