Ahhh Barcelona. You are seriously such a fun and vibrant city. The energy thriving throughout Barcelona is very contagious.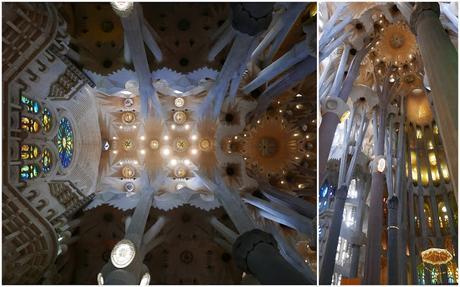 Stained glass for days 
One of the highlights of Barcelona is definitely the architecture created by Mr Guadí. Absolutely breathtaking. There is really nothing quite like it. I still remember the moment I walked out of the metro station, turned around and got the first glimpse of the
Sagrada Familia
. I was completely speechless and my mind just shat itself from being so taken back. The building was larger than life yet you could still see the intricate details on the building. Incredibly surreal.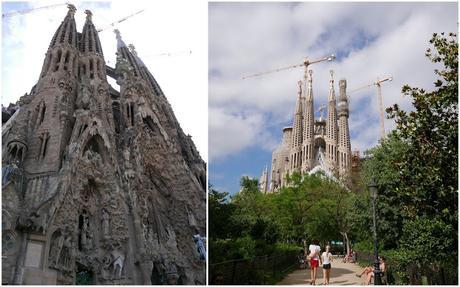 The Sagrada Familia
The interior of
Sagrada Familia
was equally just as stunning as its exterior. All the stained glass were so pretty and it was so beautiful to see Mother Nature shining its rays through the temple, which created such a warm and calm atmosphere.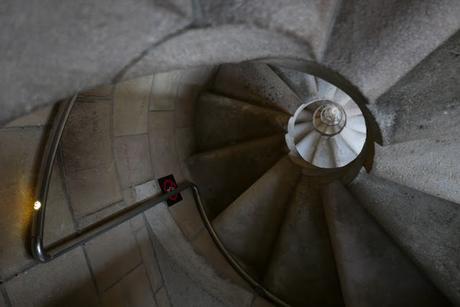 Climbing the towers of Sagrada Familia
DC and I opted for a package entry (29 euros) which included an 'express pass', guided audio and access to the towers. Since the building was still a work in progress, there wasn't much of a view after climbing all the way up there. Nevertheless, it was still an experience and definitely a work out climbing all those stairs.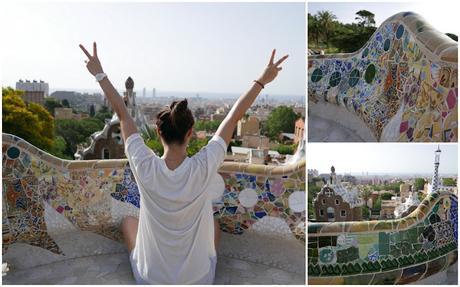 Park Güell
Another Guadí landmark which we were able to squeeze in was Park Güell (entry fee of 25 euros) and of course, it was uh-mazing. Plus it was a great way to see the city whilst having getting comfy on those artist ceramic seats. 
I'd recommend for you to go first thing in the morning to avoid the crowds but more importantly, you get to enter the museum without lining up as there is a limited entry of 400 visitors every 30 minutes.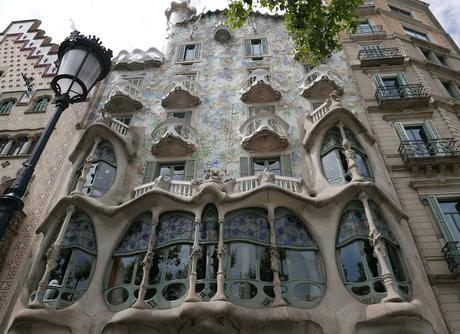 Casa Batlló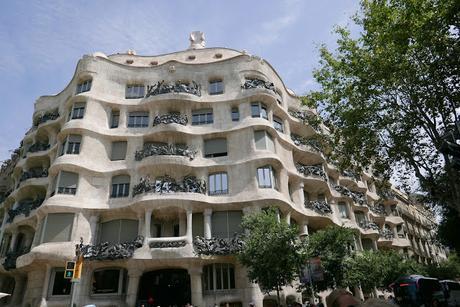 Casa Milà
Unfortunately, we didn't get the chance to visit every Guadi museum as we were tight on time and the average entry fee for each museum was approx 25 euros pp. I guess we will just have to come back to Barca to tick a few more Guadi museums next time.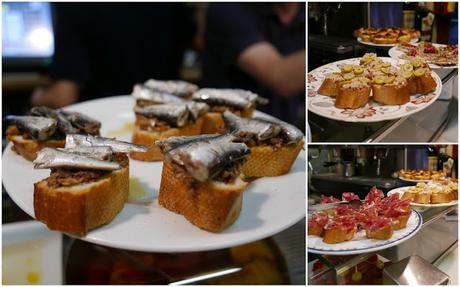 El Xampanyet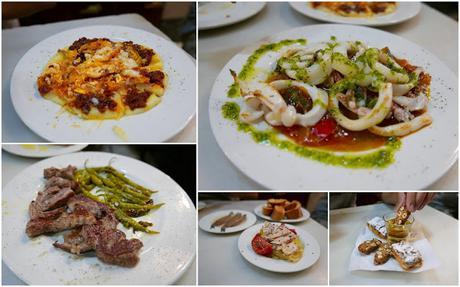 Order everythang off the menu
When you visit Barca, I don't care how long or short you are there for because if there is one place you but eat at, it is 
El Xampanyet
. Hands bloody down, best restaurant in Barcelona and also one of the best meals I had throughout my 6 week trip in Europe. 
The restaurant gives off an old school Spanish bar where you stand around, have a drink and enjoy tapas. The food is so authentic and the flavours were spot on. Nothing was too rich, salty or sweet. Unfortunately the restaurant does not take bookings so I recommend for you to arrive 15 mins before they open their doors. DC and I went for dinner, and within 5 minutes of the restaurant opening, the entire place was c-o-m-p-l-e-t-e-l-y packed out from the tables to the bars to the free standing areas. 
I don't want to hype this place up too much for you but.. SERIOUSLY dude, you need to give this place a go. If the restaurant is full, you can go next door to another bar where there is generally more seating available and the food is also meant to be quite good too.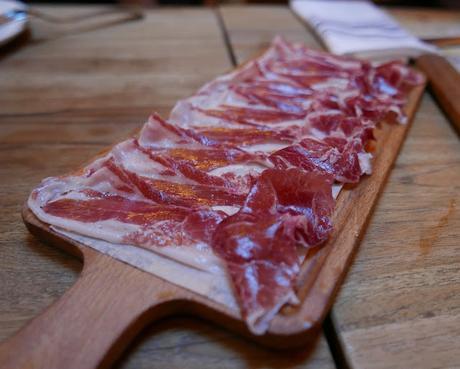 Oh jamon, come to momma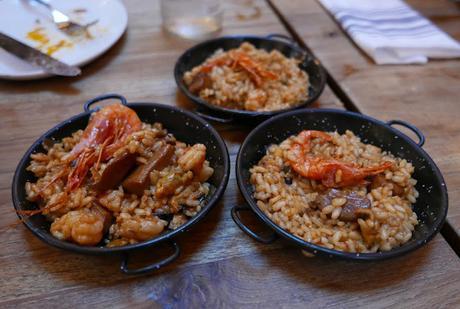 How cute are these mini paellas!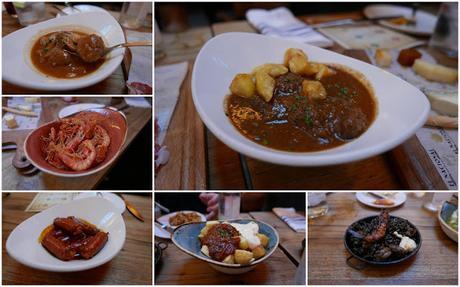 Eat ALL the tapas when one is in Spain 
Another must have no matter where you are in Spain is of course tapasssssssss. A really (dangerously) fun restaurant is
El Nacional
in Barcelona, which is also nicely situated near Casa Milà and Casa Batlló. Oh man, it's basically a gigantic and beautifully decorated room filled with four different bars and restaurants. Who needs to go on a bar crawl when you can just move from bar to bar at the same place, especially when the food at
El Nacional
is so dam delicious. Tapas game, strong.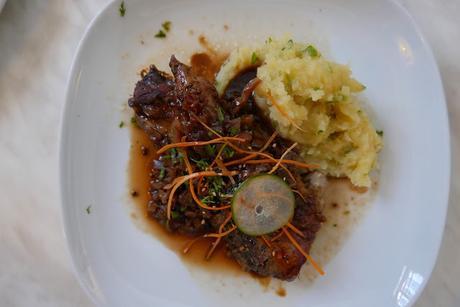 Braised pork rib with gravy and mashed potatoes

Whilst we are on the topic of food (because what else is there to possibly talk about), back in the old days, the King believed that everyone should have the right to feast like a king irrespective of whether you are wealthy or poor. Due to this, restaurants back then offered a 3 course lunch special with a glass of wine for a very cheap price. Fast forward to the present, although this is no longer a law, a lot of restaurants in Barcelona still carry on this tradition. You can find the same lunch special for 6 to 15 euros pp, depending on where you go. Obviously, the more you pay, the more value you will get. 
We went
El Casal
which had the 3 course lunch special with wine for 12 euros and dam.... we struggled to finish all the good food. Originally we thought that because of the lunch special, the size of the dishes would not be that big. Oh how famous those last words became. Each dish was a proper size and the main, was a real main. So if you are in Barcelona, you would be doing yourself a injustice if you don't give these lunch specials a go.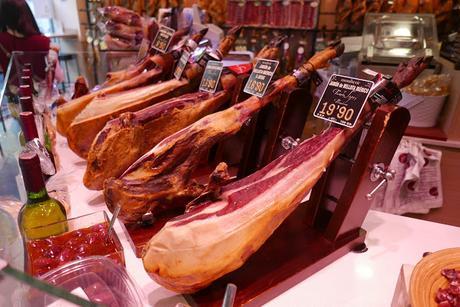 Another city in Spain, another day filled with jamon...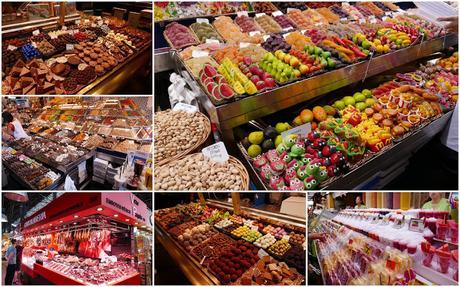 La Boqueria Food Market
As mentioned in
my post of Madrid
, food markets across Europe is a must. One of these includes
La Boqueria
in Barcelona. No matter which way you turn, you will see loads of different food, fresh and cheap fresh produce, so many inviting colours, and an endless amount of food stalls. It is definitely one of the best food markets I have been too because the variety at
La Boqueria
is just endless. 
So unfortunately we have come to the end of this post as well as an end to my travels around Spain. Cant wait to explore other areas of Spain - please let me know if you have any recommendations on where to go next in Spain, would love to adventure out to more regions across Spain. 
Next up - Portugal. 
Until then, gotta go eat!!
#SSTL