Barca found themselves in a great position last night after beating Copa del Rey holders Real Madrid on their own turf in the first leg of  their quarter final clash. Next week will see the second leg of this "Clasico" played at the Camp Nou and Real Madrid have everything to play for. The match started predictably last night in a kind of master's chess tournament with either side giving in until Cristiano popped up and stuck one in past Pinto. If it were Valdés maybe Ronaldo wouldn't have scored but hey, Pinto is Guardiola's keeper of choice for this event. This was followed by sporadic attacks from both teams up until half time when Barcelona was finding their groove.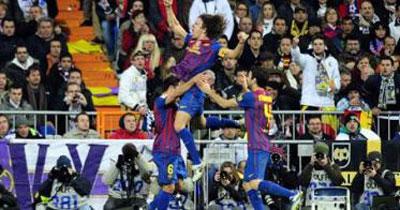 Once the second half started it didn't take long before blaugrana captain Carles Puyol headed home their first goal. It was a nice goal but one wonders how Real can leave Puyol unmarked to score. A defensive error from Madrid for sure. After that there were more scares from both sides hitting the goal posts but not finding the net. Then, Barca defender Eric Abidal slotted home to secure Barca half a ticket to the semi finals of La Copa del Rey. maybe Piqué's words will come true when he famously said "we are going to take the trophy of your King" but ended up eating his words as Real Madrid are the current holders.
So, Real Madrid have a lot to do next week when they come down to Catalonia to play at the Camp Nou. Will it be a walk in the park for Barca or will the "merengues" make them pay? We will see next week, it's going to be a thriller!