Although Barcelona has so many great things to offer we bet you have never seen it from inside a Limousine; imagine seeing all those great things like the Sagrada Familia, the beautiful boulevard and all other monuments traveling with style and glamour!
This might sound as a very expensive experience but this luxurious experience is much more affordable nowadays then you might think. Especially if you hire the limo with a couple of friends to share this wonderful event. Deluxe Limusinas in Barcelona has many special packages to offer you like combining it with a wine tasting. Even better, imagine arriving at a discotheque as a V.I.P. not having to wait at the entrance but directly entering via the V.I.P entrance and all of this combined with a free mini bar to do some serious pre-partying.
Also for the romantic couples Deluxe Limusinas has a lot to offer; tours to the most romantic parts of town, romantic getaways to special places and the perfect transportation on your wedding day.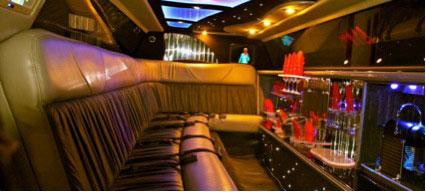 Super luxurious day
If renting a limousine isn't enough to have the best day of your life Deluxe Limusinas offers you the opportunity to make the day complete by renting a yacht. Imagine cruising along the azure coast of Barcelona with all your friends, taking a dip in the Mediterranean Sea, partying and playing all day long. After this great day you'll be picked up again by your own private limousine to prepare you for Barcelona's wild nightlife.
Why choose Deluxe Limusinas
There are many companies in Barcelona that offer limousine rental services but none of them have the glorious Chrysler 300c limo completely reformed into a driving luxurious bar. A free mini bar is always included and you'll feel like a real V.I.P being driven around Barcelona in this luxurious stylish limousine.
Beside the beautiful limousine their service level is impeccable and all of this offered with very competitive pricing. Many clients have preceded you and each and every one of them was amazed and had an unforgettable experience. Please visit their website to find out more and take a look at their special offers.
Website: Deluxe Limusinas