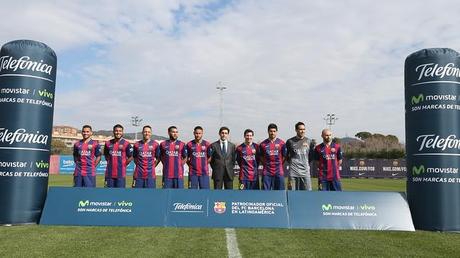 FC Barcelona's South American players pose as part of agreement with Telefónica (FC Barcelona)
In the past few days, FC Barcelona have made some major news off the pitch.  Their agreement with telecommunications giant Telefónica began to change the playing field when it came to the issue of television rights for La Liga.
The club came out with a statement on Wednesday making their partnership with Telefónica official for TV rights in Latin America.
The deal will be for three years with an option for two more, according to the club's statement.  The total amount of money that the Blaugrana will earn will range between €40-65 million just from that region alone.  That will also include a friendly match in South America in the future.
Foto del acuerdo entre #Barcelona y #Telefónica por derechos en #Latinoamérica. pic.twitter.com/pz51ZNw16o

— HORACIO GENNARI (@horaciogennari) February 19, 2015
"Latin America is a region that Barça has always had great interest in developing. Within our strategic plan is it an important priority," said Barcelona vice president Javier Faus.
In the meantime, Telefónica is just getting into the television rights market and they surely captured one of the big fish that was available.  Barça also see in a company with the reach that Telefónica has in South America, that they can have their content seen by a much larger viewing audience.
"In the future, football will be filled with large telecommunications companies."

-  FC Barcelona vice president Javier Faus 
Telefónica owns mobile company Movistar, one of the largest mobile providers in the region.  Movistar is available in 13 countries in Latin America.  They also own Vivo, one of the biggest cell phone providers in Brazil.
One would also have to see what another property that this company owns in the region, Terra, would be involved in with the distribution of content along its platform.
Just based on this properties, the sole number of potential consumer base for the Barcelona brand would be around 250-500 million.  The club already estimates that there are around 50 million fans of the team in that part of that world and that is part of the reason why expansion there is such a priority.
According to the statements made by Faus, the club looked at "quality over quantity" and that Telefónica offered them a greater impact based on their desire to innovate.