It was an ice cold scenario at the Camp Nou last night and Barca suffered to beat a Real Sociedad who were looking for some away points. Barca won 2-1 with goals coming from Tello and Messi. Both keepers were kept busy from the start with Messi being denied at just 4 mins and Valdés blocking a shot from Diego Ifran at the other end of the pitch.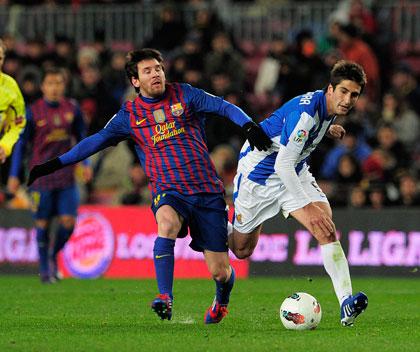 Just four minutes after and young Cristian Tello slid home a sweet pass from Leo messi to make it 1 nil. Barca were not in a scoring mood last night and had many shot blocked by Bravo who was in good form for Real Sociedad. Shots were raining in from Cesc Fabregás, Jonathan Dos Santos, Alvés and Messi.
The little Argentine finally hit the target on 72 minutes and Vela quickly grabbed one back for the visitors, cooly finishing an Antoine Griezmann pass, and the lead was back to the single goal it had been for nearly all the game.
Finally, Sergio Busquets was carried off the pitch towards the end of the game with a nasty looking cut just below the knee but I understand that he'll be fit for Wednesday's clash against Valencia in La Copa del Rey semi final second leg at the Camp Nou.