Barca certainly gave Spartak Moscow the cold shoulder last night in Russia by beating them by 3 goals to nil.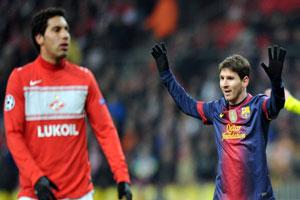 The Catalan side also had the three goals in the net before the half time whistle! Unai Emery's Spartak moscow had no chance against a strong Barcelona squad which saw the return of Sergio Busquets.
The midfield was strong with Cesc hooking up with Busquets and Iniesta linking with Xavi. The goals came from Dani Alves in the first quarter of an hour with another brace from Argentine maestro Leo Messi on 27 minutes and 39 minutes respectively.
Spartak did not seem to bother Barca too much in the cold and on an artificial pitch and only offered a glimmer of danger when Suchy's shot went high. Barca were in complete control of the game and even managed to drop the tempo in the second half without giving too much away to the Russian outfit.
It was business as usual for Messi who scored two fine goals, the second of which was pure class as Pedro threaded the pass to Leo through the eye of a needle! Messi has also beaten Dutchman Ruud Van Nistelrooy's record in the champions league and now sets his sights on reaching Raúl's awesome 71 goal record in the same competition.
Barcelona FC now go through to the last 16 with this comfortable win over Spartak. Meanwhile Chelsea crashed out of the Champions League by losing 3 nil to Juventus and Abramovich has just sacked Blues coach Roberto Di Matteo. A lot of the fans think it's unfair as just 6 months ago it was Di Matteo who steered Chelsea to Champions League glory over Bayern Munich.