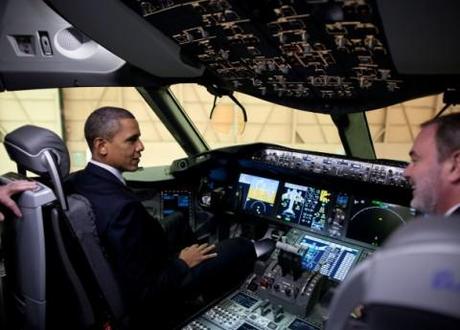 He can fly planes, too! Is there anything Obama can't do? Photo credit: Official White House photo, Pete Souza
The US president has a lot on his mind, but that's doesn't mean he shouldn't be allowed to have fun every once in awhile. And, in a video that's currently making the viral rounds today, President Barack Obama certainly looks like he's having a good time – singing "Sweet Home Chicago", rocking homage to his home city, during the finale of a blue concert at the White House on Tuesday night. Obama turns out a short, but creditable performance, aided in no small part by blue legends B.B. King and Buddy Guy.
This isn't the first time that Obama has sung a few notes in public – last month, video of the President singing a few bars of Al Green's classic, "Let's Stay Together", during a fundraiser at the Apollo Theatre in Harlem went viral.
What do you think – should he quit his day job?
More on singing world leaders

Obama is Crooner-in-Chief with Al Green classic
Berlusconi releases album of love songs day he leaves office
Putin sings "Blueberry Hill", brings down the house