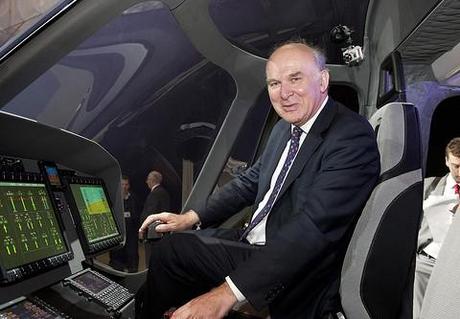 Vince Cable: At the controls? Photocredit: bisgovuk http://www.flickr.com/photos/bisgovuk/5984478286/sizes/m/in/photostream/
The dark clouds of economic armageddon form once again. There's been toing and froing over the Greek bailout package, and a loss of confidence in Italy and Spain. So should banks reform? That's the question burning in everyone's minds. The Independent Commission on Banking is set to report on 12th September. The commission, led by Sir John Vickers, is expected to recommend a range of banking reforms, including ring-fencing banks' retail operations to keep them separate from the investment arms. Banks don't necessarily want this. John Cridland, who is director general of the CBI, said it would be "barking mad" to reform the banks now, as regulation would threaten recovery. Banks might even up sticks and leave the country.
These changes would of course need to be passed through legislation first. George Osborne, the Chancellor of the Exchequer, will argue for allowing banks time to adjust, setting a deadline of 2019; Vince Cable, the Business Secretary, will argue that reforms should be implemented immediately. The result, said James Forsyth on his Spectator blog, quoting a Liberal Democrat MP, will be a "big fight."
Vince Cable has stepped into the fray: he's firmly warned that such reforms will go ahead. He says that banks are using the economic turbulence in Europe as an excuse to avoid such measures. On the contrary, argues Cable, whilst we should not expect another meltdown, such chaos means that now is exactly the time to strengthen the banks and give the poor old taxpayers added protection. "Banks are in a way trying to create a panic around something which they know has got to happen," he said to The Times, adding that banking lobbyists' pleading was "disingenuous in the extreme."
"We can't have big global banks with balance sheets bigger than British GDP underwritten by the taxpayer; this can't go on and it has got to be dealt with," said Vince Cable.
Batten down the hatches. Anatole Kaletsky in The Times said that the "financial hurricane season" was about to start. The complexity of the financial system means that disasters often happen in autumn as pressure is released after a summer of stifled trading. This summer there have been four significant events: the eurozone crisis, the downgrading of America's credit raiting, a collapse in US consumer confidence, and a "confusing message" from the US Federal Reserve. What we face in the next month will probably make things worse. Germany's about to vote on its participation in the Greek bailout, and America will release its employment figures. The Federal Reserve is due to meet as well – and what it decides, or doesn't decide, will have significant repercussions. However, it's not all doom and gloom: the European Central Bank could cut interest rates, and Germany could agree to unlimited bailouts (or withdraw from the euro). America, too, might have better figures. But it's still "time to batten down the hatches."
Casino royale? Press on with it, said The Independent's leader. The British taxpayer's already stumped up more than £50 billion into banks thought "too big to fail". It makes perfect sense for the "casino" operations of banks to be seperated from the solid retail arms. But it looks like the powerful banking lobby is exerting pressure on the government. And they've got firepower: the economy's in bad shape, and there are escalating fears in the eurozone. But we must resist them. To get back into shape, businesses must be able to borrow money; but it's "myopic" to say that reform should be avoidided because it's costly. The banks can't "hold the Government to ransom." And they can't be kept up "at taxpayers' expense." Reform needs to happen – "without delay."
Crack on with it! Ben Chu, also in The Independent, agreed. George Osborne's always been soft on the banks. He's even reported to have offered to "neuter" Sir John Vickers' commission – but backed off. Banks are arguing that ringfencing will damage their ability to recover, and want to delay reform till 2019. Yet the banks are responsible for "one-third of our national fall in output since 2008." The rest of the economy's in pretty good shape – it's the banks that are at fault. We can't afford another banking crisis, and ring-fencing is the best solution.
Banks need to face up to their own part. Ruth Sunderland on This is Money also agreed. She said that Angela Knight, chief executive of the British Bankers' Association, is flawed in her wish to delay reform. Knight, argues Sunderland, is avoiding the part that banks themselves played in the crisis. In fact, many economists argue that ring-fencing is not enought to protect consumers. If banks appeared more genuine in their desire to help businesses, their arguments might have more worth. But they're not lending, and lending costs are still high. They have been lending – but to the wrong people. The Royal Bank of Scotland, for instance, lent money to the repressive regime in Belarus. Is there where taxpayers want their money going? "It is not banking reform that is the great menace, but unreformed, irresponsible banks."
It could be a minefield. Things shouldn't be left as they are, said the nuanced leader in The Financial Times. Britain has an enormous banking sector, relative to its size. Compare it to Ireland, Iceland and Switzerland – the first two have gone kaput, and the latter's taking "more radical action" than the UK. But the ICB has yet to explain exactly how ringfencing will work – so we can't say if it will make things safer. The ringfence needs to be set "high enough" to stop the riskier strategies of investment banks. There are risks, and imposing the regulations could cause problems. It could be a legal minefield, and investors might not want to lend to some "firewalled" banks. The changes will be implemented over several years – but investors might simply ignore the consequences. The banks' strongest argument is that regulation might cause trouble in lending to small businesses – but funding retail banking activity should not be difficult. "Transitional planning will of course be necessary. But that is not a good reason for failing to make the transition at all."
Bankers won't stop lobbying. Jonathan Guthrie, also in the FT, argued that the banks' wriggling is given weight by the general dilapidated state of the UK economy, which is still in recession. Speedy reform would be "unhelpful", especially if this "reduced the appetite for credit." Guthrie advises "discretion", even as George Osborne's 2019 deadline sounds like he's "leaving a problem in his in-tray." Pressure for reform may be strong now, but it will "abate." Bankers, however, will never cease their "anti-regulatory" lobbying. Sporadic growth in an unstable economy is preferable to modest increases in a stable one. "Profits from volatility are not 'illusory', as some economists claim, if they buy you a bigger house."