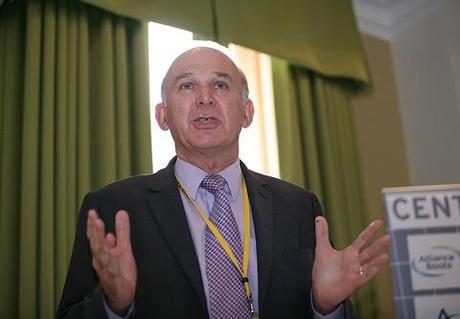 Business Secretary Vince Cable has been remarkably outspoken in his criticism of the banks. Photo credit: Alex Folkes/Fishnik.com.
The political row over planned banking reforms in the UK intensified this week, with Business Secretary Vince Cable clashing with industry leaders and other members of the coalition government over the pace and extent of reforms. The Vickers Report on the UK banking sector is due to be published on September 12th and will recommend, among other things, that banks split their retail and investment arms.
John Cridland, head of the business lobby group the CBI, told The Financial Times this week that "taking action at this moment – this moment of growth peril … is just to me barking mad." Angela Knight of the British Bankers' Association added that "The emphasis at the moment should be on economic recovery rather than another assault on the banks."
And there are signs that some in the coalition agree with the bankers. Andrew Tyrie MP, chairman of the Treasury Select Committee, told The Daily Telegraph that banks needed to be protected at a time when they were vulnerable. "Now is not the time to implement liquidity requirements that are above those proposed internationally," he said, and there have already been indications that chancellor George Osborne may look to delay implementing the Vickers recommendations until after the general election in 2015.
Cable hits back. Pro-reform Cable doesn't like any of this one bit. He came out guns blazing in an interview with The Times, accusing banks and their lobbyists of being "disingenuous in the extreme." He said that "banks are in a way trying to create a panic around something which they know has got to happen." Cable rejected the bankers' "special pleading" and said that their continued vulnerability only made the case for reform more urgent. "The fact that we continue three years after the 2008 crisis to still have anxieties about big financial institutions is all the more reason for grappling with this issue," he argued.
Coalition tensions. Rising tensions over the banking reforms are likely to spell problems for the ever-delicate coalition. Politics.co.uk commented that Cable and Osborne differ notoriously over the issue, and quoted shadow Treasury minister Chris Leslie warning against "rows between senior Cabinet ministers" blocking reforms that are "in the national interest." Ed Miliband did his bit to stir the pot too, using a column in The FT to make the case for urgent reform of the banking sector and claim that he was "concerned by reports that concerted industry lobbying and splits within the UK government may delay reform of Britain's banks. Neither should be an excuse not to deliver the change we need."
What next? The markets, at least, were encouraged by the banking industry's stubbornness in the face of reform. The Independent reported that all major UK bank shares jumped in response to the news that the reforms may be delayed until after the 2015 election. A Financial Times editorial, however, warned the industry had to wake up to the need for changes. "While it is true that a run of poor economic news has exposed the continuing frailty of the banking system," it argued, "this is not an argument for leaving things as they are."