Bandas, huts and hostels – where to stay in Uganda?
Living in Kampala
As soon as I stepped off the plane, I fell in love with Uganda. I just knew I was going to be happy in Kampala.
Being a volunteer in a developing country has been a fascinating experience and some day I'll write a book about it. I was overwhelmed by it all, the vibrancy of the colours, the welcoming smiles and humour, waking to the call of exotic birds every morning, the wall-to-wall sunshine!
I was lucky that my accommodation had been organised for me when I first arrived with VSO in early 2009. 'Living above the shop' was not always easy. At weekends I had a big house to myself but during the week I lived in the office.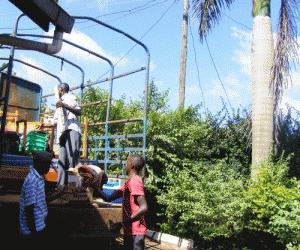 Moving house in Kampala, or 'shifting' as Ugandans call it. This vehicle is usually reserved for transporting cows!
But how would I have managed if I'd arrived on my own? And where to stay in Kampala?
Much of Kampala is now mapped on Google and the city of seven hills (or is that 22 nowadays?) has a variety of accommodation from hostels to locally-run guesthouses, business hotels, apartments and one or two European-style boutique hotels. Finding accommodation in Kampala is getting easier all the time. There's a range of cheap accommodation in Kampala for backpackers, volunteers and those on a budget. Mosquito nets are de rigeur and if you don't see one, insist on one (unless you're in the cooler air of the mountains where mosquitoes can't survive). Business visitors, international NGO workers and diplomats can equally find a good choice of places to stay in Kampala. Oh to have an expenses budget!
Last year I had an encounter with a fellow travel blogger in a Kampala hotel!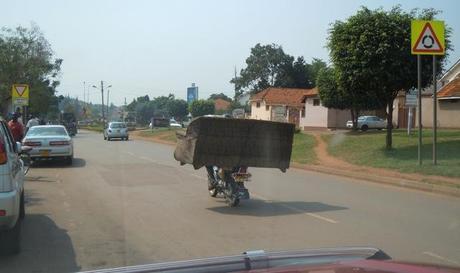 Need to move something? Get a boda boda! Think you're asking the impossible? Think again! Photo courtesy of Mark Thriscutt www.thespeakologist.com/
Moving house by boda boda is easy – just ask my friend Amy! Here she recounts how she recently 'shifted' in Kampala.
To camp or not to camp – that is the question!
I've stayed in all kinds of accommodation across Uganda. I've been lucky enough to stay in some of the best lodges – or at least in their grounds! As long as you can afford to eat there, it's usually possible to camp very cheaply in the grounds of a Lodge. There aren't as many campsites in Uganda as there are in many other countries so you're advised to stay in the grounds of a Lodge or a hotel or in one of the Uganda Wildlife Authority designated campsites.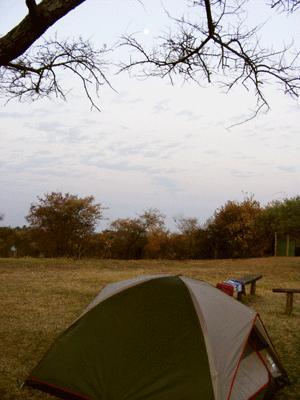 We pitched our tent next to Nile Safari Lodge where we had a private view of the Nile - er... shame the camera was facing the wrong way!
We bought a tent for our first Safari to Murchison Falls and pitched up a few hundred metres from Nile Safari Lodge. It was a bit scary when they started burning the grass and the smouldering embers landed on our tent – luckily the tent survived!
Many of the UWA and National Forestry Authority campsites have bandas for rent. Bandas can be fun!
When is a banda not a banda?
A banda is a catch-all term for a hut or small self-contained room. If you're lucky it will be picturesque: round with painted murals, a thatched roof and even an ensuite bathroom. A banda can also be an ugly square concrete block with no running water or electricity! Here lighting is usually provided by a kerosene lamp, which can be romantic. I quite like the smell of the stuff – it's highly dangerous of course.
My favourite banda in Uganda is at the UWA campsite in Ishasha, where Enid and I spent ten days while carrying out a Uganda Conservation Foundation survey to measure the impact of the elephant trench. That was the week of the snakes! We saw three snakes in three days that April. (Enid was not pleased!) The biggest stretched from one side of the road to the other: a huge black strip that looked like a shredded car tyre. I turned my head and it had gone, all two metres of it (possibly more?)
It's always best to check out accommodation first if you can. The printed Bradt Uganda guide contains the most detail on tourist accommodation in Uganda.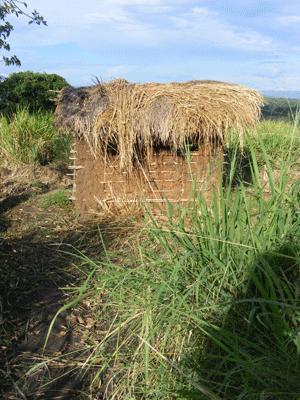 This hut is in fact a toilet, a few kilometres from the border with the DR Congo. This pit latrine, dug out of the marram soil, has to be the cleanest toilet in Uganda. (It's the ones in town that can be grim).