I love the Kentucky Derby; the truth is I just love horses. It's not like I've ever had one but their size and beauty has often brought me to tears I just find them so magnificent and I always look forward to seeing them fly like the wind during racing season. As a young girl I loved going to the Anheuser-Busch farm near St. Louis to see the Clydesdale horses; nothing prepares you for their size until you are standing next to them, looking up at them. As kids we never had the opportunity to ride horses though; that came when I was probably 19 years old and met a friend who had two horses. We would ride a couple of times a week in the afternoon and I loved that we could run and gallop and not just ride with a group on a trail. I will never forget the time my horse took off running and I thought we were going to crash into a bench that was in our path. Silly me; that horse knew better and that was my first lesson in jumping; both scary and yet thrilling beyond belief!
So this weekend I know where I'll be on Saturday; sitting in front of the TV and pretending I'm with the masses at Churchill Downs. If I plan well I'll have my big old floppy hat on, a mint julep in hand and some treats to enjoy on the side. I've been blessed to move into a new street with a friendly bunch and now that I've FINALLY had sod put in, I'm ready to invite folks over to my home for a get together. Whether this Bananas Foster bread is truly Southern is a point that could be contended but I can't imagine one Southerner I know turning down a banana bread soaked with booze. Can you? I've included some other recipes suitable for a Kentucky Derby Party or any summer party for that matter and tomorrow I'll be serving up another Mint Julep. Sip, sip, cheers!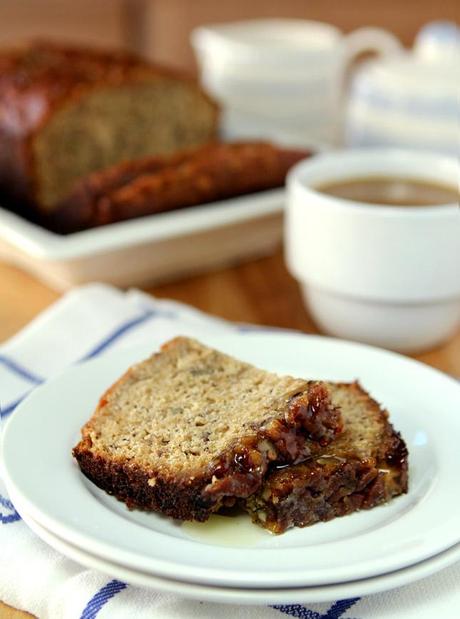 Banana bread is never planned in this house; it is ALWAYS the end result of a purchase of too many bananas and not enough eating of said bananas. What else can you do with them? I admit, I was inspired when I had some bananas that needed to be used on the counter matched with hearing one of the Food Network cooks tout a Bananas Foster Bread. Perfect. Unfortunately when I perused her recipe it was not so perfect. Banana and Rum flavoring and just a dab of real rum. Oh no…if you know me, that won't do. Why would you EVER use a flavoring instead of the real deal? So I decided to do my own thing and I can't deny…we pretty much loved it. A lot. A neighbor had a piece and begged for more to take home to his wife. The word is getting out what I do over here…soon the lines will be at the door wondering if I have something new to try or a new cocktail to sip and I'm OK with that!
Right before I finished, right before that last step of mixing pecans with the rest of the ingredients, I decided that this would be a great treat for my daughter Lauren to take on her road trip this weekend when she moves to Las Vegas. She has NEVER cared for nuts in cookies or breads so I punted and put the nuts in the bottom of the pan; she can easily peel them off if she chooses and I get the pecans I love. Go ahead and throw them into the mix if you want but I think that layer of rum sugar syrup pecans is one of the highlights of this bread!
Here's to the best horse winning and to my girl having a safe trip!


Bananas Foster Bread and More for the Kentucky Derby!
Prep Time: 15 minutes
Cook Time: 55 minutes
Yield: One loaf
Ingredients
For the Banana Bread:
3/4 chopped pecans
5 tablespoons butter, cubed
1 cup packed brown sugar
1-1/2 cups mashed ripe bananas
3 tablespoons dark rum
1-3/4 cups all-purpose flour
3/4 teaspoon baking soda
1/2 teaspoon salt
1/2 teaspoon ground cinnamon
2 eggs
1/3 cup sour cream
For the Glaze:
2 Tbsp butter
2 Tbsp water
1/4 cup sugar
2 Tbsp dark rum
Preparation
In a large skillet melt the butter. Stir in the brown sugar and bananas. Bring to a boil. Reduce heat; simmer, uncovered, for 3-4 minutes or until slightly thickened. Remove from the heat. Stir in rum; set aside to cool.
In a large bowl, combine the flour, baking soda, salt, and cinnamon. In another large bowl, whisk the eggs, sour cream and banana mixture. Add dry ingredients to the wet ingredients just until moistened.
Coat a 9-in. x 5-in. loaf pan with cooking spray. Cover the bottom with a piece of parchment paper and coat paper with spray.
Sprinkle the pecans on the bottom of the pan and pour the batter over them.
Bake at 350° for 50-55 minutes or until a toothpick inserted near the center comes out clean.
Combine the glaze ingredients; prick the top of the bread all over with a toothpick and drizzle the glaze over the bread.
Cool for 10 minutes before removing from pan to a wire rack to cool.
2.4http://www.creative-culinary.com/bananas-foster-bread-kentucky-derby/This recipe brought to you by Creative Culinary | A Food and Cocktail Blog | Website: www.creative-culinary.com
This is a sponsored post; compensation was provided by Foodie.com however all commentary is my own.