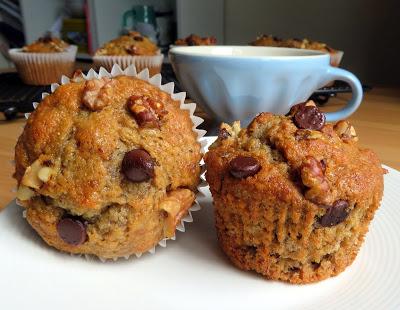 We are huge muffin lovers in this house.  I usually try to bake a batch every weekend so that we have them to enjoy for a few days. Some weeks I small batch, not wanting to waste any.  This weekend finding ourselves in possession of quite a few over-ripe bananas I decided to bake a full batch of Banana muffins, knowing that I can simply free what we will not eat within a couple of days to enjoy somewhere down the road.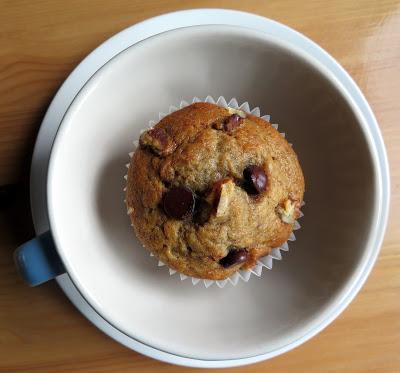 Normally this wouldn't happen. But Todd went for a walk the other day and bought some bananas at a shop, not realising of course that I had bananas on my grocery order for delivery. Not a problem really as I always use them up.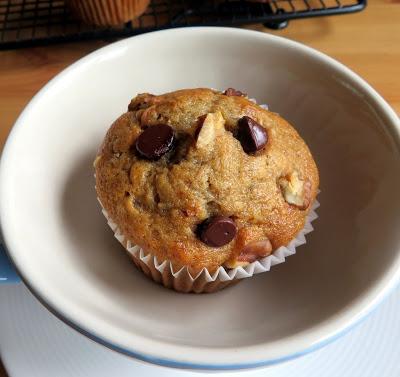 Sometimes I will bake Banana Bread and I have some really great recipes for a variety of Banana Breads on here. My absolute favorite one is this
Sour Cream Banana Loaf
.   This is the one I always bake for the Mr when I cooked at Brenchley Manor.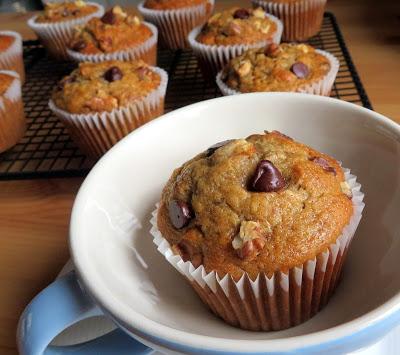 I had to make sure that there was always one of those in the larder. He loved it toasted in the toaster oven and spread with cold butter for breakfast.  I do love Banana Bread, but in all truth I don't always want to wait the hour or so that it takes to bake.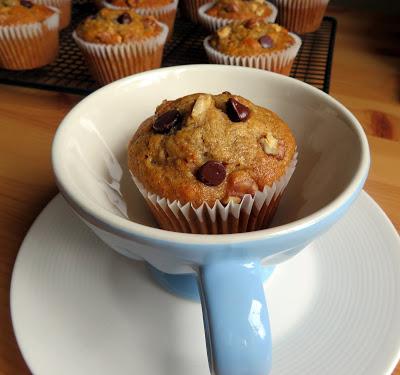 If you are looking for instant gratification, Banana Muffins are the way to go.  They mix together rather quickly and bake lickety split..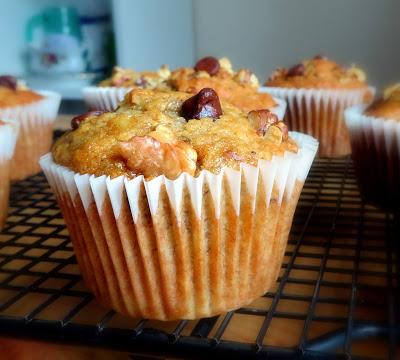 You can usually be enjoying one of them within a half an hour, start to finish, and this is my favorite recipe  for them.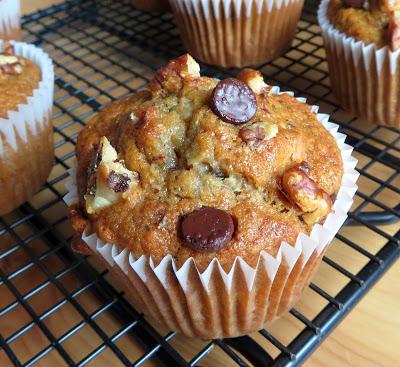 It is my favorite recipe for a number of reasons. One with the ease at which I can throw them together and two because they always bake up moist and delicious, never dry and always beautifully flavoured.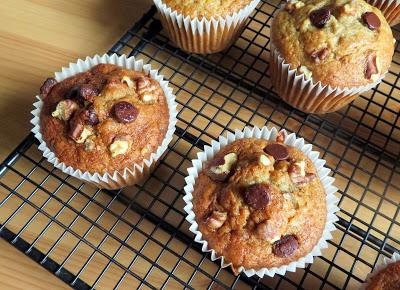 If you are a purist, you can of course leave out the chocolate chips and walnuts, but we love them just as they are!  You can of course use pecans if you would rather. We like the walnuts.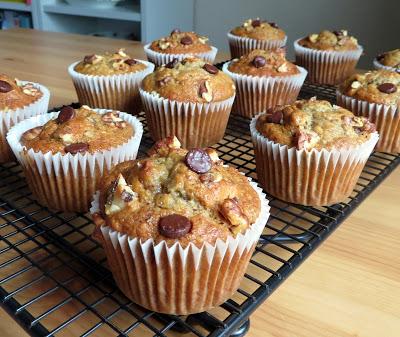 I always toast my nuts before using them when baking. It doesn't take much effort. Just a few minutes on a baking tray in a hot oven does the trick.  Toasting your nuts just helps them to taste nuttier!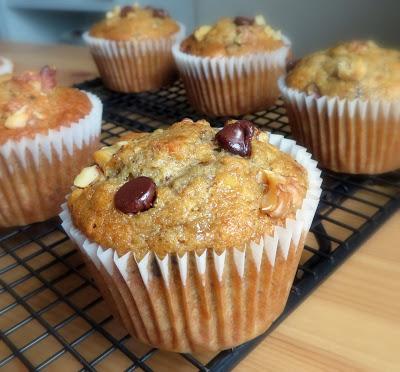 It enhances the nuttiness as it were  . . .  and chocolate chips.  Chocolate and banana are a beautiful conbination.  Think chocolate dipped frozen bananas here. The two flavours are quite symbiotic.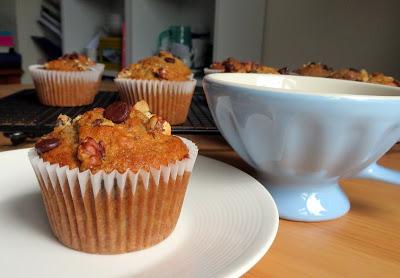 I was thinking as well, if you love peanut butter and banana sandwiches, you might like to use peanut butter chips in these instead of chocolate?  What say you eh?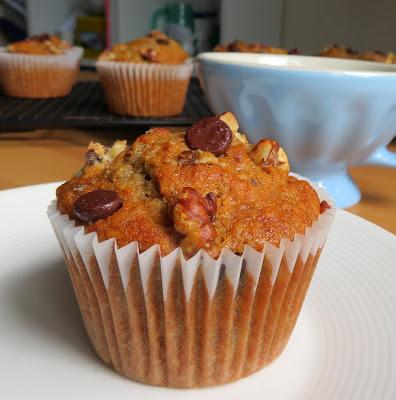 In any case I think these are pretty perfect just as they are. Soft, buttery, lightly spiced and moist.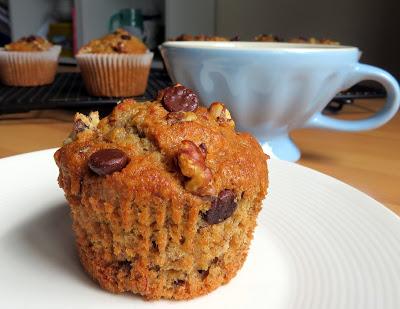 Quick to make, quick to bake, incredibly moreish when it comes to enjoying them. I could easily eat two of these in one sitting, but I restrain myself.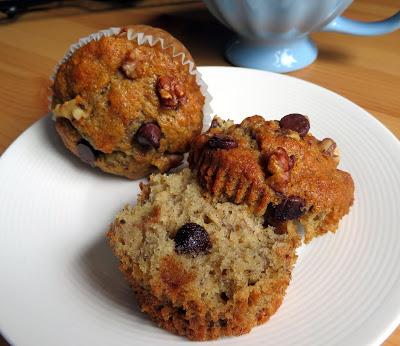 If you are looking for the perfect Banana Muffin, you can't go too far wrong by using this recipe. I think quite possibly, its the absolute best.  
Banana Muffins
Print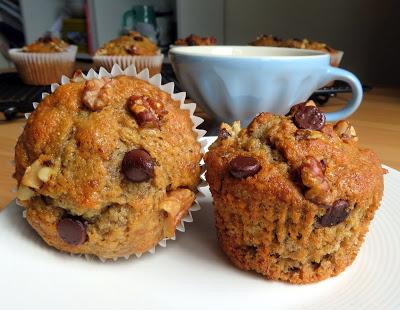 Yield: 12 muffins
Author:
Marie RaynerThese are the perfect banana muffins. Moist, lightly spiced and filled with toasted nuts and chocolate chips (or not if that's what you prefer.)
Ingredients:
210 grams plain flour (1 1/2 cups)
1 tsp bicarbonate of soda (baking soda)
1 tsp baking powder
1/4 tsp salt
1 tsp ground cinnamon
1/4 tsp ground nutmeg
3 large over-ripe bananas (about 1 1/2 cups)
86g melted butter (6 TBS)
145g soft light brown sugar (2/3 cup)
1 large free range egg, lightly beaten
1 tsp vanilla extract
2 TBS whole milk
60g chopped toasted walnut meats (1/2 cup)
90g semi sweet chocolate chips (1/2 cup)
Instructions:
Preheat the oven to 220*C/425*F/ gas mark 7.  Line a 12 cup muffin tin with paper liners.
Whisk together the flour, soda, baking powder, cinnamon, nutmeg and salt.  Stir in the chocolate chips and nuts.
Using an electric whisk beat the bananas in a bowl until mashed thoroughly. Whisk in the sugar, egg, vanilla, melted butter and milk, combining well together.  Add the dry ingredients all at once and stir together just to combine. Spoon the batter into the prepared muffin tin just to below the top of the paper liner.
Bake in the preheated oven for 5 minutes then immediately lower the oven temperature to 180*C/350*F/ gas mark 4 without opening the oven door.  Bake for a further 15 minutes until well risen, golden brown and a toothpick inserted in the center of a muffin comes out clean. 
Allow to cool for five minutes, prior to carefully lifting out to a wire rack to cool completely. 
Store any leftovers in an airtight container for up to two days. These will also freeze well, properly wrapped, for up to three months. Thaw overnight  prior to eating.
Did you make this recipe?
Tag @marierayner5530 on instagram and hashtag it #EnglishKitchenCreated using
The Recipes Generator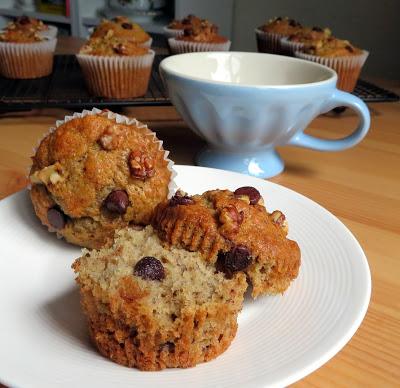 So what is it that makes a muffin the perfect muffin for you?  What flavours do you enjoy?  Next to Banana I love Bran. I need to find a way to combine the two don't you think?

Follow my blog with Bloglovin