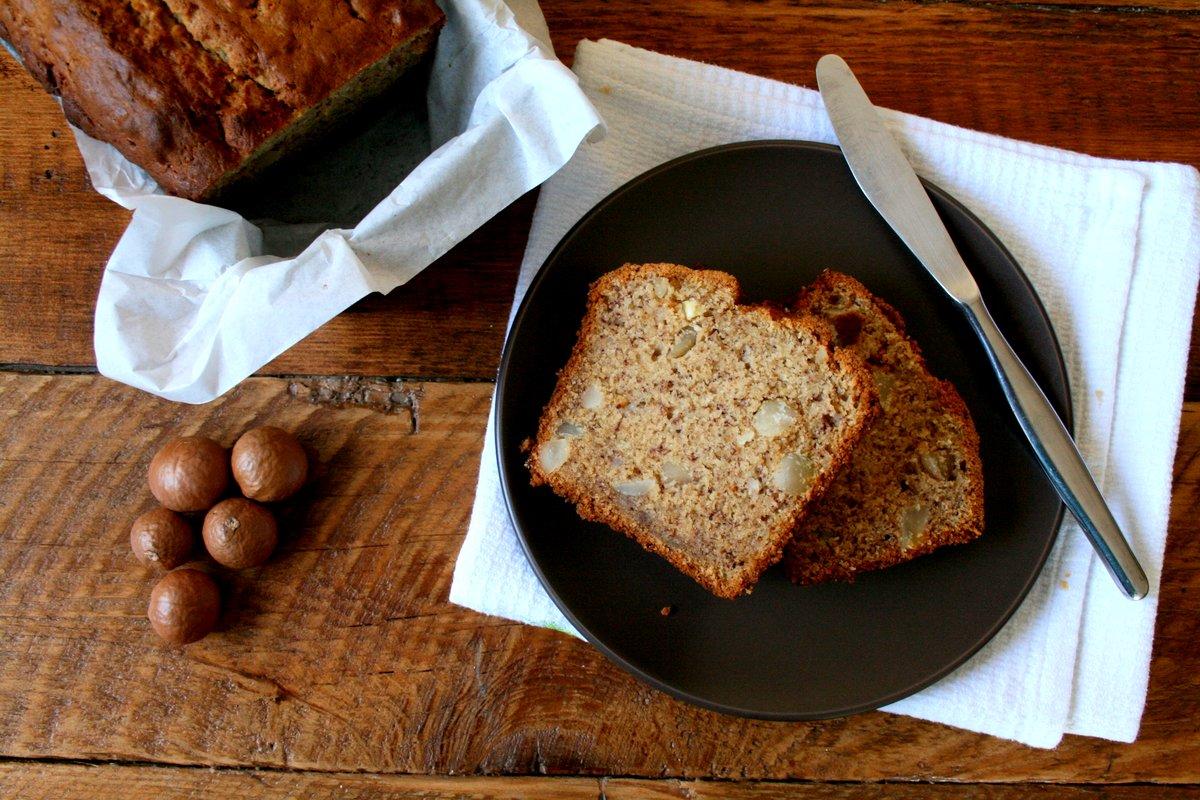 The macadamia theme continues this week! If you scroll down a little you'll see that my last recipe was inspired by this creamy, crispy nut, and this week is no different. Now, where did I leave that G clamp?
I haven't made a banana loaf in a long time, which is ironic because these days there is almost always a bunch of bananas in my fruit basket. They are a favorite of my daughters and something I know she will always eat ... so I like to have them around as back-up for those teething days when she refuses all other food. Needless to say the bananas are not usually around long enough to become overripe! But if you happen to find yourself in this situation then this recipe is a great way to use them up. I have included a photo of my "antique" loaf tins below. I love these, they belonged to my grandmother and are still going strong!

I would describe this banana loaf as midway between cake and bread. It isn't too sweet but has a soft texture dotted with crunchy macadamias. Like most banana loaves this one will become more moist and delicious overnight, so try and prepare it the day before you plan to eat it, if possible.When it comes time to serve, a little butter is all you need. If you're feeling decadent you could add jam or even caramel which is very tasty with banana. In my opinion it's best served simply - sliced and enjoyed as is with a good cup of tea ... perfection!
_________________________
BANANA, MACADAMIA &YOGHURT LOAF
Makes 1 large loaf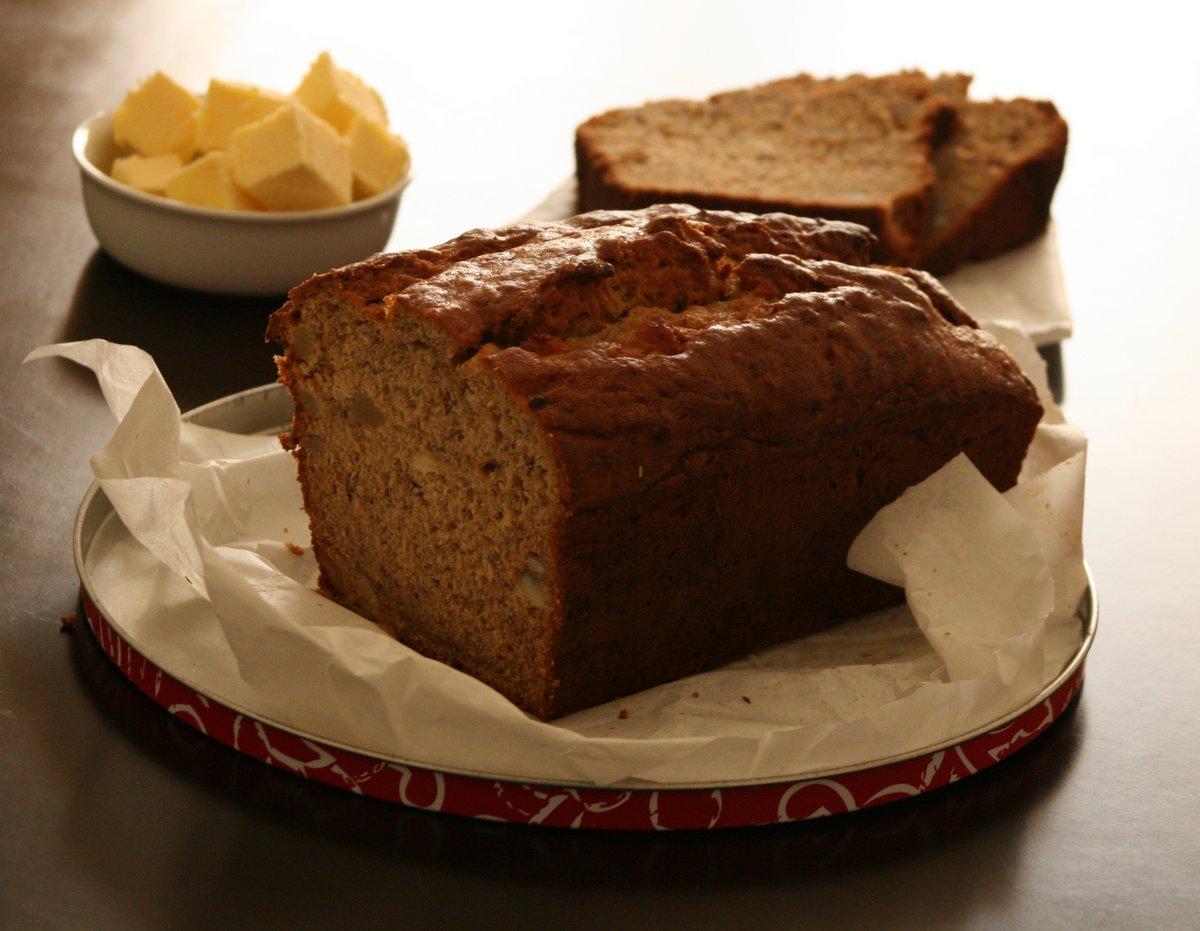 2 cups flour
1 teaspoon baking powder
1 teaspoon bicarb
1 teaspoon ground cinnamon
1/2 teaspoon ground ginger
150g macadamia nuts, roughly chopped
1 cup light brown sugar
2 large eggs
1 teaspoon vanilla extract
250g peeled ripe bananas, mashed
175g plain yoghurt
125g butter, melted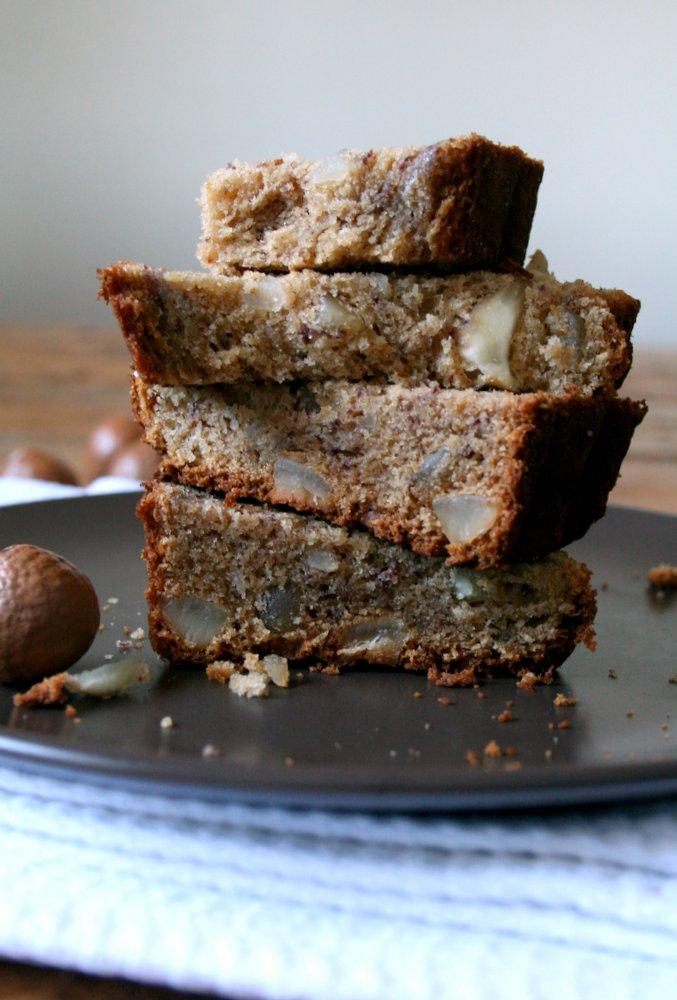 Step 1.) Preheat the oven to 180
°C
. Line the base of a 26cm x 12cm loaf tin with baking paper and grease well.
Step 2.) Sift the flour, baking powder, bicarb, cinnamon and ginger into a bowl. Add the macadamia nuts and mix.
Step 3.) Place the brown sugar and eggs in a separate bowl and beat for a minute or two on high speed until combined and pale.Step 4.) Add the vanilla extract, banana, plain yoghurt and melted butter to the egg mixture and beat until combined.Step 5.) Add the dry ingredients and mix again until all the ingredients are combined.Step 6.) Scrape the batter into your prepared loaf tin and smooth the top. Pop in the oven and bake for 1 hour or until an inserted skewer comes out clean.Step 7.) Allow the loaf to cool in the pan for a while before tipping out onto a cooling rack to cool completely.