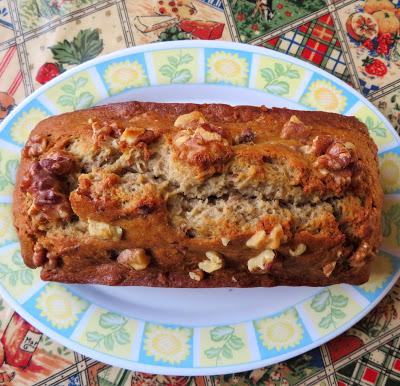 One thing we both really enjoy in our house is Banana Loaf. I always buy extra bananas so that I can make one for us to enjoy with hot cuppas now and then.  Usually half of it gets given away or thrown out because we can't get it all eaten.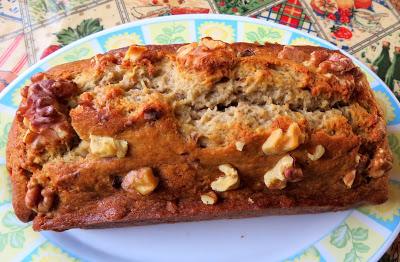 Today I managed to cut my recipe in half and bake a really lovely one for just two people.  I was really pleased with how it turned out and couldn't wait to share it with you.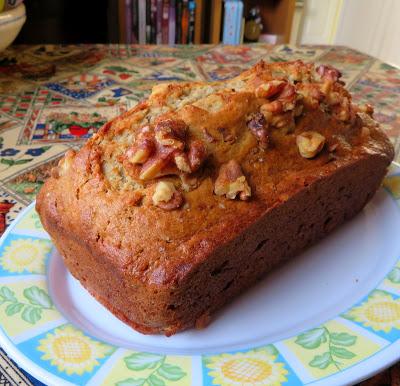 You will need a small loaf tin for this.  I have one that is about 7 by 3 by 2 inches and it worked well. It was the perfect size.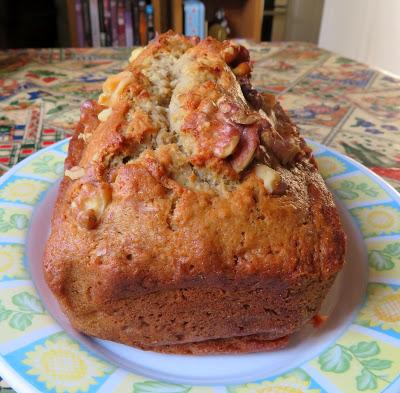 It rose really nice and tall.  I like to blitz my bananas for banana loaf with my stick blender.  It gets them nice and smooth.  I used two quite small ones.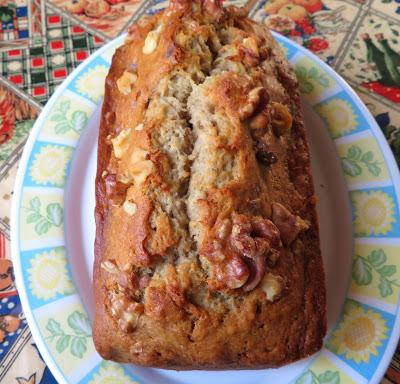 Todd loves his bananas.  I always have hide a couple so that I can make banana bread, or else there would never be any left to make one.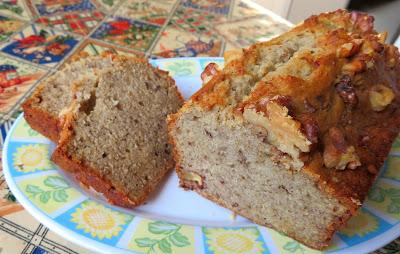 And I do really enjoy a banana bread.  You don't often catch me eating a banana unless its sliced onto my rice crispies, but I do love banana bread.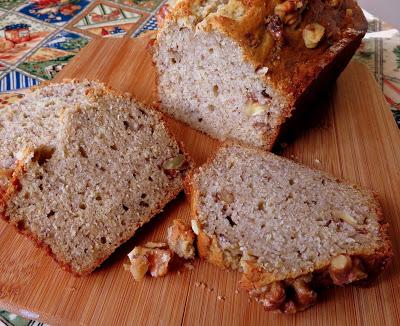 This is a lovely moist bread with a beautiful crumb.  The secret to a good quick bread is not over-mixing it.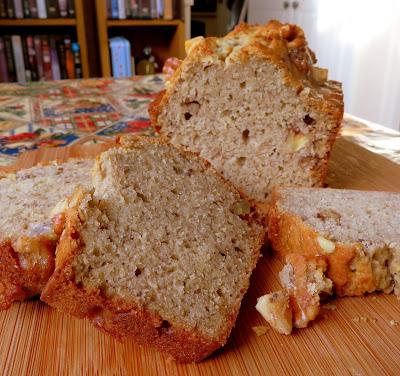 They are much more rustic than cakes.  You don't want to over mix them or you end up with something quite tough, full of holes and they won't rise as high.  Its the same with muffins.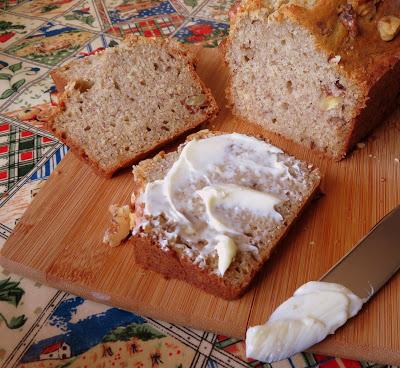 This is especially good served sliced and spread with softened butter . . .  I know naughty  . . .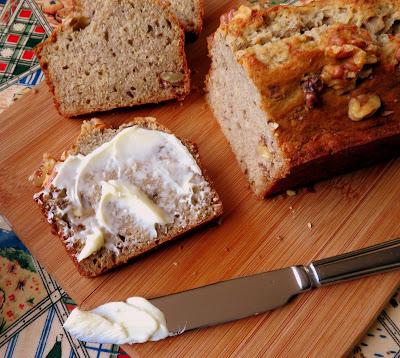 I would rather have butter than icing or jam or anything sweet on it.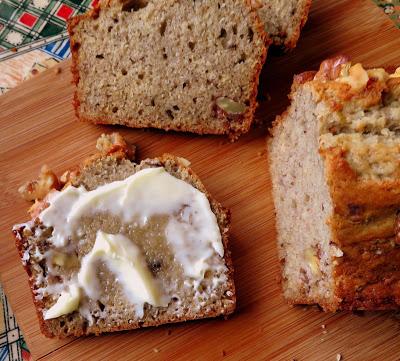 In all truth this is also very good with nothing on it.  I added toasted walnuts, but chocolate chips would also be very good . . .  or butterscotch chips, or both . . .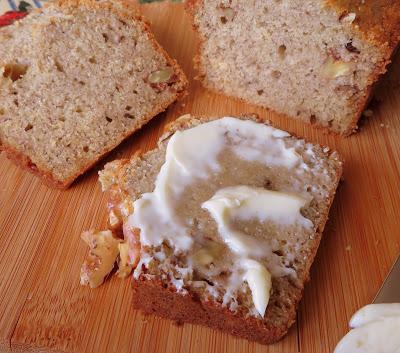 I know.  I am a glutton through and through.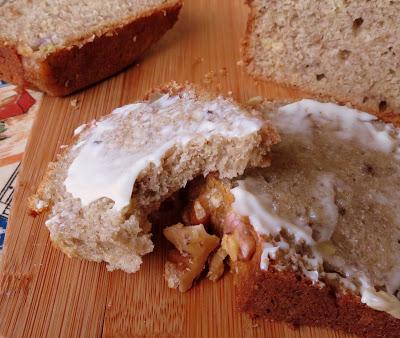 In any case.  I was super pleased with how this turned out. It is moist and delicious and has a beautiful flavor.  I think you are sure to love it also!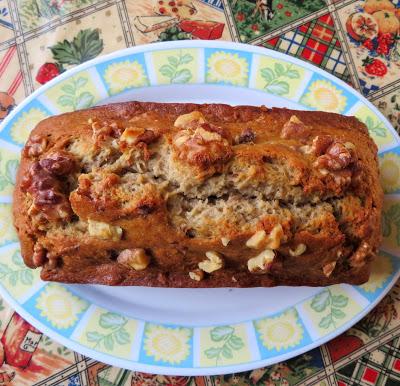 Banana Loaf for Two
Yield:
8 slices
Author:
Marie Rayner
Nice and moist with a delicious banana flavor.
ingredients:
60g butter softened (1/4 cup)
70g granulated sugar (1/3 cup)
1 large free range egg
125g mashed banana (1/2 cup)
2 TBS sour milk (see note)
175g plain flour (1 1/4 cups)
1/2 tsp baking soda
1/4 tsp of salt
handful of toasted chopped walnuts (optional)
instructions:
How to cook Banana Loaf for Two
Preheat the oven to 180*C/350*F/ gas mark 4.  Butter a small loaf tin (7-1/2 by 3-3/4 by 2-1/8 inch) and line with some baking paper.
Cream the butter and sugar together in a bowl, then beat in the egg, banana and sour milk.
Whisk the flour, soda and salt together.  Add to the creamed mixture stirring just to combine.  It is okay and preferable for the batter to be a bit lumpy. Stir in walnuts if using. (You could also use chocolate chips.)
Spoon into the prepared loaf tin.
Bake in the preheated oven for about 40 minutes, until a toothpick inserted in the center comes out clean and it is well risen and golden brown.
Lift out onto a wire rack to cool completely before cutting into slices to enjoy.
NOTES:
To make the sour milk.  Measure 1/2 tsp of white vinegar into a TBS measure and fill with milk.  Dump into a small cup.  Add the other TBS of milk and let sit for five minutes.
Did you make this recipe?
Tag @marierayner5530 on instagram and hashtag it #EnglishKitchenCreated using
The Recipes Generator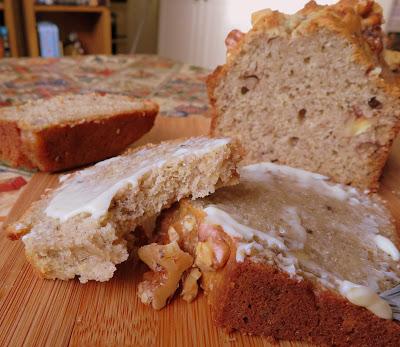 I am really enjoying this little exercise in making smaller recipes.  Not sure what I will do next!  Watch this space!