Chef Richard is an established teacher and one of his recipes was Banana Cake which is extremely well liked by many and can be easily found on the net.
Since I have some bananas on hand that I need to finish it up quickly, Banana Cake will be ideal so that I can served as breakfast for my girl.
I have given it a twist because I have baked banana cake with cinnamon before and it tasted great.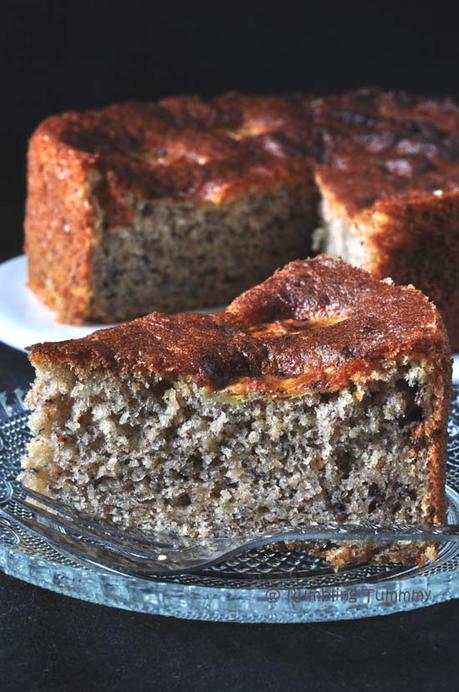 Findings: This recipe is extremely forgiving.  I actually done a blunder by adding in oil before flour and was expecting it to fail when I saw the sunken top.
I was surprised that the cake still turned out soft and fluffy.
I guess as long as we whisked the eggs to ribbon stage, this recipe will guarantee success.
  What you need:
3 eggs
120g castor sugar
200g banana, mashed
150g cake flour
½ tsp baking powder
¼ tsp baking soda
100g grapes seed oil
1 tsp cinnamon powder
1 banana for deco
Method
Preheat oven to 160°C.  Grease and line a 8" round pan.
Sieve flour, baking powder, baking soda and cinnamon powder together. Sieve twice and set aside.
Whisk eggs, sugar and mashed banana at high speed until reach ribbon stage (approx 10 mins).
Fold in the flour. 
Mix in the oil.  Mix well until batter should look smooth and shiny.
Pour the batter from 30cm height into baking tin.  Tap few times on table top to release air bubbles.
Bake for 50 min.
Once done, remove from oven, drop the tin from 30cm height.
Leave to cool completely.
Cheers!


If you have enjoyed this post by Rumbling Tummy, be sure to follow her on Facebook, Instagram, Pinterest, Twitter and Google+ .