This post may contain affiliate links. Please read my disclosure.
When you're craving banana bread but want something quicker and healthier, then you've got to give this banana bread oatmeal a try! It has all of the flavors or a sweet moist bread, but rolled into a simple healthy morning oatmeal! It's also vegan and gluten-free!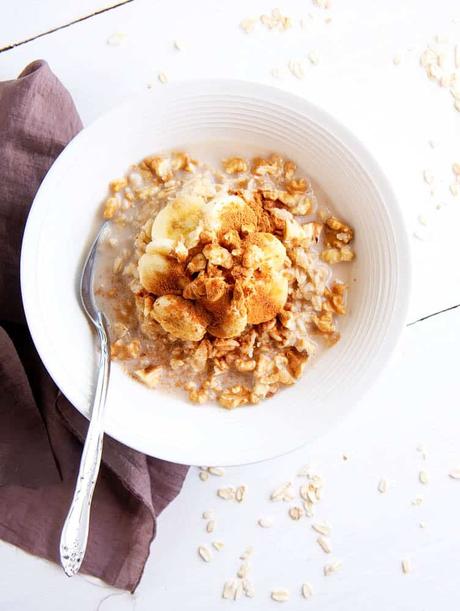 Every so often, I wake up on a weekday with a craving for banana bread. The problem, I don't have any pre-made, and of course I can't whip up a banana bread before I heas out the door to go to work!
So, when this happens, I make this banana bread oatmeal. It's a recreation of the "essence" of banana bread using one of my morning breakfast staples: oatmeal.
It is truly AMAZING. It totally tastes just like banana bread! And it is the perfect way to start your morning.
It's a hearty breakfast that won't weigh you down. Oatmeal has always been one of my go to breakfast options because it keeps me full and gives me energy. It also tides me over until lunchtime!
Our entire family loves this banana bread oatmeal. I have a feeling once you taste all the spices and delicious flavors, you are going to be a believer as well. Plus, you can whip this up in under 15 minutes, so it's great for those crazy mornings when you don't have a lot of time.
Tools and Equipment You'll Need
Recipe Ingredients & Notes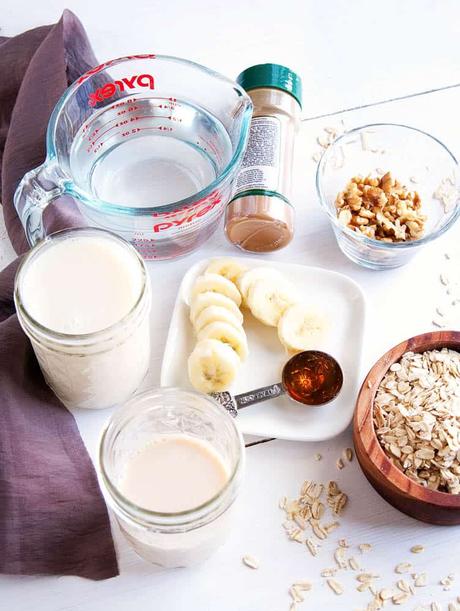 Oats: I like using rolled oats for this recipe, because they have a fluffy, creamy, hearty texture.
Banana: The riper the better!
Spices: Warm spices like cinnamon and nutmeg help give this oatmeal its banana bread flavor.
Water and Almond Milk: Combining water and milk allows you to get a lot of volume out of your oats, while still getting a creamy and rich feeling (without needing 2+ cups of milk!) Use your favorite plant based milk for this recipe to keep it vegan friendly.
How to Make Banana Bread Oatmeal - Step by Step
Step 1: Cook the oats according to package directions (I cooked mine in the microwave with 1¼ cups water).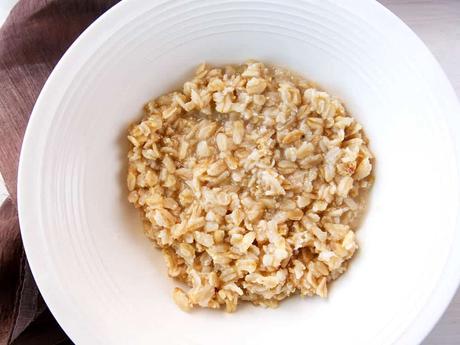 Step 2: Top with bananas, walnuts, spices, salt, and coconut sugar and stir to combine.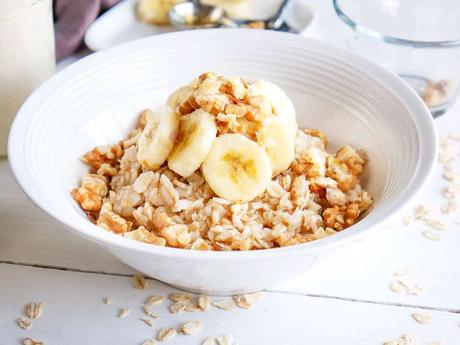 Step 3: Pour the milk over the oats until they have reached the consistency you want (for thicker oats, use less milk).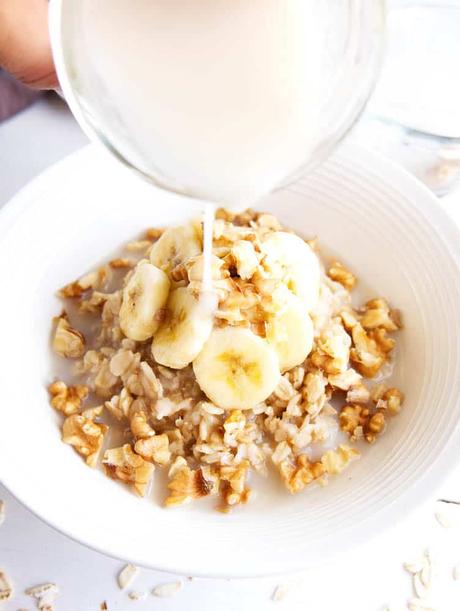 Step 4: Stir to combine, serve warm.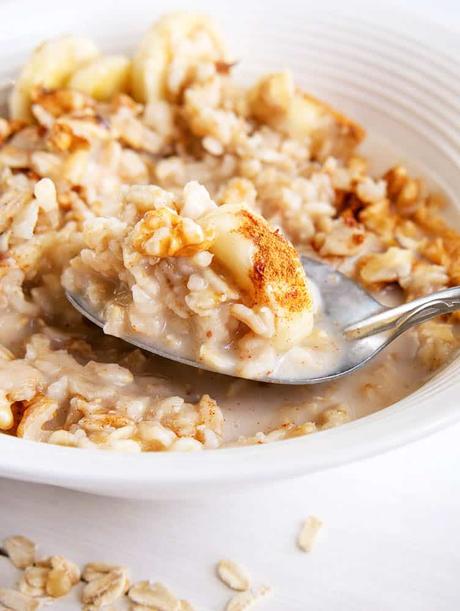 What Makes This Banana Bread Oatmeal Healthy?
Low In Calories: You can eat a huge bowl of this banana bread oatmeal, and it's only 370 calories. Considering many other breakfasts have well over 500 calories, this is a filling breakfast that won't weigh you down!
High In Protein: Oats are an excellent source of plant protein. Served with almond milk, the total protein in each serving is 10 grams.
High In Fiber: Oats are also an excellent source of fiber. Fiber helps with digestion and also keeps you feeling fuller longer! Each bowl of banana bread oatmeal has almost 8 grams of fiber.
Will Kids Enjoy This Banana Oatmeal?
Your kids will love this easy and delicious oatmeal recipe. The creamy texture, the natural sweetness, and the touch of cinnamon makes for a kid friendly breakfast. Since this is a large serving, you can split it between two kids, and it will be just enough.
How to Serve and Keep
If you have leftovers, you can store them in the refrigerator in an air tight container. Another option is you can make a large serving, and place in individual serving containers to reheat in the morning. They will last up to 5 days in the fridge.
Then when you need a quick breakfast, you have something on hand that's ready to go and just needs to be warmed up. This is great when you're heading out the door, and you need something fast right before you leave. It also makes a very easy and light lunch.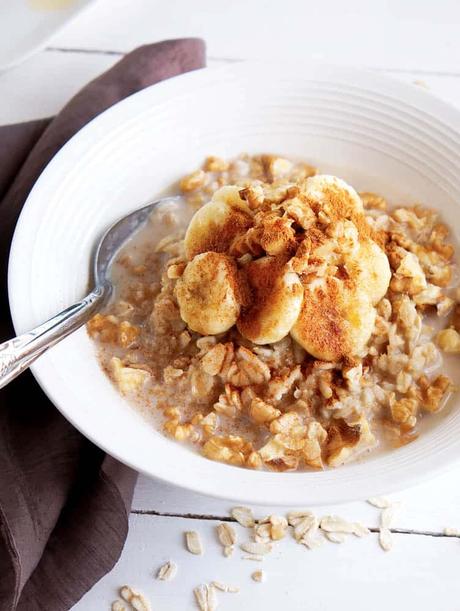 Recipe FAQs
How Do You Reheat Oatmeal?
You can reheat the oatmeal in the microwave or on the stovetop, whichever works better for you. Add a little bit more almond milk to the oatmeal because it will have thickened after being refrigerated. Then warm in the microwave for 45 seconds. Or reheat on the stovetop on medium heat, stirring consistently until warmed through.
What is the best type of oats to use for oatmeal?
There are three different types of oats: quick, rolled, and steel cut - and each has a different cooking time. In general, for oatmeal, I recommend using rolled oats. They deliver an excellent texture, yet still cook quickly. Steel cut oats are also a good option, as they have an even more hearty texture than rolled oats and taste great, but they can take as long as 45 minutes to cook.
I don't recommend quick oats for oatmeal - even though they cook fast, they always end up having a mushy consistency because they are cut so finely!
Variations and Substitutions
There are so many ways to mix up this banana bread oatmeal recipe! Feel free to make adjustments or add extra ingredients as you see fit. Here are a few ideas that you may enjoy:
Pumpkin Pie Spice and Vanilla: Instead of cinnamon, add pumpkin pie spice and 1/4 tsp vanilla extract! It gives this recipe a nice warm autumn flavor.
Chocolate Chips: Add a teaspoon of mini chocolate chips to the top for a touch of extra sweetness.
Nuts: While I already add walnuts to this recipe, you could sub them for other nuts such as pecans, almonds, cashews, or peanuts. You could even add ground flaxseed for more healthy fats, protein and nutty flavor.
Add Protein: Feel free to add 1 scoop of your favorite protein powder for an extra protein boost!
Reduce the Sugar: Instead of coconut sugar, you can use a sugar-free option like monk fruit or stevia.
Caramelize the Bananas: Spray a small skillet with olive oil spray or coconut oil spray and cook the bananas for 3-5 minutes until they are golden brown and caramelized before adding them to your oatmeal.
Top Tips For Making Banana Bread Oatmeal
Don't overcook the oats they will turn mushy.
Add a little milk at a time until you get your desired texture.
Depending on the type of oats you use you will have a slightly different cooking time. I recommend using rolled oats. They deliver an excellent texture, yet still cook quickly. Steel cut oats will take as long as 45 minutes to cook, while quick oats tend to have a mushy consistency.
Make sure to use gluten free certified oats if you're trying to guarantee that this recipe is gluten free (all rolled oats are not processed in gluten-free facilities, so cross-contamination can happen)
If you are running really short of time, simply pop this oatmeal into a sealable glass jar and you can eat it on the go. You can also reheat it in the microwave, so you can take it to work and have a hot breakfast when you arrive!
Check Out These Other Healthy Oatmeal Recipes!
If you have tried this Banana Bread Oatmeal Recipe or any other recipe on my blog, then please rate it and let me know how it turned out in the comments below! You can also FOLLOW ME on
FACEBOOK
,
TWITTER
, INSTAGRAM, and
PINTEREST
to see more delicious, healthy, family friendly food!
Banana Bread Oatmeal