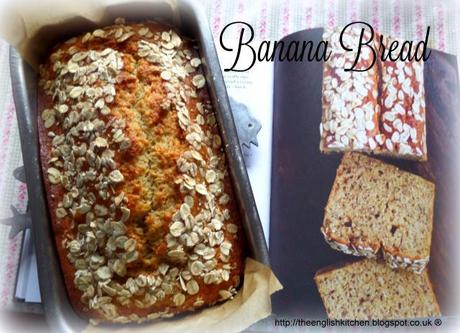 I baked what is possibly the most delicious Banana Bread I have ever baked yesterday, and that is saying a lot.  I've baked many Banana Breads in my life time and I have my favourites but I think this recipe just kicked the lot to the curb and took their place!    A bold statement indeed!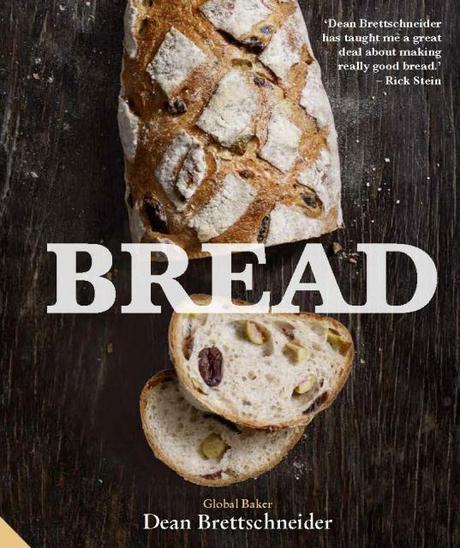 I was recently sent a new cookery book for review entitled BREAD, by Global Baker Dean Brettschneider.  Dean Brettschneider is a professional baker and patissier with an international following.  Award winning author of numerous bestselling cookbooks, including Pie, published by Jaquie Small in 2013, he is the founder of both the Global Baker bakery brand and Baker & Cook, an artisan baker chain that has it's flagship store in Singapore.  He recently worked with British celebrity chef Rich Stein, teaching a special bakin gskills course in Cornwall.   Dean is also a consultant for major supermarket chains in the UK.  www.globalbaker.com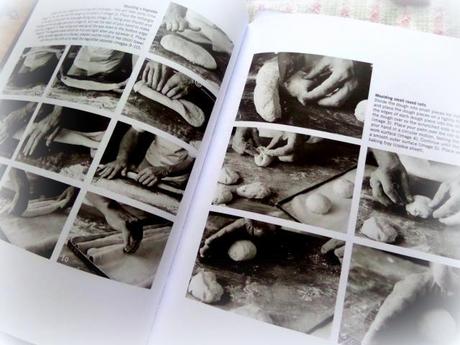 In Bread,  Dean Brettschneider shares the secrets of making perfect bread every time, aiming to bring to the reader and aspiring bread baker the very best of his new global bread baking influenes, adding his 'new world baking' twists to the classics and to other breads to give them a new lease on life.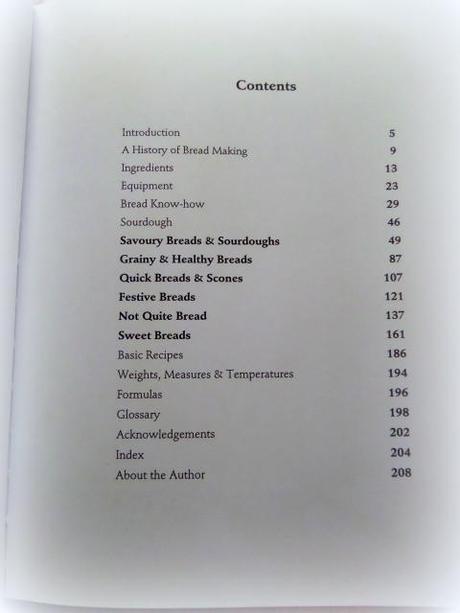 With fourteen chapters this covering everything from ingredients to formulas, this lovely book contains more than 60 recipes for rustic, healthy, savoury, sweet and festive breads from around the globe..  Brettschneider guids you through the process of bread-making with expert tips, varied recipes and rich photography throughout.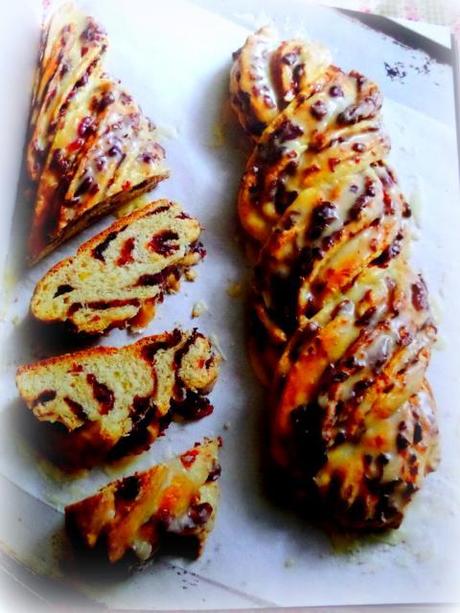 He explains the 11 basic 'know-how' steps in making and baking breads from mixing or kneading dough by hand to fermenting and shaping dough, and to proofing, decorating, baking and cooling the finished product.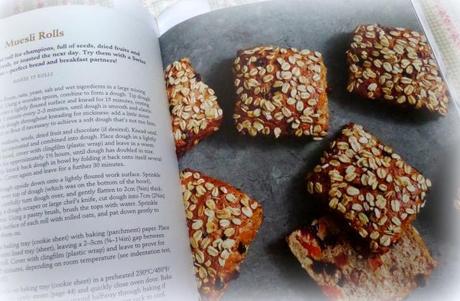 I see this book as an invaluable guide to baking successful, good quality breads and mastering all the delicious recipes features, including Panettone, Focaccia, Cider Loaf, Rye Bread and Black Onion Seed Bagles . . .  and that is not all . . . there are recipes for quick breads and scones, Festive breads . . . things that aren't quite bread like crackers and Danish pastries . . .  Nutella Spiced French Toast . . .  a fabulous looking Spiced Chocolate, Cointreau & Sour Cherry Bread Pudding and so much more.  I reckon I have at least half of this book tagged as "want to cook" recipes already!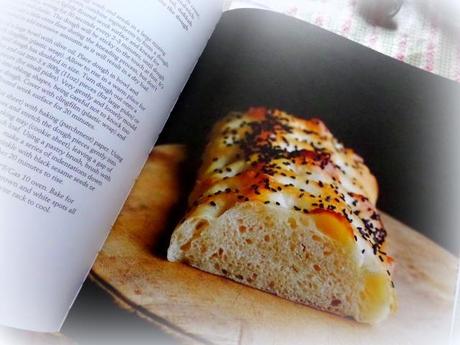 I'll admit that I am not the strongest bread baker in the world . . . in fact most of my attempts are downright dismal, but I am really looking forward to trying out the recipes in this book and if the results I got from baking the Banana Bread Recipe are anything to go by . . .  Todd and I are in for a real treat!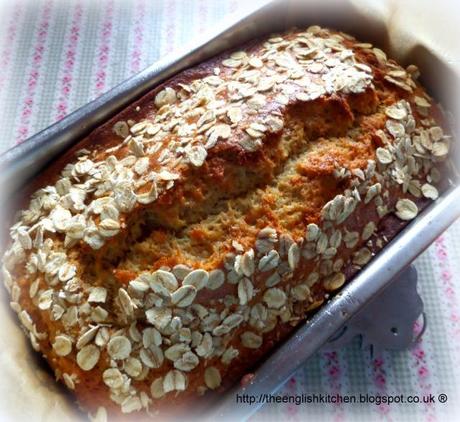 Bananas are a real favorite in this house.  I am not overly fond of them raw, except on my rice crispies or with custard, but Todd adores them raw, so much so that I often have to hide a few away so that I can bake with them.  I caught him almost getting ready to throw these two bananas in the bin the other morning but managed to stop him just in time.  They were just perfect for banana bread!  Really ripe with lots of black, spots . . . almost rotten really, but what a beautiful bread they made.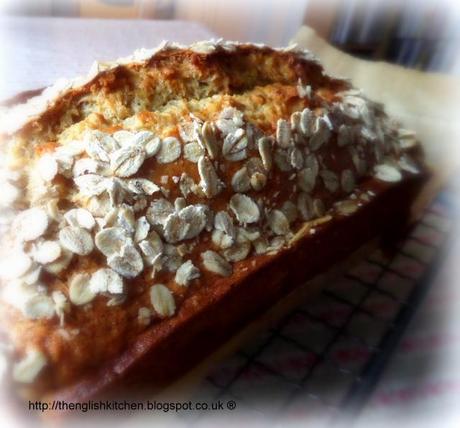 As soon as I saw this recipe in the cookbook I knew I wanted to bake it.  I loved the added texture of the oats on the top . . .  making it look so wholesome and pretty.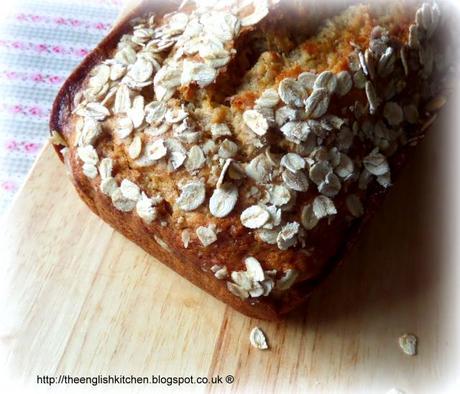 It was the perfect choice for my first recipe from the book.  It rose beautifully and has such a beautiful texture.  It's moist and delicious, and just sweet enough.   It also cuts beautifully, and I can tell you that not only was it fabulous on the day . . .  but the leftovers toasted in the toaster until crisp and golden brown  and then spread with cold butter are bliss, pure and utter bliss.  Yes . . .  I am a true blue glutton right to the core.   Ahem . . .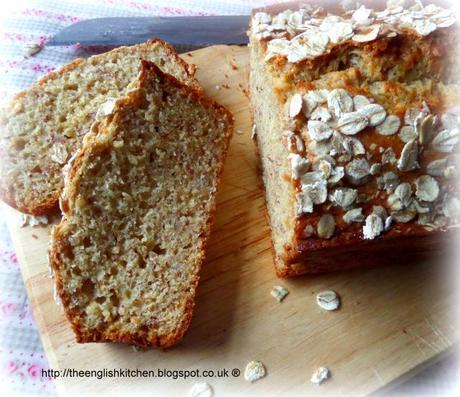 *Banana Bread*
Makes one 9 inch loaf  Printable Recipe  
A delicious recipe from the baking book, BREAD, by Dean Brettschneider.   It's simple, easy to make and deliciously moist and flavourful.  It also cuts a dream.I confess I like mine warm and spread with butter, but this is great even toasted!  I love the addition of the rolled oats on the top.  Next time I am going to toast them with a bit of butter first.Coz I'm a bit of a glutton like that and it sounds tasty.  
220g (1 1/2 cups) self raising flour1/4 tsp bicarbonate of soda (baking soda)1/4 tsp ground cinnamon1/4 tsp salt80g (scant 1/2 cup) sugar45g (scant 1/4 cup) soft light brown sugar2 eggs (I used large free range)60ml (1/4 cup) milk1 tsp vanilla extract75g (5 TBS) melted butter or vegetable oil200g (7 oz) mashed ripe banana (two small to medium bananas)20 to 30g (1/4 to 1/2 cup) rolled oats for topping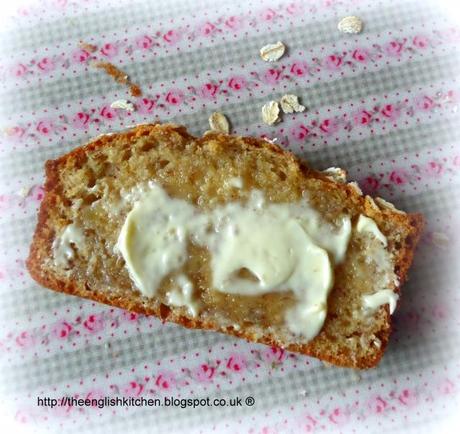 Preheat the oven to 180*C/350*F/ gas mark 4.  Lightly brush a 23cm (i inch) loaf tin with melted butter. 
In a large bowl, sift together the flour, bicarbonate of soda, cinnamon and salt.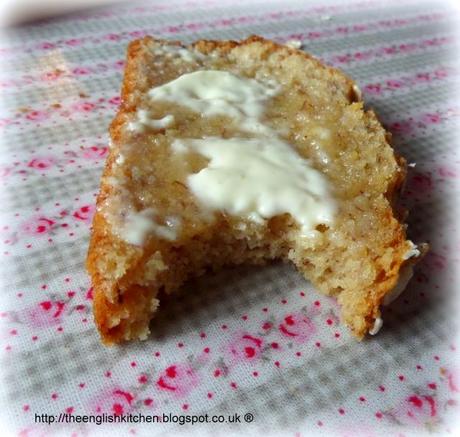 In a separate bowl, using a hand whisk, mix together sugars, eggs, milk, vanilla and butter or oil, then stir in the mashed banana until well combined. 
Add the wet ingredients to the dry ingredients and quickly stir, using a spatula, just until combined.Pour the batter into the prepared pan and sprinkle the top evenly with rolled oats.  Bake in a preheated oven for 40 to 45 minutes, or until a skewer inserted into the center comes out clean.  Cool in the pan for 10 minutes, then tip the loaf out onto a wire rack to cool completely before slicing.
Note:  In addition to buttering my pan, I used a long piece of baking paper with an over hang to line the pan lengthways so I could just lift the loaf out to cool without tipping it out. 
Bread, by Dean Brettschneider
photography by Aaron McLean
Hardback
208 pages
Published by Jacqui Small LLP
ISBN 978 1 909342 77 4
UK £25  US $40  CAN $43.99 
 If I were YOU, my lovely readers, I would be putting this lovely book on my Christmas List this year as it's just fabulous!!!  Many thanks to Jacqui Small LLP for sending me this copy to review.  (Although I was sent a copy for free to review, any and all opinions are purely my own.)